Valuing Nature: A Lesson For Us All
Date: May 14, 2012
Author: Emily McKenzie, Manager, Natural Capital Project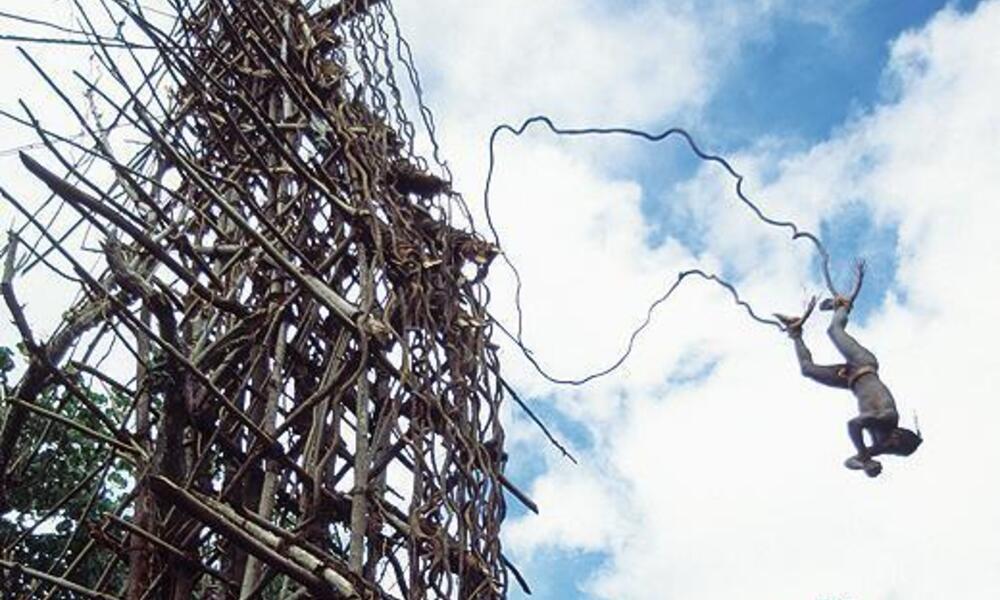 Forget "the dog ate it." I heard the most memorable excuse for missing homework when I was a high school teacher in Vanuatu—a country of 83 islands in the South Pacific. "I was leaping from a 30 foot wooden tower with only vines attached to my ankles," explained my student, Ruben Bong.
He was taking part in the tradition called "Nagol" or land diving, which originally inspired bungee jumping. Each year, men of all ages return to their villages to leap from platforms in the belief it will secure a plentiful yam harvest. The event takes place in late spring, to ensure the vines are sufficiently elastic and will not snap. As they hurl themselves through the air to the ground below, the men of Pentecost Island literally rely on those vines for their survival.

How Does Nature Support the Prosperity of Nations and Communities?
The people of Vanuatu have always depended on nature for their lives and livelihoods. Nature provides "ecosystem services" such as bountiful fish stocks, regular water supplies for agriculture and spectacular displays that draw in tourists.
In 2006, Vanuatu ranked as the happiest country in the world, according to the Happy Planet Index developed by the New Economics Foundation. That same year, Vanuatu ranked 179th in terms of Gross Domestic Product (GDP), a standard measure of economic activity.
These statistics—set against my experience living in Vanuatu where people seemed in many ways more content than those in the West—got me thinking. How does nature support the prosperity of nations and communities? What really constitutes development? What do economic statistics like GDP fail to reflect, such as a change in a nation's stock of natural capital?
Intrigued by these questions, I spent the next few years working on small islands. In these environments, it is easy to see how degradation of ecosystems undermines the health, wealth and wellbeing of local people. In Majuro, the main island of the Republic of the Marshall Islands, I studied the impacts of local business practices that blasted coral reef and dredged near-shore beaches to obtain material for local construction.
Not only were these practices devastating for marine biodiversity, but Marshall Islanders were suffering. Coastal ecosystems are important for fisheries and tourism, and protect the coast from storm surge and erosion. Majuro is very narrow—in some places only a few meters wide—with the highest elevation point only 10 feet above sea level, so accelerating erosion was a serious concern.
We worked with the government, businesses and communities to understand the value of coastal ecosystems to local people. Ultimately this led them to shift to more sustainable sources of materials offshore.
Understanding the Value of Nature
I now work at WWF, working in partnership through initiatives like the Natural Capital Project, to help decision-makers, businesses and communities everywhere quantify the multiple ways in which nature benefits people, and apply that knowledge in their choices and policies.
Islands provide lessons for us all. As citizens of the world, we have only one planet, with limited resources for extraction and sinks for pollution. The Living Planet Report 2012 reminds us of the many benefits nature provides. To continue to prosper, we must prevent further decline in biodiversity and ecosystem services, by accounting for the value of nature in every choice we make. We're in real trouble if our vines break.