Why I Work in the Arctic
WWF's Dave Aplin tackles critical issues to help conserve a unique and wild place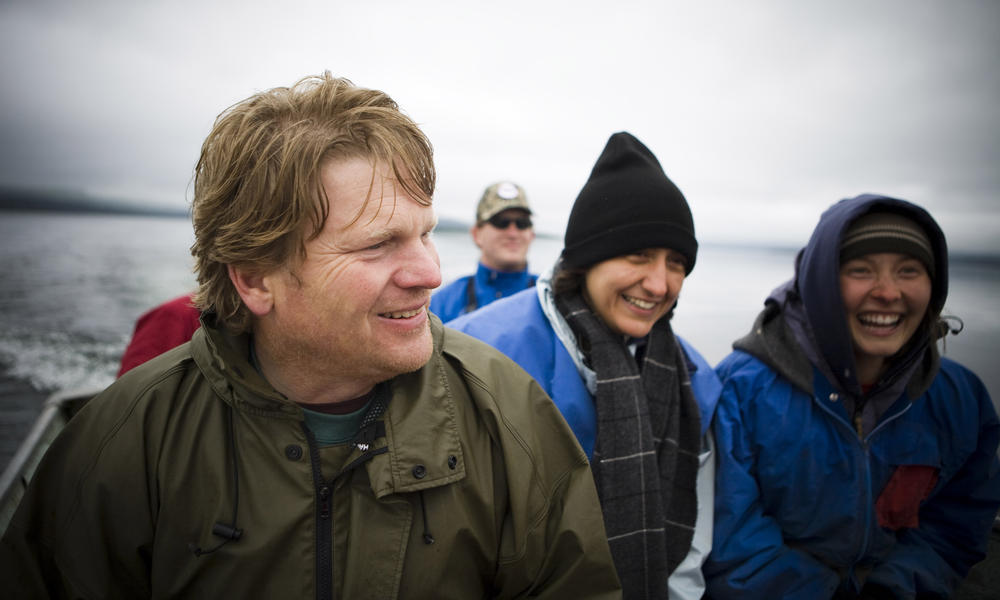 Date: January 31, 2013
Author: Dave Aplin
Many of us who work for environmental causes share similar childhood experiences. As kids we repeatedly visited a special wild place with grownups who loved us. For me, that place was northern Wisconsin—where I fished with my dad and brothers and my aunts taught me the names of native plants and songbirds.
Today, when I go out to work in Dillingham, Alaska, and stand in a stream that flows into Bristol Bay as returning red salmon bump into my legs, I know why I am here. The same thing happens when I am on the edge of the Arctic Ocean, traveling above the tundra in small aircraft, on a snow machine, or in a skiff among the ice floes; when I catch a glimpse of a bearded seal, or herd of caribou, or a polar bear sow with cubs.
If you had told me as a kid growing up in Wisconsin that I would experience these remote places in Alaska—that I would have this as a job—I never would have believed it.
WWF at work
Today in the Arctic, we are tackling the most defining resource issues. This requires collaboration with a variety of people around Alaska, the region, and the Arctic. As a founding member of the Fish Basket Coalition—a group dedicated to the protection of Bristol Bay—we work on a regular basis with a diversity of people in the region, from Alaska Natives practicing subsistence lifestyles to commercial fishermen and industry leaders. Together with folks in Bristol Bay, the Arctic, or Russia, we sort out the issues that we agree are important, where our values align, and then determine strategies to carry those voices for conservation to the places they need to go, whether it's the press or the White House or Congress.
A future for Alaska
At WWF, we deal with urgent and crucial issues. But I am also selfish in my desire to conserve the planet. I want to be able to go catch a king salmon out of my kayak, and to see beluga whales, bowheads, and brown bears right here at home in Alaska. I want to experience that wildness, and wilderness. We are talking about the health of our planet, the survival of intact ecosystems from one generation to the next, and the world that my children and their children will inherit. There is a part of me that comes to work every day mindful that our children will look back on this time as a critical period in history, and what we do here and now will go on our permanent record.
Tundra and cotton grass at sunset near Dillingham, Bristol Bay, Alaska.

A polar bear in Alaska's Beaufort Sea.

Skiffs on the shores of Lake Aleknagik near Dillingham, Bristol Bay, Alaska.

A brown bear catches a fish mid-stream in Katmai National Park, Alaska.