Wild animals sporting green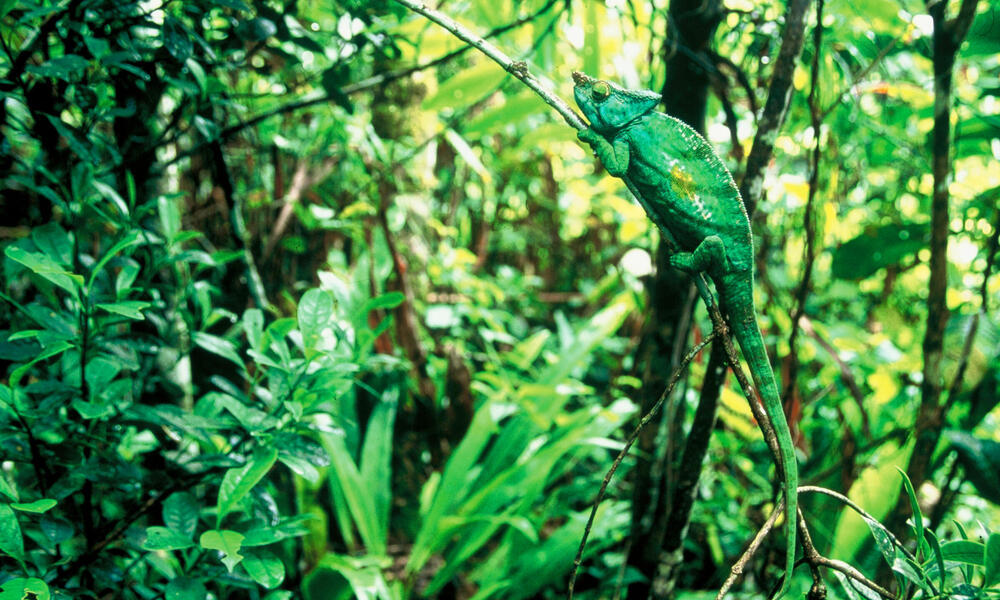 This St. Patrick's Day, we're taking a look at wild animals sporting green. WWF fights to secure a future for animals on the planet we all share. We have made it our mission to find solutions that save the marvelous array of life on our planet by applying the best science available and working closely with local communities.
Sloth

While a sloth's fur isn't actually green, sloths often have green algae growing on them, giving them a green tinge. Sloths, moths, and algae have a symbiotic relationship that forms an ecosystem. Mature moths fly into the trees to find a sloth host, and specialist algae relies on bacteria from the moths. The sloths also eat the nutrient-rich algae to supplement their diet of leaves.
Green Turtle

The green turtle is one of the largest sea turtles and the only herbivore among the different species. Green turtles are named for the greenish color of their cartilage and fat, not their shells. They graze on seagrasses and algae, which maintains the seagrass beds and makes them more productive—much like mowing the lawn to keep it healthy. Classified as endangered, green turtles are threatened by overharvesting of their eggs, hunting of adults, being caught in fishing gear, and loss of nesting beach sites. WWF addresses these issues by establishing marine protected areas, tracking turtles by satellite, and encouraging the use of fishing gear that prevents bycatch.
Green ringtail possum

These Australian possums actually have olive grey fur grizzled with black, yellow, and white hairs which make it appear green. This green tint provides camouflage among the leaves of the forest, protecting them from predators.
Mulu flying frog

This tiny frog, with males growing to just 3.5 cm, is only green half of the time. The Mulu flying frog has bright green skin at night, but changes color to display a brown hue during the day. It was found 1,650m above sea level in Gunung Mulu National Park, Sarawak. The species is native to the Tapin Valley near a small stream in the area.
Green-headed tanager

This small, brightly colored bird lives in east-central South America in humid forests. Its extravagant coloration camouflages it in the trees.
African Chameleon

This species is usually green, but, like other chameleons, it has the ability to rapidly change color. Chameleons change color for social signaling, in reaction to different temperatures and conditions, and to camouflage. They usually turn darker colors when they are angry or attempting to scare others, and males turn lighter, multicolored patterns when attempting to court females.
Green tree python

This five foot long green python is found in Australia, New Guinea and Indonesia. Only adult green tree pythons are green; juvenile green tree pythons are bright yellow or brick red.