Wildlife Crime a Threat to Regional Security
A new report on the crisis of illegal wildlife trafficking details its unprecedented scale and global impact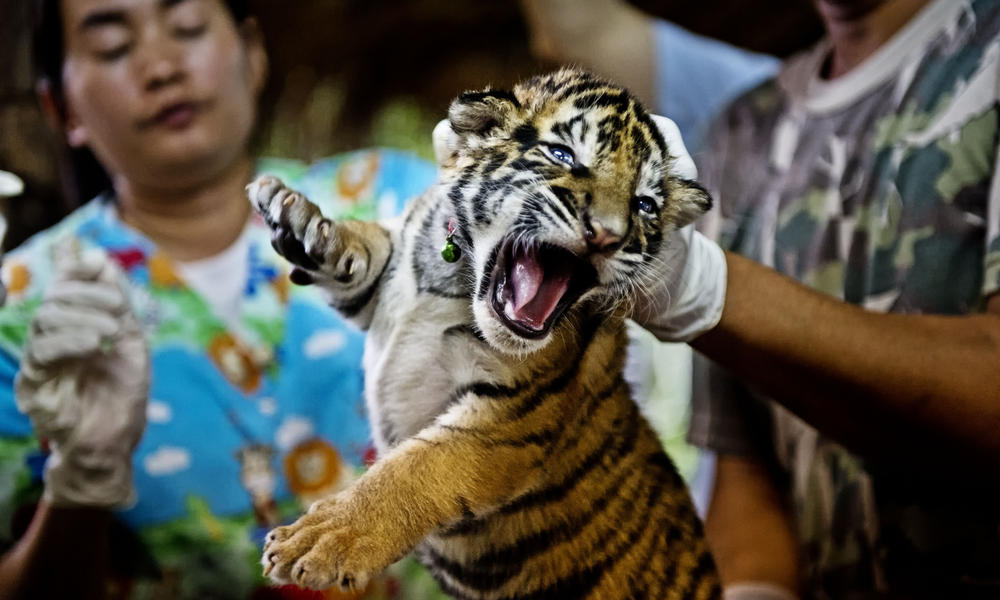 Current global efforts to fight illegal wildlife trade are failing because wildlife crime is seen as an environmental problem first and then a criminal issue. At the same time, organized crime syndicates and rebel groups involved with wildlife crimes are increasing. Profits from wildlife trafficking could be used to purchase weapons, finance civil conflicts and underwrite terrorist-related activities.
These conclusions come in a new report released by WWF-US President and CEO Carter Roberts at a high-level briefing for United Nations ambassadors in New York on Dec 12, 2012.
Among the key findings in the report:
Illicit trade in wildlife is worth at least $19 billion per year. This includes unreported and unregulated fisheries and illegal timber and marks it the fourth largest illegal global trade after narcotics, counterfeiting, and human trafficking.
Illegal wildlife trade is often seen by governments as exclusively an environmental problem and is usually not appropriately treated as a transnational crime and justice issue.
"Drug and human traffic are getting a lot more attention than illicit wildlife trafficking. And just as we need to intensify our efforts to combat drug trade and human trafficking, we also need to intensify our efforts to combat illicit wildlife trafficking…They all need to be addressed through bold and consistent actions by the international community."

Robert Hormats Under-Secretary for Economic Growth, Energy and the Environment, U.S. Department of State
Consumer demand is exacerbated by the increased accessibility of illegal wildlife products through the internet.
Governments and non-governmental organizations have an important role in holding countries publicly accountable for delivering on their international commitments to stop illegally wildlife trade.
For the study—"Fighting illicit wildlife trafficking: A consultation with governments"—, Dalberg Global Development Advisors conferred with government representatives and relevant international organizations to explore the scale and implications of illicit wildlife trafficking, why it matters to society and how the different actors should respond going forward.
The report was released at a UN briefing hosted by the Permanent Missions of Germany and Gabon to the United Nations. Speakers include Under Secretary Robert Hormats; Lee White of Gabon's park service; Geneal Jean Claude Ella Ekogha, a five-star general who is head of the Gabon armed forces; and Lixin Huang, President of the American College of Traditional Chinese Medicine.
Every day elephants are being slaughtered to meet the huge illegal demand for ivory carvings and trinkets. Entire populations of elephants are poached out of existence in Africa while in Asia, many consumers think "elephant teeth" simply fall out and re-grow without hurting the animal.

Vets from the wildlife forensic unit take blood samples to trace the DNA from one of 16 tigers cubs seized from smugglers in Thailand, October 2012. The tiger cubs were being smuggled in crates across the border into Laos in the back of a truck.

A tiger's testicle, of dubious authenticity, on sale at Tha Phra Chan market, Bangkok, Thailand. Every part of the tiger from whisker to tail has a price in the illegal wildlife trade. They are increasingly in demand as folk medicine and as status symbols.

An officer NRECSD inspects a shop selling jewelry and trinkets made from elephant ivory in Tha Phrachan market, Thailand. The country is the biggest unregulated market for ivory in the world. A legal loophole permits the sale of ivory from domestic Thai elephants, allowing for massive quantities of illegal African ivory to be laundered by wildlife criminals.

A team comprised of WWF Staff, forest rangers, infantry, border patrol police and special-ops army force rangers prepare for an anti-poaching patrol in the face of escalating trade in poached tiger parts and elephant ivory in Kui Buri national park, Thailand.

In Gabon, eco guard, Soho Jocelyn, kisses his wife goodbye as he departs on a two week anti-poaching patrol. Behind the smiles and beyond the two week separation, both of them understand the very real dangers as they say goodbye. Combating illegal wildlife trade has become a seriously dangerous job. Over 1,000 rangers worldwide have lost their lives protecting wildlife and natural places in the last 10 years. Criminal syndicates continue to target high-value wildlife like rhinos and elephants.

WWF President and CEO Carter Roberts (far right) presents the report Fighting illicit wildlife trafficking: A consultation with governments at a UN briefing on Dec. 12, 2012.