World Wildlife Day Marked by Good News for Rhinos and Tigers
Nepal celebrates a year of zero poaching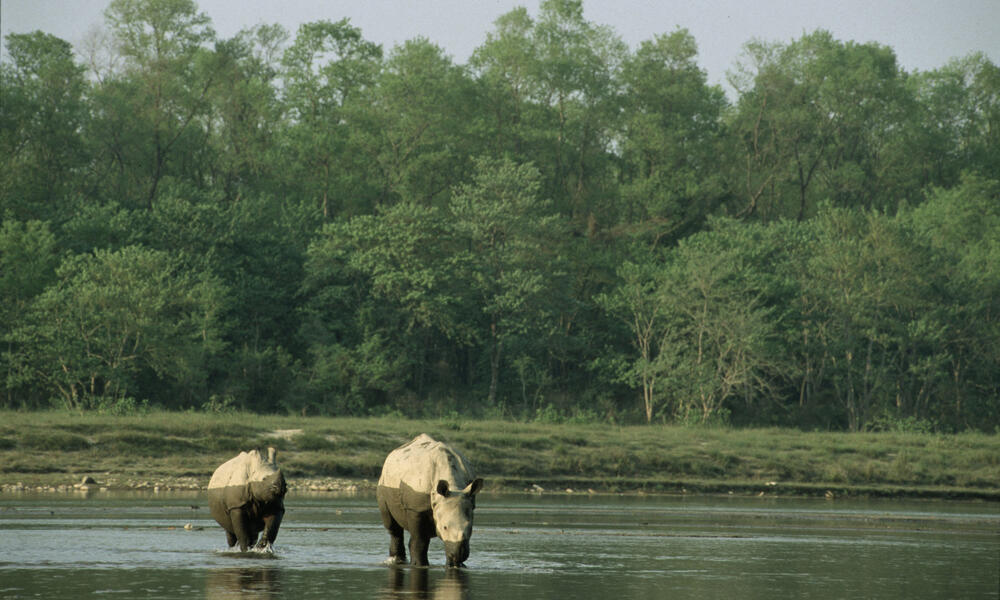 Date: March 03, 2014
Author: Trishna Gurung
As poaching escalates around the world, the Himalayan country of Nepal succeeded in turning the dial all the way back down to zero—just in time for the first-ever World Wildlife Day.
On March 3, the government of Nepal, WWF and other partners celebrated 365 days without a single case of rhino, elephant or tiger poaching ending February 2014. This is the second time that the country marked such a milestone after 2011.
"Nepal's year of zero poaching is an example of what can be achieved when an entire nation makes stopping wildlife crime a priority in order to protect its natural heritage," said Shubash Lohani, Deputy Director for WWF's Eastern Himalaya Ecoregion program.
"We live on a planet of splendor and World Wildlife Day gives us the opportunity to pause, reconnect with nature, and recommit ourselves to protecting a future where both humans and wildlife thrive together"

Ginette Hemley
Senior Vice-President of WWF's Species Conservation Program
The milestone represents integrated and sustained efforts, including intensive patrolling by rangers and the Nepal Army within protected areas; support from community-based anti-poaching units; and enforcement agencies like the Central Investigation Bureau of Nepal Police pooling information and resources all in an effort to reduce wildlife crime.
WWF has supported wildlife conservation in Nepal since the 1960s. We have a nearly 100 local staff and with our many partners are privileged to be an important part of many significant advances in conservation.
Hope and action
WWF and TRAFFIC are working on the ground implementing the best science and strategies to save nature. We back this work up with strong ties with local communities and governments. And we invest in strengthened law enforcement and international policies like CITES.
Our local to global approach helps with emergencies like the current wildlife crime that is decimating elephants, rhinos and tigers. Our campaign helped mobilized action ranging from the Thai ivory ban, contributed to the recently announced US National Strategy for Combating Wildlife Trafficking and the London Conference that resulted in strengthened commitments aimed at poaching and illegal trade.