WWF develops a new technology to stop poachers in their tracks
An innovative camera and software system helps rangers detect human activity in protected areas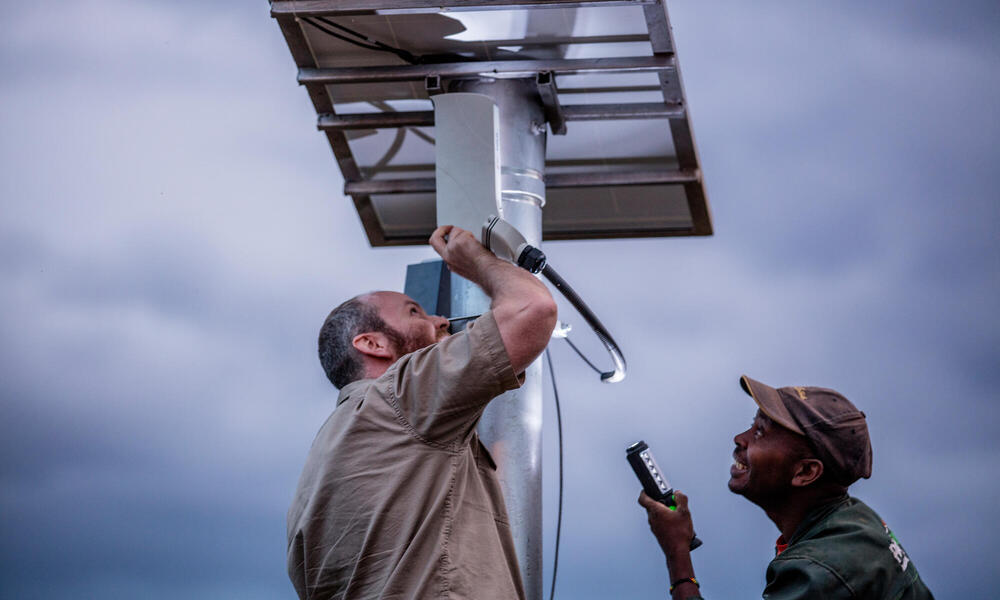 A long, dusty road runs along the border of a national park in central Kenya, with a heavily populated town on one side of an electric fence and protected lands on the other. A troop of baboons pays no mind to this dividing line, scooting back and forth to eat garden vegetables and frolic. This large park is a breeding ground for endangered white and black rhinos and home to a host of other threatened species. But with its many porous entries, the protected area attracts poachers who enter the park and kill wildlife for their parts.
To help prevent this illegal activity, WWF used a grant from Google.org to engineer a remarkable new thermal and infrared camera and software system that can identify poachers from afar and alert park rangers of their presence.
This is the first time that infrared cameras and human recognition software have been used to monitor a park's boundary for conservation and anti-poaching efforts.
How it works
WWF designed and installed two systems to identify poachers with infrared cameras: stationary poles lining the border of a park, and a mobile unit atop a truck used by rangers.
The thermal cameras come from the company FLIR and pick up heat emitted by people and animals as they cross their viewpoint. The accompanying software determines whether that heat comes from a human. If a human is identified, the computer sends an alert to the head warden, who then deploys a quick response ranger unit to intercept the intruder. Eric Becker, WWF's conservation engineer, developed the system from concept to reality.
Dr. Asuka Takita, veterinarian/canine unit supervisor and ranger colleagues at the Maasai Mara Conservancy at Maasai Mara National Reserve

Eric Becker, WWF's conservation technology engineer, holding his thermal imaging rehoused FLIR camera.

Installing solar panels for FLIR camera system in a National Park in central Kenya.

The team prepares to set up the camera system.
"We know this will be a groundbreaking solution to stop poaching and keep rhinos and other wildlife safe," said Colby Loucks, WWF's director of the Wildlife Crime Technology Project. "This system will peel back the layer of night to assist the brave rangers protect wildlife and help keep them safe."
WWF worked with the Kenya Wildlife Service to design and install the stationary solar-powered system to permanently keep watch on nearly five miles of border road. We mounted the mobile version in another park—Kenya's Maasai Mara National Reserve working with the Mara Conservancy—where it compliments existing anti-poaching operations, including ranger foot patrols and a sniffer dog team.
What next?
If these pilot projects prove successful in Kenya, WWF plans to work with parks and private landowners across Africa to gain access to this technology. By developing and harnessing new technology, we can boost the effectiveness of rangers on the front lines in the battle against wildlife crime, and help ensure porous park borders become more secure.
Help the men and women on the front lines of conservation. Will you back a ranger today?