WWF marks with great sadness the passing of a founding leader, Aileen Bowdoin Train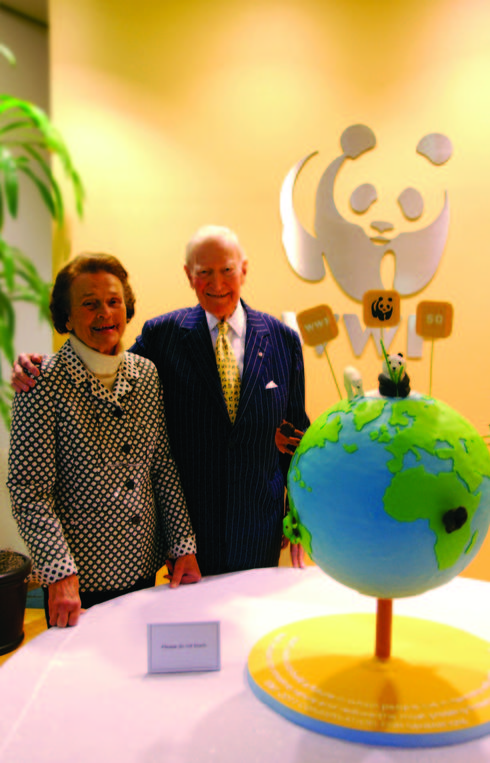 WWF marks with great sadness the passing of a founding leader and dear friend, Aileen Bowdoin Train, who died peacefully at her home on July 7, 2017.
Aileen was an early champion of conservation, serving on the boards of WWF-US in Washington, DC and WWF-International in Gland, Switzerland, the Chesapeake Bay Foundation, and the Wildfowl Trust of North America. She chaired the board of the Nature Conservancy of Maryland for many years, and she also founded and chaired the environmental organization Concern, Inc. Aileen also served on the boards of the Summit Fund, the Corcoran Gallery and the Foxcroft School, among others.
Aileen's dedication to public service was lifelong. Following college, she served as a nurse's aide at Walter Reed Hospital and was for many years a volunteer at Planned Parenthood.
Inspired by a safari in Kenya in 1956 with her husband, Russell Train, Aileen became a committed force for conservation and the protection of wildlife and wild places around the world. As key figures in the founding of WWF in the United States, Aileen and Russ sought to bring others into nature, to introduce them, firsthand, to the wonders of biodiversity and the natural world. Their vision was both local and global, advocating for local protection of land, air and water, but always with a profound commitment to building local leadership and institutions, linking people across the world.
Aileen was gracious, forthright, and industrious. She brought extraordinary drive and spirit to all she did. On trips into the wild, she was the first to pull on boots and wade in the muck behind the scientists. And whether in Tanzania, or Bhutan, or her beloved farm on the Eastern Shore of Maryland, Aileen was always prepared to dedicate her time, talent and wisdom to ensuring that the wonder of natural places would remain for generations to follow.
To her beloved children and grandchildren, we express our deepest condolences, as well as our gratitude for Aileen's remarkable life of service and her indelible legacy of leadership in protecting the planet we all share.
Contribute in memory of Aileen Bowdoin Train. Your donation will be used to support the Russell E. Train Education for Nature Program.