WWF's Nicky Sundt on Smoke Jumping and Climate Change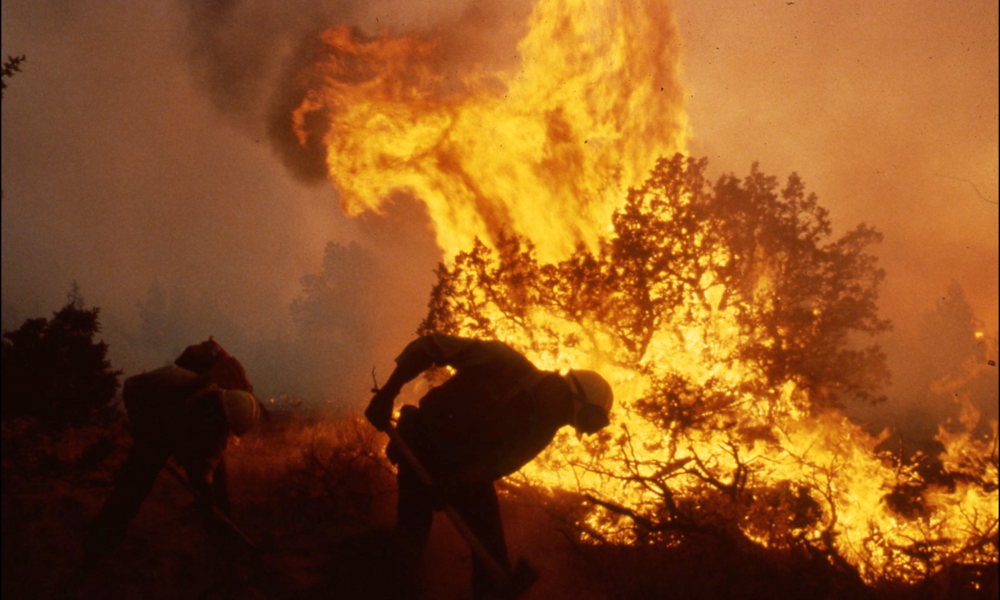 Nicky Sundt fought wildfires in the Western United States and Alaska from 1976 to 1990. Today, he works at the intersection of climate science and policy at WWF, where he is seeking to slow climate change and limit its adverse consequences for people and species. A video interview with Nicky is featured in The Weather Channel's recently-launched "Climate 25" project.
Tell us a bit about your firefighting experience. How has it informed your work on climate change?
I worked as a seasonal firefighter for the US Forest Service, mostly as a smokejumper, parachuting in to get to the fires.
During the summer of 1981, I was with a group of smokejumpers trapped late one afternoon by an approaching wildfire in a rugged and remote area of Idaho. We threw all our gear in a stream and deployed our fire shelters. I remember feeling trapped and helpless. Luckily, the winds shifted just before the fire reached us at sunset. After spending the entire night anxiously waiting under our fire-shelters to be burned over, we realized that the wind might hold off just long enough for us to quickly escape to a nearby ridge. Just before dawn—when burning conditions were most favorable—we collectively agreed to hike through heavy timber to the safety of a ridge where a helicopter picked us up. Later that morning, the winds shifted and incinerated all the jump gear we had left behind. We were told that only the metal buckles remained. We likely would not have survived.
I learned some lifelong lessons. Where survival is at stake, be well informed and know the risks. Make smart and timely decisions. And don't gamble what you can't afford to lose. Those lessons all are relevant in our efforts to confront climate change.
How can climate change affect the frequency and severity of wildfires?
Climate change affects the nature of what firefighters call "fuel," the quantity and quality of live vegetation and other burnable material above the surface of the earth and in the soil. Changes in temperatures, humidity, and precipitation influence the amount of fuel, the type of fuel and its moisture levels. The timing and duration of fire seasons can be altered. Fire behavior (the amount of heat released by fires and the rate at which fires spread, for example) and fire size are also affected. Climate change also influences thunderstorms—a major ignition source for wildfires—and the winds that feed oxygen into fires.
Sundt during the summer of 1983.

Smoke jumpers preparing to exit the plane.

Smoke jumpers parachute out of the plane.

A smokejumper prepares to land near a wildfire.

Firefighters pull a tree away from the flames in central Oregon.

Firefighters at work in central Oregon.

Firefighters stop for a drink before getting back to work.

Firefighters use their axes to prevent the fire from spreading.
How has climate change impacted wildfires thus far and what are the projected wildfire changes?
Wildfire patterns have changed and will continue to change, but not just because of climate change. Additional factors that affect wildfires include human influences such as urban development in areas prone to wildfires, and fuel and fire management practices.
In the Western US, rising temperatures, earlier snowmelt, and longer summers increased fire frequency by 400 percent from 1970 to 2003, according to the 2014 report Climate Change Impacts in the United States by the U.S. Climate Research Program. Projections show climate change will cause larger, more intense fires that will occur more often.
And climate change is driving a dramatic increase in fire suppression costs. Firefighting budgets at the U.S. Forest Service and the Department of the Interior amounted to $3.5 billion in 2015. That's an average 25 percent growth per year over the last two decades, adjusted for inflation, the government reports. It is important to recognize that firefighting costs are only a fraction of the full costs of wildfires, so the economic consequences of climate-driven changes in wildfires are far greater than suggested by federal firefighting budgets alone.
What can we do to manage the interconnected problems of climate change and wildfires?
We need to do two things: First and most immediately, we need to prepare for wildfire patterns that differ from those we have experienced in the past, including larger and more intense wildfires. To do that, we need to change land management and fire suppression policies. Second, we need to sharply reduce our burning of fossil fuels. That will slow the buildup of greenhouse gases in the atmosphere, slow the pace of climate change, and lessen the threat posed by rapid changes in wildfire regimes.
How does WWF address climate change and its consequences?
WWF recognizes that our climate and oceans are being disrupted by rising greenhouse gas concentrations in the atmosphere, and that the future of our planet is imperiled by inaction. We are actively promoting a low carbon, climate resilient future in all of our work.
Right now, WWF is working hard to ensure that US and international leaders reach a strong and effective climate change agreement when they meet in Paris later this year, under the United Nations Framework Convention on Climate Change. By agreeing to a strong global climate deal that significantly reduces emissions and prepares us for the impacts of climate change, we'll be in a better position to ensure a better future for following generations.
Do your part. Demand climate change action now!