WWF Submits Half a Million Petition Signatures for Thai Ivory Ban
In meeting with Thai Prime Minister, a call for action to help elephants in crisis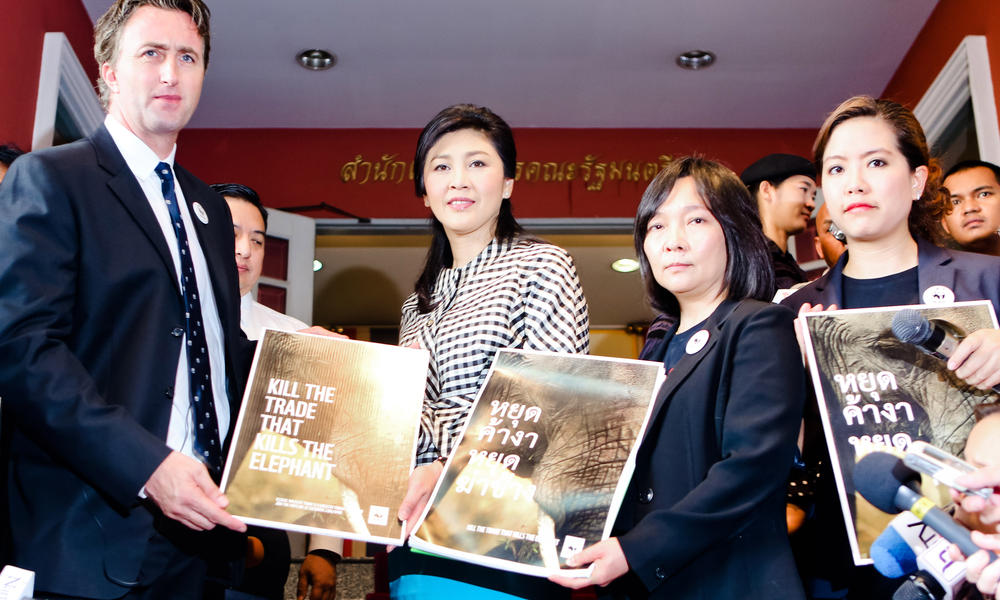 WWF handed over a global petition with more than half a million initial signatures from around the world demanding an end to Thailand's ivory trade. The petition was delivered personally to Prime Minister Shinawatra today in Bangkok.
"We already have the existing laws to protect wildlife, and elephants are culturally important to Thailand," Prime Minister Shinawatra said at the event. "We will take the issues raised by WWF into consideration."
WWF Board Member Leonardo DiCaprio is championing the petition along with other prominent voices through Hands Off My Parts—an initiative to highlight how wild elephants are falling prey to ruthless poachers as demand for illegal ivory increases, especially in Asia.
"Illegal wildlife trade is the most urgent threat facing species like tigers, rhinos and elephants. These animals are being killed every day to feed an escalating demand for their body parts."

Leonardo DiCaprio
Hollywood actor and conservationist
Elephants in crisis
"While the Thai government has tried several times to reform the law in recent years, nothing has changed. The reality is that the existing legal framework does not prevent Thailand from being the laundering hub for illegal ivory," says Janpai Ongsiriwittaya, Illegal Wildlife Trade campaign leader in WWF-Thailand.
The sale of ivory from wild elephants is currently illegal in Thailand, but the sale of ivory from Thai domestic elephants is legal. Determining whether ivory products are derived from wild elephants or domestic animals is extremely difficult—and enforcement agencies are currently unable to detect illegal ivory entering the Thai trade.
Crucially, the nation's status as an international transportation and shipping hub ensures that a steady stream of black market purchasers enter the country to buy ivory products. It also facilitates smuggling of raw ivory into Thailand, since illegal shipments are easily hidden in the many thousands of containers entering Thai ports every day.
An urgent opportunity
As the host country of the upcoming CITES Conference of the Parties, which begins on March 3 in Bangkok, WWF urges Prime Minister Shinawatra to do the right thing. The ivory ban would spur legal reforms in the country to prevent the slaughter of up to 30,000 wild African elephants a year.
WWF and TRAFFIC, the wildlife trade monitoring network, are also calling on governments attending CITES to consider formal trade restrictions against some of the worst offenders in the illegal ivory trade, including Thailand, Nigeria and the Democratic Republic of the Congo.
Take action
At this critical juncture we need your support now more than ever to get Prime Minister Shinawatra to ban Thailand's ivory trade—please sign and share the petition at worldwildlife.org/ban.