WWF Takes the Wheel on Arctic Shipping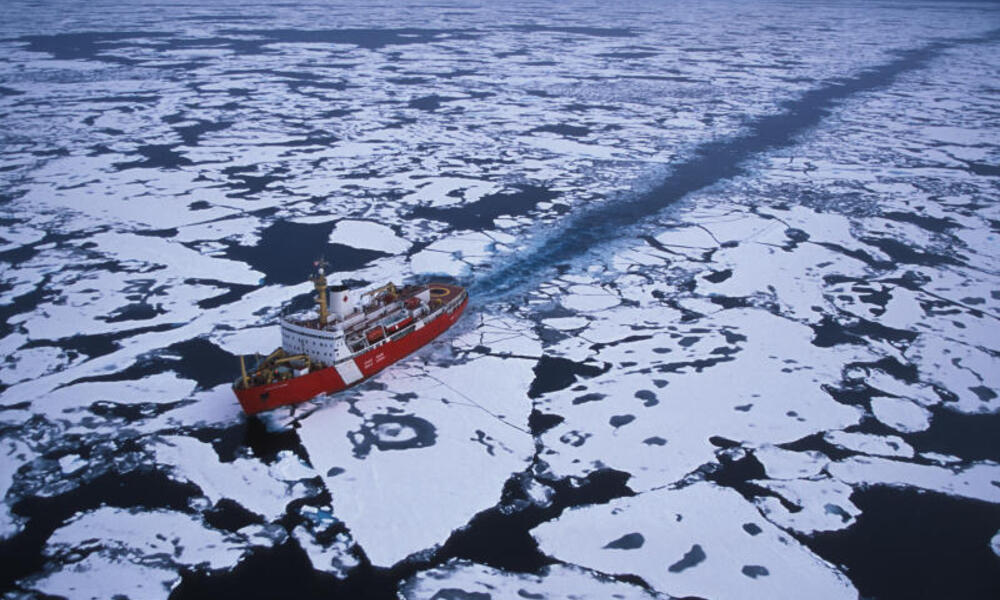 Date: May 14, 2013
Author: Katie Gustafson
UPDATE:
A new WWF report illustrates the negative impact of the shipping industry on the marine environment. The Arctic is noted as an area of tremendous concern, given the increasing number of ships travelling through that region—a direct result of climate change. Read the report.
The Bering Strait, the Arctic waterway between Russia and Alaska, is known as the "Marine Mammal Superhighway." It is also rapidly becoming a popular route for more than just seabirds, polar bears, walrus, whales, and seals.
As climate change melts Arctic sea ice, this waterway—like others across the region—is seeing a marked increase in shipping traffic. Because shipping can significantly affect ecosystems, WWF is taking action to ensure that development in the Arctic occurs in an environmentally and socially responsible way.
"We want to make sure that this ecosystem—which has remained wilder than most places on the Earth—stays stable."

Elena Agarkova Senior Program Officer, Arctic Field Program
Sea ice down, shipping and disruption up
Last September, Arctic sea ice reached the lowest point ever recorded, opening up new shipping lanes and exposing this remote region to unprecedented development, including oil and gas exploration.
More and more ships are opting for the Arctic shortcut between Europe and Asia, with most traffic traversing Russia's Northern Sea Route. The Bering Strait is also seeing more shipping traffic, with a drastic increase expected in coming years.
More ships in these waters mean greater likelihood of accidents and disruption in a sensitive ecosystem. Oil spills present the greatest threat, but other impacts pose substantial concern: ship groundings, marine mammal strikes, introduction of alien species and disruption of migratory patterns. Even noise from shipping vessels can impact marine species that depend on sound for communication.
Community voices
As carefully balanced Arctic ecosystems are disrupted, the traditional ways of life of the region's diverse indigenous peoples are also threatened.
WWF-US Arctic Field Program Officer Verner Wilson hears these communities' concerns first-hand as he works to ensure they have their say in shaping Arctic development.
"They're seeing a lot more ships going by the island, and they're concerned because it impacts the whales and other wildlife they depend on," says Wilson of his own family, Yup'ik Eskimos on Alaska's Lawrence Island in the Bering Strait. "Locals say they're seeing more distress from shipping companies, and they are hoping they can help."
Indigenous communities plan to offer their expertise in navigating the Strait—based on information such as rock locations, species' movements, ocean currents, ice melt dynamics, and weather patterns—to reduce harmful ship accidents. With help from Wilson, they are offering their commentary to the U.S. Coast Guard as it determines appropriate shipping regulations for the Strait.
WWF takes action
All of WWF's Arctic-country offices are working with NGO partners to influence the new Polar Code being developed by the International Maritime Organization (IMO). The Polar Code will regulate all matters pertaining to ships operating in Arctic and Antarctic waters, including design, construction, equipment, operations, training, search and rescue, and environmental protection. Ships in polar waters currently may choose to abide by the IMO's voluntary guidelines, but the Polar Code will be mandatory.
WWF staff are developing maps of the Bering, Beaufort, and Chukchi seas to identify the most biologically and ecologically important areas. We also work in the Bering Strait to study possible effects of oil spills and other accidents.
Additionally, we seek the shipping industry's commitment to best shipping practices in the region. And our experts are engaging with officials in other Arctic countries to demonstrate the need for precautionary planning.
"If the ice keeps retreating, the chances of shipping increasing dramatically are really high," says Elena Agarkova, Senior Program Officer for WWF's Arctic Field Program. "WWF sees this as a good window of opportunity to safeguard the Arctic and its resources. We want to make sure that this ecosystem—which has remained wilder than most places on the Earth—stays stable."
Learn more about the Arctic
Help protect America's Arctic from oil and gas drilling