WWF Works to Protect Alaska as Oil and Gas Drilling Raises Concerns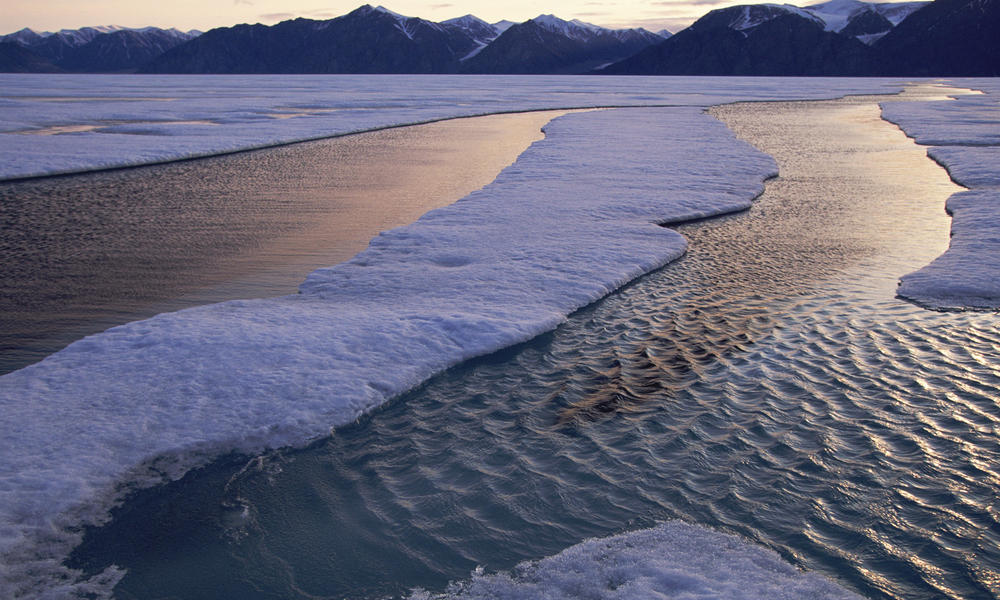 Date: August 30, 2012
Author: Layla Hughes, WWF Expert on Oil and Gas Development
Shell Oil Company has been granted permission by the U.S. government to begin preparatory drilling in Alaska's Chukchi Sea. This is the first time in two decades that offshore drilling will occur in Alaska's waters.
Layla Hughes, WWF's expert on oil and gas development, shares her concerns and what WWF is doing to address them.
Why are you concerned about drilling for oil and gas in Alaska?
LH: Oil spills are difficult to contain, even under the best of circumstances. Cleaning up the Deepwater Horizon oil spill that happened in the Gulf of Mexico in 2010 was—and still is—challenging. Responding to a spill in Alaska will be even harder. The area where oil companies can now drill is in the remote, ice-covered waters of Alaska's Chukchi Sea, which is known for extreme storms, gale-force winds, moving sea ice, sub-zero temperatures and darkness.
Such hostile conditions will make it difficult, if not impossible, to mount a robust response effort in the event of a major oil spill. I'm very concerned about drilling in Alaska because I think it will be dangerous and irresponsible, given that there are not safeguards in place to protect Alaska's wildlife and communities—both at the heart of WWF's mission.
What wildlife in Alaska could suffer the most from oil and gas development?
LH: Many marine mammals and fish species could suffer, if not die. One reason is because these species depend on sound to survive. Vision is limited in the great darkness of the deep sea and the sounds they depend on to travel, find food and mate would be drowned out by oil exploration and drilling. Whales and other marine mammals have died from exposure to the traumatic impacts of loud underwater noise, including seismic testing.
Oil and gas operations could also release many tons of harmful pollutants into the air and discharge dangerous chemicals into the water, thereby degrading the clean air and water that the polar bears, whales and walrus depend on to survive.
Could people be impacted too?
LH: Yes. Just one drilling project could increase levels of nitrogen dioxide to unsafe levels. This could lead to breathing problems—such as asthma—especially among older people and children.
WWF has been focused for several years on stopping drilling in Alaska. What is WWF doing now that drilling is being allowed there?
LH: We are focused on identifying the most important and sensitive places for Alaska's wildlife, which often are also the places that indigenous people and communities depend on for food and other resources, or that are important to their culture. And we are considering areas that are particularly resilient to climate change. We are using one of our new tools, called Rapid Assessment of Circum-Alaska Ecosystem Resilience, to see which parts of an ecosystem will persist in spite of climate change.
After identifying these areas, our priority will shift to ensuring that the areas are off limits for industrial development, including oil and gas drilling.
Is WWF doing anything else?
LH: We are not just focused on where drilling is allowed. We also are focused on creating science-based and transparent decision-making processes about when it is allowed. A recent study found that, in the Canadian Arctic (where weather conditions are similar to Alaska), there is an average of only 40 days a year when a clean-up could be attempted. In September and October, no response at all is possible there for a large majority of the time. After October, the ocean freezes over and no response is possible until the following summer. Therefore, it could be months before response equipment could get into the region, with oil flowing unchecked beneath the ice all winter and spring. WWF is fighting for regulations that would require drilling be restricted to the summer months. The U.S. government recently imposed exactly this kind of restriction for drilling in the summer of 2012 in the Chukchi Sea. But we want that restriction to go beyond 2012.
We also are looking at how drilling is done. We want to ensure that there is the capacity to respond to a drilling disaster. Currently, there is not adequate equipment, people, or training in Alaska to respond to a spill. There also are not accurate estimates of the amount of oil that can be recovered by the equipment that does exist. Our laws need to be strengthened to ensure that Alaska-specific response equipment and plans exist in case a blowout occurs. Also, because many marine mammals depend on sound to survive, WWF wants to see better regulations in place that help minimize the amount of drilling-related noise. We are pleased that, at the 2012 International Whaling Commission meeting, several countries (including the United States) agreed to create a committee that will study the noise issue and propose recommendations by June 2013 for how to address noise.
What do you envision Alaska looking like in the future if WWF's approach is successful?
LH: Alaska is a special, unique place, with great stretches of wilderness and relatively pristine areas. It's important to keep it that way, through responsible development. If our approach is successful, Alaska's coasts will be protected in certain, sensitive areas and these will be no-go zones for offshore drilling. The drilling that may occur in other areas is limited and done in such a way that wildlife and peoples' health will be safeguarded, through noise and other restrictions, and with effective, proven oil spill response strategies and tactics in place—before the drilling occurs.
Read WWF's statement on Royal Dutch Shell's decision to scale back offshore drilling in Alaska this summer