Deforestation and Forest Degradation Stories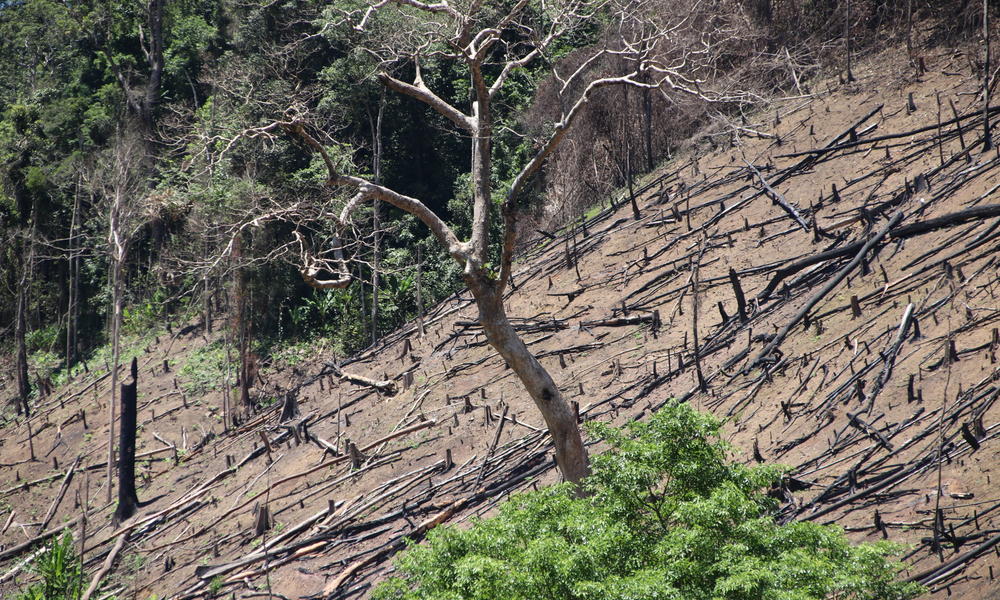 When a forest is degraded it still exists, but it can no longer function well. It becomes a shell of its former self; its health declines until it can no longer support people and wildlife by, for example, filtering the air we breathe and water we drink or providing animals with food and places to live.
WWF's Chief Scientist Dr. Rebecca Shaw is a brilliant thought leader who has been researching and leading interdisciplinary approaches to conservation and climate change for more than 30 years.

There's a way we can have our palm oil and eat it too. By producing palm oil sustainably, growers and manufacturers can offer traders, retailers, investors, and consumer products that meet their needs in a way that's good for the planet, people, and profits.

September 10, 2015

Many wood products in American homes—from the kitchen table to hardwood floors—come from the same forested areas in Africa where elephants, rhinos, lions and other magnificent species roam wild. Few purchasers know that the wood from these forests is illegal. It was harvested, transported, processed, bought or sold in violation of national laws.

The world's most popular vegetable oil—palm oil—is produced in tropical rain forests everywhere. While it can be produced sustainably, palm oil made with conventional production methods can lead to unchecked agricultural expansion that threatens forests and wildlife.

WWF Magazine: Fall 2015

How indigenous communities, government agencies, nonprofits and businesses work together to stop the clearing of forests

July 07, 2015

Remember learning about photosynthesis back in school? This week, let's go back to our science roots (pun unintended!) to see how this natural process makes forests both a contributor and solution to climate change. To understand the complex relation between forests and climate change, it is important to see trees and plants as playing multiple roles on the stage that is our planet.

May 10, 2015

Through a new project, WWF and Apple will help China—the world's largest producer and consumer of paper products—reduce its environmental footprint by producing paper products from responsibly managed forests within its own borders.

January 13, 2015

Trees are cut down at a rapid rate to meet the demand for products we all use. Some are products that often are on our weekly shopping lists, such as toilet paper, diapers and tissues. What if we used something other than newly-harvested trees to create these products?

October 07, 2014

Tree kangaroos inhabit the lowland and mountainous rainforests of Papua New Guinea, Indonesia and the far north of Queensland, Australia. Living up in the foliage, these species looks like a cross between a kangaroo and a lemur.

September 18, 2014

When you see that symbol, you don't have to wonder whether pristine forests were destroyed to make the product or whether the workers wielding chainsaws were paid a living wage. Because when you see the FSC logo, you know the product can be traced back to a company that has been certified by the Forest Stewardship Council.

WWF Magazine: Fall 2014

Inside the effort to save Russia's great cat

WWF Magazine: Summer 2014

WWF is only one voice among many

February 10, 2014

Recognizing their role in influencing more sustainable development of palm oil, Johnson & Johnson has publicly committed to source 100% of its ingredients derived from palm oil from certified sustainable sources by 2015.

February 06, 2014

Just over a week ago, the second-largest pulp and paper manufacturer, Asia Pacific Resources International Limited (APRIL) announced a change of practices and new conservation initiatives.

September 12, 2013

Every minute on the Indonesian island of Sumatra, five football fields of rain forest are cleared for timber and replaced with pulpwood, rubber and palm oil plantations.

June 03, 2013

WWF is working to reduce deforestation in Borneo through promoting Forest Stewardship Council (FSC) certification of wood and paper products.

May 07, 2013

WWF has offered a way for community members to help rehabilitate their forests and earn a living. Our reforestation programs in Indonesia help preserve our most precious wildlife and empower local people.

April 18, 2013

Large-scale illegal logging in the Russian Far East is threatening the long-term survival of the endangered Amur tiger by destroying the species' habitat. Around 450 Amur tigers remain the wild, scientists estimate.

February 01, 2012

Baby orangutan lost in the forest of Borneo is brought to safety.

November 15, 2011

Camera trap photos capture five of the island's big cat species in the wild.