African Elephant Stories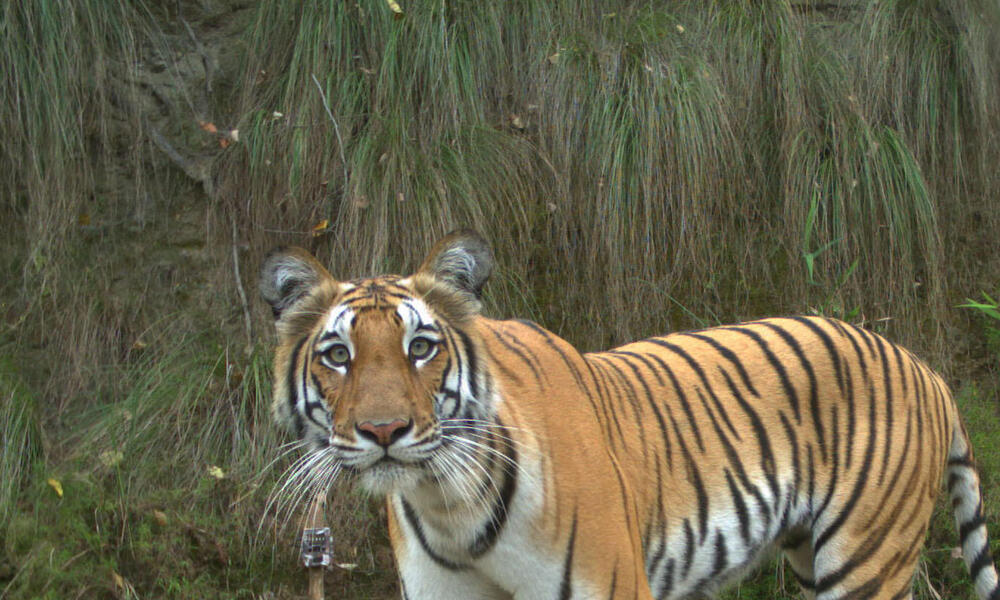 In honor of World Wildlife Day, we celebrate some hopeful conservation stories to remind us actions make a difference and there's still time to preserve our natural world if we all do our part.


July 02, 2014

Though Thailand reveres elephants and holds the animals as an important part of national identity, the country remains one of the most problematic worldwide when it comes to the illegal ivory trade.

May 19, 2014

The Kavango Zambezi Transfrontier Conservation Area (KAZA) crosses five southern African countries and protects 109 million acres of land. The breadth and variety of wildlife in KAZA is astounding.

May 15, 2014

This move indicates efforts by the Hong Kong government to combat the illegal elephant ivory trade, which is fueling an elephant poaching crisis. Last year, an estimated 30,000 elephants were slaughtered to feed the black market trade in ivory.

December 26, 2013

As 2013 comes to a close, WWF takes a look back at successes over the past 12 months.

December 16, 2013

As wildlife crime sweeps through Africa and Asia, WWF joined wildlife advocates, conservation orgnizations and concerned citizens gathered at the first public meeting of President Obama's Advisory Council on Wildlife Trafficking in Washington D.C

December 05, 2013

When the U.S. Fish & Wildlife Service crushed 6 tons of confiscated ivory carvings, trinkets and jewelry into rubble last month, it got the world's attention.

November 05, 2013

EFN grantee Jim Nyamu is working to raise awareness of threats to elephants by walking more than 650 miles from Massai Mara to Nairobi on a campaign called Ivory Belongs to Elephants.

September 26, 2013

On Sept. 26, thousands of miles from the nearest herd of wild elephants in the jungle of New York City, several unprecedented commitments were made to change the trajectory at two high-level events.

May 07, 2013

Taking advantage of the ongoing political instability in Central African Republic, poachers massacre dozens of elephants.

March 14, 2013

This month in Bangkok, where 178 nations have convened to discuss global wildlife trade, many of the country delegates are publicly expressing urgency and seriousness of the crisis. As poaching rates for African elephants and rhinos soar to catastrophic heights, member nations of the UN Convention on International Trade in Endangered Species (CITES) took action.

March 12, 2013

Last week, that rare moment happened with 1.5 million voices from 227 countries and territories coming together in a call to end the ivory trade in Thailand, home to one of the biggest unregulated ivory markets in the world. Their shared vision: to save the world's elephants.

March 03, 2013

Thai Prime Minister Yingluck Shinawatra pledged to start a legislative process to end elephant ivory trade in Thailand, seizing a key opportunity to stem global wildlife trafficking at the opening of the Convention on the International Trade in Endangered Species of Fauna and Flora (CITES) in Bangkok.

February 27, 2013

WWF handed over a global petition with more than half a million initial signatures from around the world demanding an end to Thailand's elephant ivory trade. The petition was delivered personally to Prime Minister Shinawatra today in Bangkok.

January 15, 2013

WWF has launched a global petition asking Thai Prime Minister to ban all ivory trade in Thailand in order to curb the illegal killing of African elephants. Thailand is the biggest unregulated ivory market in the world and a top driver of poaching and illegal trade.

October 23, 2012

A major ivory seizure in Hong Kong uncovered roughly four tons of ivory products—estimated to be valued at over $3.4 million and potentially equivalent to 500 elephants.

October 02, 2012

The maize harvest is a crucial source of food for the Kakwenga family in but erratic rains and raids by elephants make a good harvest problematic. Farmers can't guard their crops twenty-four hours a day so they have started using chili bombs—a mixture of ingredients which give off a spicy, pungent smell that offends elephants' sensitive trunks and drives them away from crops.

September 21, 2012

On September 21, 2012, WWF and The Alliance of Religions and Conservation (ARC) announced a first-ever partnership with faith leaders from across Africa to unite against the killing of endangered species caused by illegal wildlife trade.