Borneo and Sumatra Stories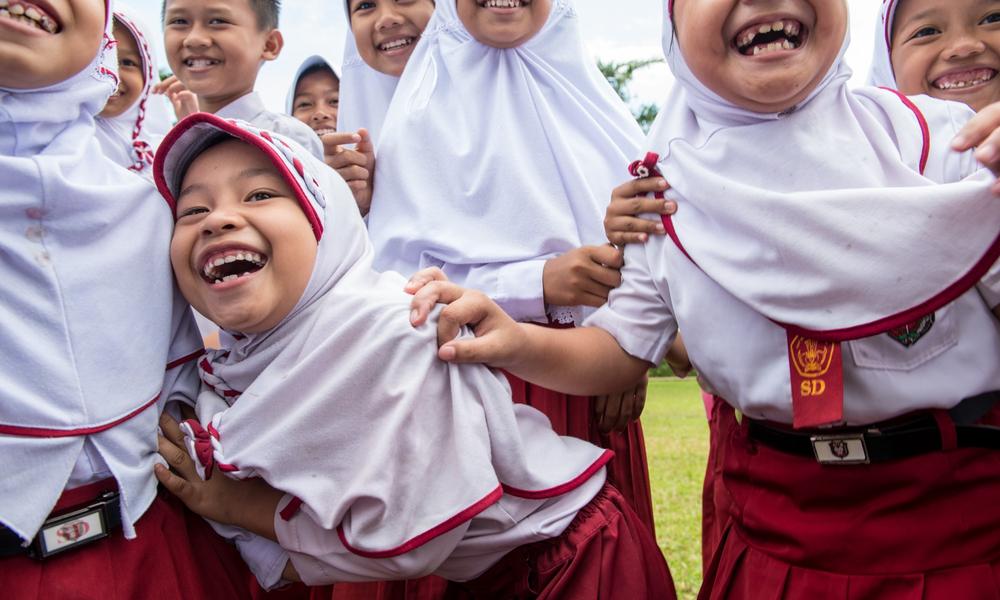 Through games. a mobile library, and a series of lessons, WWF's Mobile Education Unit helps students learn how to protect forests and prevent conflict with elephants and tigers.
WWF Magazine: Spring 2018

Thanks to a groundbreaking agreement between a WWF-founded company and the residents of a rain forest village, Sumatran orangutan habitat is more secure than it was just a few years ago.

The Sumatran rhino is so rare and elusive that even the most senior of the rangers have never seen the animal in the wild. But just because you don't see something doesn't mean it's is not there.

November 02, 2017

A new great ape species—the Tapanuli orangutan—was officially announced by an international team of scientists today. With 800 or fewer individuals, the Tapanuli orangutan is the rarest of all great apes.

WWF Magazine: Summer 2017

Borneo has suffered some of the greatest habitat destruction on Earth, but there are still pristine wilderness areas like this one left. Its magical forests rarely disappoint.

November 30, 2016

One of the last great stands of rain forest in the deforestation hotspot of the Indonesian island of Sumatra has welcomed an exciting new addition: a baby female orangutan. The infant is the first orangutan born in the Thirty Hills conservation concession since WWF and its partners began managing the 100,000-acre forest in 2015.

The world's most popular vegetable oil—palm oil—is produced in tropical rain forests everywhere. While it can be produced sustainably, palm oil made with conventional production methods can lead to unchecked agricultural expansion that threatens forests and wildlife.

August 12, 2015

The Indonesian island of Sumatra—one of the most biodiverse places on the planet—has lost more than half of its forest cover in the last thirty years. But there are stands of amazing, still-intact forest in Sumatra, and Thirty Hills is one of them.

April 27, 2015

The Amazon, central Africa, the Mekong. These are home to some of the world's most species-rich, culturally significant and stunningly beautiful forests. But large swaths of these forests, and many others around the world, may not be there in 15 years if we don't do more to save them.

August 12, 2014

WWF works in a number of countries in Asia to prevent and mitigate human-elephant conflict. In addition to monitoring elephant movement to understand where they travel, what they encounter and their habits as they pertain to crop raiding, we help communities employ a variety of methods to keep elephants out of human settlements and safe in the wild.

August 07, 2014

We're celebrating a year since Betino's birth at the Flying Squad in Indonesia's Tesso Nilo National Park! This lively little female calf was born on Aug. 9, 2013, to a critically endangered Sumatran elephant trained to help reduce human-elephant conflicts.

February 06, 2014

Just over a week ago, the second-largest pulp and paper manufacturer, Asia Pacific Resources International Limited (APRIL) announced a change of practices and new conservation initiatives.

October 10, 2013

With possibly as few as 100 animals left in a handful of small, isolated populations, the Sumatran rhino is arguably one of —if not the most— threatened large mammal in the world.

September 12, 2013

Every minute on the Indonesian island of Sumatra, five football fields of rain forest are cleared for timber and replaced with pulpwood, rubber and palm oil plantations.

June 26, 2013

Indonesia's Tesso Nilo National Park is one of the last safe havens for critically endangered Sumatran elephants and Sumatran tigers. But many of these forests have been cleared to develop palm oil plantations and meet worldwide demand for pulp and paper.

June 03, 2013

WWF is working to reduce deforestation in Borneo through promoting Forest Stewardship Council (FSC) certification of wood and paper products.

May 21, 2013

The biggest threat to the turtles in Indonesia has been the decades of egg poaching by locals, who can turn a high profit from illegal trade across the border with Malaysia.

In Indonesia's Danau Sentarum National Park on the lush island of Borneo, critically endangered orangutans share the peat swamp forests with local human residents. But the orangutan populations have dropped by over 50 percent during the past 60 years, in part from poaching, and also because of habitat destruction from illegal and unsustainable forestry.

July 23, 2012

A new program lets local villagers in Indonesia use photography to capture remarkable scenes of the natural world.

February 01, 2012

Baby orangutan lost in the forest of Borneo is brought to safety.

November 15, 2011

Camera trap photos capture five of the island's big cat species in the wild.