Eastern Himalayas Stories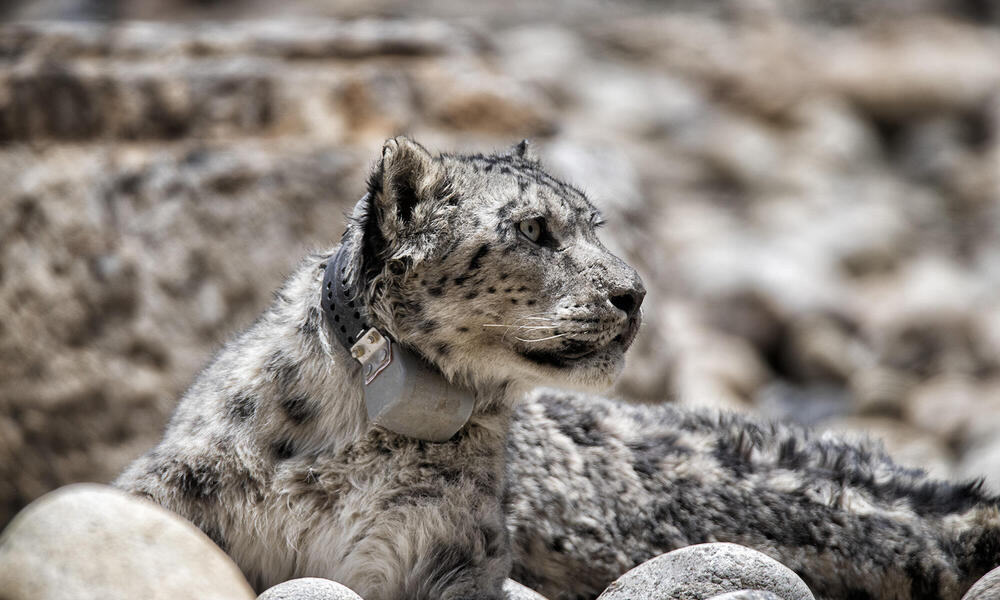 Scientists successfully collared two snow leopards in Western Nepal—a feat that will help researchers learn more about this elusive and vulnerable species. The satellite GPS collaring of these big cats brings Nepal's tally of collared snow leopards to eight.
May 17, 2021

Snow leopards live in some of the most rugged landscapes in Asia's high mountains, which makes it incredibly difficult to study these rare and elusive big cats. A large majority of snow leopard habitat remains under-researched, according to the first-ever systematic review of snow leopard research conducted to date.

May 21, 2020

Elusive and solitary nature, snow leopards are rarely spotted and even less frequently studied within their rugged and harsh habitat. However last November, two snow leopards were captured, fitted with satellite-GPS collars, and successfully released back into their rocky homeland in Western Nepal. The two male snow leopards were the first since the 1980s to be fitted with collars within Shey Phoksundo National Park in Western Nepal.

November 27, 2019

Established in 2010 and dubbed Tx2, it is arguably the most ambitious effort ever undertaken to recover an endangered species. Today, the overall tiger population decline has begun to reverse, with better data and improved surveys indicating there are likely now close to 4,000 tigers roaming free across the range states.Here are the Tx2's top nine achievements to date.

May 24, 2017

In Kyrgyzstan, community based conservation activities led by Farida Balbakova have paved the way for an integrated, climate-smart landscape management plan to protect the snow leopard.

May 17, 2017

A snow leopard was successfully collared in Kangchenjunga Conservation Area on May 8, 2017 making it the fourth one to be collared in Nepal's eastern snow leopard conservation complex.

May 12, 2017

Human-wildlife conflict is a major issue for many poor people who live near forests in rural areas of Nepal. That's one of the reasons why WWF and other partners in conservation launched the Hariyo Ban (Green Forest) program to find lasting solutions that protect people's lives, livestock and crops and prevent the retaliatory killing of wildlife.

May 12, 2017

WWF and partners have launched a program to reduce pressure on forests and improve the lives of women and marginalized people through projects such as providing improved cook stoves that burn firewood more efficiently.

WWF Magazine: Summer 2017

WWF National Council member Diane Moxness is always up for adventure. She and her husband spent time in Nepal forging a vision for conservation that embraces local as well as global action.

WWF Magazine: Spring 2017

In one of the most climate-vulnerable countries on Earth, an unprecedented development project is building a model for adapting to climate change on a massive scale—working one village at a time.

WWF Magazine: Spring 2017

More than 4 million people call Nepal's Gandaki River Basin home.

Snow leopards scale the great, steep slopes of mountains in Central Asia with ease, blending into the landscape. But these endangered cats face many threats including habitat loss, reduced prey and retaliatory killings. WWF works to reduce human-leopard conflict and protect the fragile snow leopard habitat.

August 30, 2016

In herding communities in the Nepalese mountains, snow leopards were not considered beautiful creatures that needed protecting. To these communities, they were a direct threat that needed to be eliminated. Thankfully, after working together with conservationists and WWF-Nepal to find a solution to these problems, the communities have taken on ownership of the efforts to protect snow leopards.

August 11, 2016

Three years ago, researchers from WWF-Mongolia set up camera traps to photograph snow leopards in and around Khovd Aimag's Jargalant Khairkhan Mountain, located in western Mongolia's Altai Mountains, to determine the elusive cat's population size and distribution.

May 02, 2016

Nepal marked two consecutive years since its last rhino was poached on May 2, 2014. This exceptional success is a result of a combination of high-level political will and government entities, and the active involvement of conservation communities.

April 25, 2016

Last April, Nepal experienced a devastating earthquake, resulting in a tragic loss of life and damage. But the people of this small and beautiful country are pushing forward with remarkable resilience. They've also taken care to consider the environment during the rebuilding period.

Species like red pandas, Bengal tigers, blue sheep, Argali wild sheep, and ibex are found in Asia high mountains. Learn more about the Asia high mountains and the work that WWF is doing to protect them.

Urgent international action must be taken in the face of climate change to save the snow leopard and conserve its fragile mountain habitats that provide water to hundreds of millions of people across Asia.

October 05, 2015

A sneezing monkey, a walking fish and a jewel-like snake are just some of a biological treasure trove of over 200 new species discovered in the Eastern Himalayas in recent years, according to a new report by WWF.

June 04, 2015

Overlapping heavily with snow leopard habitat, the Third Pole encompasses the snow-covered mountains surrounding the Tibetan Plateau. The Pole's thousands of glaciers and regular snow melt form the headwaters for 10 of Asia's biggest rivers, which bring drinking water, power and irrigation directly to 210 million people, while these river basins indirectly support more than 1.3 billion people.

March 24, 2015

Bhutan Prime Minister Tshering Tobgay came to the United States this week to share a true story that has inspired his country and, he hopes, will inspire the world.

March 19, 2015

Since becoming a WWF global ambassador, Andy Murray has been particularly passionate about raising awareness for WWF's initiative in Nepal that supports the training and use of sniffer dogs to help track down, apprehend and deter poachers in and around Chitwan National Park.

February 03, 2015

In February 2015, Nepal will host the first symposium focused on getting to zero poaching. Delegates from more than 13 Asian countries representing conservation agencies, police and prosecution services will share best practices, tools and technologies that can be used to respond to the poaching crisis.

January 05, 2015

The government of Bhutan and nonprofit organizations also are doing their part to create jobs in rural communities. WWF is helping educate homeowners how to turn their homes into lodging for tourists.