Amur Tiger Stories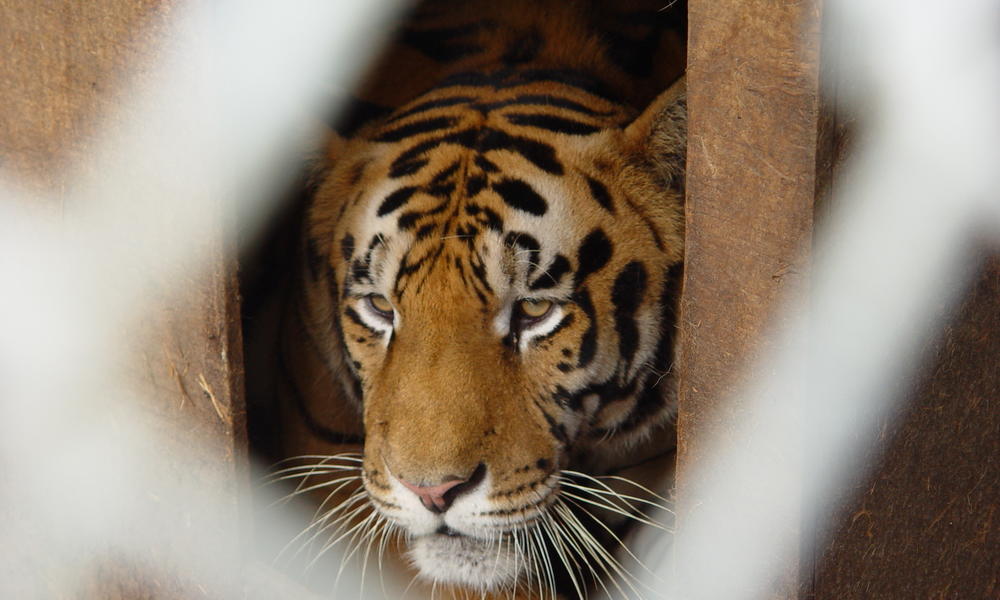 Tiger King, Netflix's new docu-series, is roaring with popularity, but behind the drama, there is a frightful truth: captive tigers in the United States are a significant conservation issue and could impact tigers in the wild.
October 29, 2018

In an enormous setback for wildlife conservation, China announced it will allow hospitals to use tiger bone and rhino horn from captive-bred animals for traditional medicine. The decision reverses a decades-old ban that has been instrumental in preventing the extinction of endangered tigers and rhinos.

WWF Magazine: Winter 2018

In May, two Amur—or Siberian—tigers were released into Russia's far eastern Evreiskaya Province, joining nine other rehabilitated tigers in the species' historical habitat.

August 21, 2018

Rescued after sustaining serious injuries to his nose and face from would-be poachers, Saikhan the "miracle tiger" has been released back into the forests of the Russian Far East.

November 30, 2017

Pavel Fomenko is a man of the wilderness and tiger protector with WWF-Russia. Here is his story.

November 29, 2017

From the world's largest mangrove forests in the Sundarbans to temperate forests in the snowy mountains of Bhutan, protecting tigers and their natural homes helps provide benefits for thousands of other animals and millions of people.

June 29, 2017

In mid-October of 2016, an Amur tiger was seen in the Russian city of Vladivostok. Despite efforts to capture him, he proved elusive, and gained international attention. On October 20th, he was finally captured and taken to a rehabilitation center. After being rehabilitated, he was released into his new home, Bikin National Park.

May 03, 2017

On April 29th, Filippa the Amur tigress was successfully released back into the wild. She was rescued and rehabilitated at the Rehabilitation Center in Alekseevka after being found in December of 2015, as an exhausted, starving, five-month-old tiger cub.

November 23, 2016

Earlier this year, WWF estimated an increase in the number of tigers worldwide, up to 3,890 in 2016 from an estimated 3,200 in 2010. But success to date is tenous: According to a new report from WWF, tigers now face a threat far greater than many we've tackled before: linear infrastructure.

November 17, 2016

In November 2010, 13 tiger range countries came together and made an unprecedented pledge: to double the number of wild tigers by 2022. Mobilized by a century of dramatic decline, leaders convened in St. Petersburg, Russia to sign a declaration boosting tiger conservation efforts. This initial effort has led to significant momentum and progress, and for the first time in 100 years, tiger numbers are on the rise. Here are some highlights from the last six years.

April 10, 2016

After a century of constant decline, the number of wild tigers is on the rise! According to the most recent data, at least 3,890 tigers now exist in the wild—up from an estimated 3,200 in 2010.

April 05, 2016

Tiger populations fighting for a comeback in the wild will receive a much needed lifeline from the United States government. Improved and tightened regulations around captive tigers will make it more difficult for captive-bred tigers to filter into and stimulate the illegal wildlife trade that threatens wild tigers in Asia.

Bringing tigers back from the brink takes commitment on a global scale. Faced with this challenge, tiger range countries took a stand and set an ambitious species conservation goal: double the number of wild tigers by 2022—the next Year of the Tiger. The goal is called Tx2.

Tigers are the most iconic of the big cats. With their gorgeous black-and-orange coats and long, white whiskers, they invoke in many a feeling of wonder and admiration. But though they are adored, they're also vulnerable to extinction.

July 29, 2015

Bhutan is home to an amazing 103 wild tigers—an increase from a previous estimate of 75 that was not based on actual field surveys—according to the country's first-ever tiger survey released on Global Tiger Day Conducted entirely by Bhutanese scientists, the survey spanned habitats ranging from snowy, cold mountains in the north—where both tigers and snow leopards roam wild—down to dense, subtropical forests in the south.

May 27, 2015

The population of the Amur tiger in Russia has increased to as many as 540 over the last decade, according to new figures from the interim census results released by the Russian government. There are now between 480 and 540 Amur tigers across their existing range, with around 100 of these known to be cubs.

February 19, 2015

Footage of a tiger and her playful cubs caught by a WWF camera trap is the first video evidence of wild Amur tigers in China. The footage was captured almost 20 miles from the Russian border late last year. In the past, tiger footprints were the only indicators of Amur tigers in China.

WWF Magazine: Fall 2014

Inside the effort to save Russia's great cat

April 18, 2013

Large-scale illegal logging in the Russian Far East is threatening the long-term survival of the endangered Amur tiger by destroying the species' habitat. Around 450 Amur tigers remain the wild, scientists estimate.

October 22, 2012

On October 18, 2012, Russia established the "Sredneussuriisky" Wildlife Refuge—covering nearly 180,000 acres—which will allow Amur tigers access between Russia's Sikhote-Alin mountains and the Wandashan mountains in China.