Rhino Stories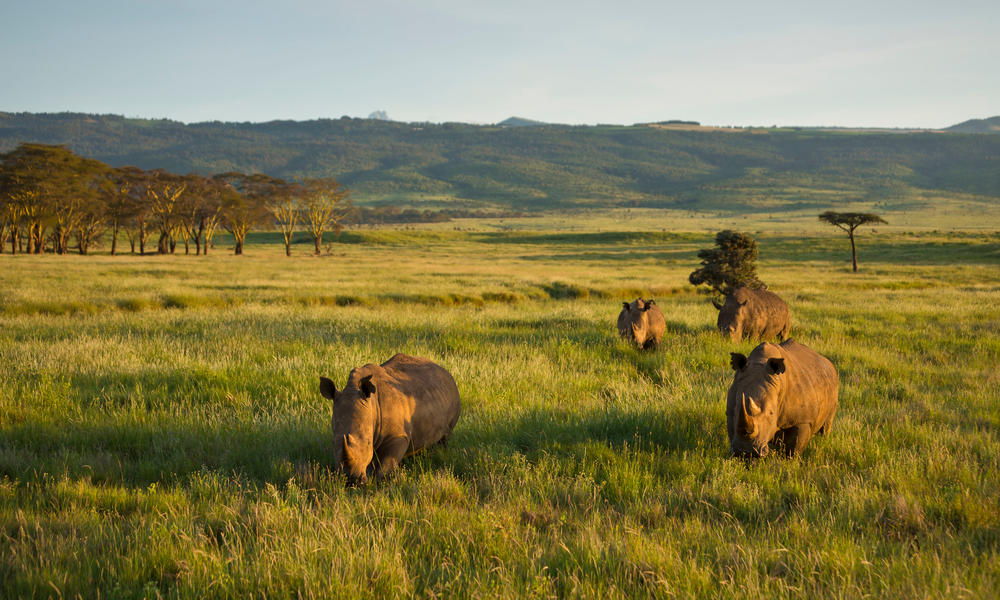 One of WWF's rhino experts answers common questions about rhinos around the world.
WWF Magazine: Spring 2019

Fewer than 80 Sumatran rhinos remain in the wild in Borneo and Sumatra. Sumatran Rhino Rescue aims to find the remaining wild Sumatran rhinos and bring them to sanctuaries where they can breed.

December 04, 2018

Last month, the Indonesian Government announced that a first Sumatran rhino, a female named Pahu, was successfully rescued from a small isolated forest patch in Kalimantan, with the support of WWF, local partners and Sumatran Rhino Rescue.

October 29, 2018

In an enormous setback for wildlife conservation, China announced it will allow hospitals to use tiger bone and rhino horn from captive-bred animals for traditional medicine. The decision reverses a decades-old ban that has been instrumental in preventing the extinction of endangered tigers and rhinos.

March 21, 2018

On March 19, 2018 the last male northern white rhino died. Sudan, 45 years old, had been under armed guard to protect him from the threat of poachers. His death is heartbreaking. The extinction of the northern white rhino is happening before our eyes.

January 29, 2018

New 2017 rhino poaching numbers out of South Africa show a small decrease from the previous year, but the death toll remains perilously high.

WWF's Black Rhino Range Expansion Project (BRREP) has been working with passion, commitment, and determination for a brighter future for the critically endangered black rhino for more than a decade. BRREP works to grow black rhino numbers by creating new populations and provides equipment and training to rangers to monitor, manage, and protect rhinos.

The Sumatran rhino is so rare and elusive that even the most senior of the rangers have never seen the animal in the wild. But just because you don't see something doesn't mean it's is not there.

Looking back over years of moving black rhinos to create new populations as part of the Black Rhino Range Expansion Project in South Africa, it's worth noting how capture and release techniques have improved.

September 22, 2017

A baby rhino spotted alongside its mother in Manas National Park, located in the northeastern Indian state of Assam, is an encouraging new sign that the rhino population in the protected area is on the upswing.

May 12, 2017

Human-wildlife conflict is a major issue for many poor people who live near forests in rural areas of Nepal. That's one of the reasons why WWF and other partners in conservation launched the Hariyo Ban (Green Forest) program to find lasting solutions that protect people's lives, livestock and crops and prevent the retaliatory killing of wildlife.

A greater one-horned rhino found a new home in Nepal's youngest national park after the government, with the support of WWF and partners, successfully moved the adult male from the country's thriving Chitwan National Park.

WWF Magazine: Winter 2016

Over five days in February 2016, five rhinos were moved from Chitwan National Park to a new home in Bardia National Park.

During the world's largest ever wildlife trade meeting—the 17th meeting of the Conference of the Parties (CoP17) to the Convention on International Trade in Endangered Species of Wild Fauna and Flora (CITES)—governments united behind a series of tough decisions to provide greater protection to a host of threatened species and bolster efforts to tackle soaring levels of poaching and wildlife trafficking.

September 23, 2016

One of the best tools we have for fighting the illegal wildlife trade that threatens many of the world's most endangered species is CITES—the Convention on International Trade in Endangered Species.

May 26, 2016

With immense pleasure, we're welcoming the birth of one very special rhino in Nepal! Moved from one national park to another earlier this year to establish new populations in areas where they used to exist, a rhino gave birth to the male calf on May 22—an encouraging sign that the mother is thriving in her new environment. Four other rhinos were also translocated with her in March.

The Kavango Zambezi Transfrontier Conservation Area (KAZA) is home to almost half of Africa's elephants, as well as an array of other animals such as African wild dogs, hippos, rhinos, lions, African buffalo, zebras, crocodiles, and cheetahs. Learn more about KAZA and what WWF is doing for it.

May 02, 2016

Nepal marked two consecutive years since its last rhino was poached on May 2, 2014. This exceptional success is a result of a combination of high-level political will and government entities, and the active involvement of conservation communities.

WWF designed and installed a camera and software system smart enough to both distinguish human movement from that of animals and to alert rangers of the presence of poachers. What does this mean for conservation?

Leto, a WWF Global Ambassador, spoke out against wildlife crime as part of a World Wildlife Day event on March 3, co-hosted by WWF President and CEO Carter Roberts. The event brought together local supporters, partners and influencers to raise awareness and support for combatting the poaching crisis.

March 02, 2016

A Greater one-horned rhino found a new home today in Nepal's Bardia National Park through a successful translocation program. The move is part of a greater effort to create a second, viable population of Nepal's rhinos to help restore the species to historic numbers.

WWF Magazine: Spring 2016

In other words: Can livestock in the United States help us test thermal camera technology slated to protect rhinos in East Africa?

January 21, 2016

South Africa announced its first decrease in rhino poaching since 2007, but an increase in the number of rhinos killed in neighboring countries offsets this slight improvement. The South African government confirmed 1,175 rhinos were lost in the country in 2015—slightly down from 1,215 in the previous year.

September 21, 2015

The plight of Sumatran rhinos needs global attention and commitments if conservation is to succeed. The science is telling us that we can't put off mounting a serious, concerted effort to save Sumatran rhinos. We have pulled three species of rhino back from the brink so we know we can do the same for the Sumatran rhino.