Botswana Safaris
8 to 16 days

Multiple departures, year round
Botswana is a country committed to preserving its natural heritage and wildlife habitats.
Skilled naturalist guides will lead you on sunset cruises through winding Okavango Delta channels.

Home to oryx and other animals, the Kalahari is the world's largest wildlife reserve.

Discover Botswana's diverse ecosystems, from the fossilized salt pans of the Kalahari Desert to the emerald waterways of the Okavango Delta.

During mokoro rides in the Okavango Delta, you'll see hippos skimming the placid water's surface.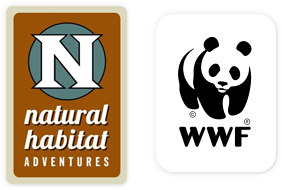 Discovering Our Planet Together
Call (888) 993 – 8687
to book your spot on this tour.
Questions? Email us at
travel@wwfus.org
.
WWF in Botswana
WWF works to protect key species in Botswana and throughout Africa by addressing threats such as poaching, habitat degradation and human-species conflict.
More Upcoming Tours