Churchill: An Arctic Summer
7 or 9 days

Multiple departures, July & August
More than 3,000 beluga whales spend the summer in Churchill and our motorized rafts put us at eye level with them.

The Churchill area has plenty of walking trails that line the border of the northern boreal forest and southern tundra.

An on-board hydrophone allows travelers to listen to the songs of the belugas; you can even swim with them on an optional excursion.

An inukshuk, the traditional mark of the Inuit culture, was used as a marker for travel routes.
Churchill, Manitoba, has gained fame as the "Polar Bear Capital of the World." But in the summer, an equally impressive natural event occurs: some 3,500 beluga whales return to the estuary where the Churchill River flows into the Hudson Bay.
Belugas—which WWF works to protect as part of its Cetaceans Action Plan—are fascinating animals. They are the most vocal of all whales (earning the nickname "sea canaries"), they have the unique ability to turn their heads, and they can swim backwards.
Available Tour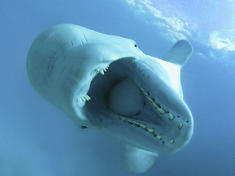 Churchill: An Arctic Summer
Travel northward by train, observing incredible vistas. In addition to beluga whales, search for caribou, arctic fox and snowy owls. Polar bear sightings are possible, too.
7 and 9-day tours from $4,795

Articles
Women in Conservation: Sandra Elvin
Ten Interesting Facts about Beluga Whales
Six Must-pack Items to Take on an Arctic Adventure
What's in Your Daypack: Churchill Edition
At Home in Churchill with Kelly Turcotte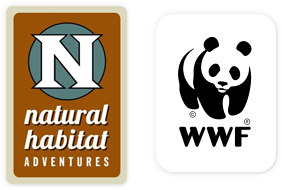 Discovering Our Planet Together
Call (888) 993 – 8687
to book your spot on this tour.
Questions? Email us at
travel@wwfus.org
.
WWF and Beluga Whales
WWF is working to influence shipping guidelines that will protect marine animals, such as beluga whales. We are advocating for better oil spill prevention and response measures. Read more here
More Upcoming Tours