Churchill's Polar Bears
6 and 7 days

Multiple departures, October & November
Visit the "polar bear capital of the world."
WWF works to protect the approximately 20,000 polar bears left in the wild.

Custom "polar rovers" allow travelers to shoot photos at close range – and stay warm doing so.

While on the tour, you may spot Arctic foxes wearing their winter coats.

Observation platforms on the "polar rovers" allow travelers to safely get nose to nose with polar bears.

October and November are the best months to observe polar bears in Churchill, Manitoba.

Adult polar bears are usually solitary creatures. But they often are in groups while waiting for the Hudson Bay to freeze.

Sleeping overnight on the Tundra Lodge gives you a chance to see polar bears all day and night.
For many wildlife enthusiasts, there is nothing quite like seeing polar bears in their natural habitat, and Churchill, Canada—known as the "polar bear capital of the world"—is an ideal location to see them. Here mothers tend to cubs and young adult males play-fight as they wait for Hudson Bay to freeze over, signaling hunting season.
Available Tours
Scheduled WWF Experts
Coming soon!
Available Extensions
Articles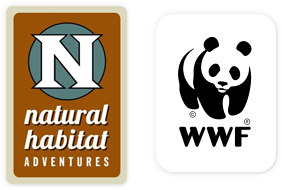 Discovering Our Planet Together
Call (888) 993 – 8687
to book your spot on this tour.
Questions? Email us at
travel@wwfus.org
.
WWF in Churchill
There are currently 22,000 to 31,000 polar bears remaining in the wild, and their survival is in jeopardy. Studies show that the polar bear population will decline by more than 30% over the next three polar bear generations – by about 2050. Climate change, which leads to the loss of Arctic sea ice, is the leading threat to polar bears, and WWF actively works to protect this flagship species.
More Upcoming Tours