The name gelada baboon is a misnomer, the gelada is not a baboon at all. It is the only living member of its genes.

The Ethiopian wolf, or simian jackal, is the most endangered predator in Africa.

The mountain nyala can be found in the Bale Mountains of Ethiopia

Visit Bale Mountain National Park
See rare endemic wildlife such as walia ibex, mountain nyala, Ethiopian wolf and gelada monkeys as they roam the alpine moors and grasslands among these evocative mountains, while raptors glide overhead. Far below, ancient monuments and ruins stand in testament to Ethiopia's rich human history, once one of the greatest kingdoms on Earth.
Available Tours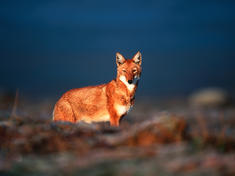 Wild Ethiopia: The Roof of Africa
Atop the Ethiopian Highlands, Africa's highest plateau dominated by volcanic peaks and rent with deep gorges, look for rare endemic wildlife like the Ethiopian wolf, walia ibex and gelada baboon.
View Itinerary
Call (888) 993 – 8687
to book your spot on this tour.
Questions? Email us at
travel@wwfus.org
.
More Upcoming Tours