Hawaii
11 Days

Multiple departures, February & March
Discover the natural side of a South Pacific paradise.
Billed as a trip to see the "less traveled" parts of Hawaii, this itinerary takes you to see varied ecosystems, including mangroves.

Two boat tours that take you in search of whales and dolphins.

Punaluu Beach and other spots may afford opportunities to see hawksbill and green sea turtles.

The lemon butterfly fish is one of the most common -- and prettiest -- fish species you're apt to see while snorkeling in Hawaii.
Did you know that more than 90 percent of the plants and animals inhabiting Hawaii are endemic to the state, and a greater variety of fish exist in Hawaiian waters than anywhere else? The 50th state is also is home to at least one-third of all endangered species in the United States. Go beyond Hawaii's typical tourist attractions and travel to three of the islands to experience a diversity of natural wonders.
Available Tours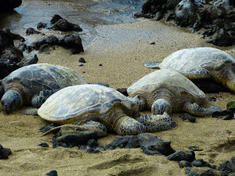 Hidden Hawaii Nature Adventure
Look for manta rays, marine turtles and tropical fish during snorkeling outings, and humpback whales on boat excursions. See stunning waterfalls, an active volcano and "The Grand Canyon of the Pacific.
11-days tours from $8,295


Articles
School of Thought: 5 Things Hawaii Taught Me
Hidden Hawaii…A Magical Discovery
Ten Things to Take on Your Snorkeling Adventure
Below the Surface: WWF Travel's Top 10 Snorkeling Tips
Help Stop Wildlife Crime: How to Buy Environmentally Friendly Souvenirs
Behind the Lens: Shooting Underwater
Discovering Our Planet Together
Call (888) 993 – 8687
to book your spot on this tour.
Questions? Email us at
travel@wwfus.org
.
WWF and Marine Turtles
WWF works around the world to eliminate marine turtle bycatch from fisheries, reduce the unsustainable harvest and illegal trade in marine turtles, and stem the loss of critical marine turtle habitats. Read more here
More Upcoming Tours