Maldives Snorkeling Adventure
13 days

April 14-27, 2013
The Maldives are home to at least 2,000 species of fish, from the smallest clownfish (above) to huge whale sharks.

The majority of the Maldives' 230 islands and atolls are uninhabited.

The 111-foot S/Y Maldives Siren is a traditional "gaft-rigged Phinisi" specially outfitted for snorkelers and divers.
When the monsoon tides whoosh across the Indian Ocean each year, a mélange of small marine creatures are born and microscopic plant cells blossom. This, in turn, creates a buffet for the hundreds of marine species that live in the nutrient-rich waters around the Maldives.
That's a key reason the Maldives is a snorkeler's dream – and one of the best destinations in the world to get under the sea. Experts say the Maldives' extensive and largely intact reefs comprise one of the most complex reef systems in the world. On this expedition:
Sail aboard a finely appointed yacht, the Maldives Siren.
Visit the farthest atolls of the Maldives, where few visitors ever go.
Snorkel in waters with 200 types of coral and 2,000 known fish species, from the smallest clownfish to huge whale sharks.
Travel in a group of just 12 WWF members.
Itinerary
Sunday & Monday, April 14 & 15, 2013: US / Malé, Maldives
Depart on an independent flight from the United States on Sunday, arriving in Malé on Monday afternoon. Transfer to a nearby seaside hotel, where you can spend the rest of the day at leisure before gathering for a welcome dinner. Hulhule Island Hotel (D)
Tuesday, April 16: Male / Kaadedhdhoo / Embark
In the late morning, transfer to the airport for a short flight to the island of Kaadedhdhoo, where the Maldives Siren will be waiting. After a short briefing and introductions to the crew, relax on board and enjoy the gorgeous island views as we set sail for the first of many ideal snorkeling spots and spend our nights onboard. (B,L,D)
Wednesday through Saturday, April 17-20: Huvadhoo Atoll
In the far south of the Maldivian archipelago lies a large, pristine atoll whose name means "the forbidden place." That bodes well for the snorkeling we'll do here, as the faru, or ring-shaped reefs, surrounding the 230 mostly uninhabited islands in this area are largely untouched and the marine life abundant at its shallow reefs, walls, channels and offshore pinnacles.
Blacktip reef sharks, eagle rays and healthy schools of angel fish, surgeonfish, butterfly fish, damselfish, banner fish and trigger fish are plentiful at Kuredhoo Kandu. Conditions permitting, we'll look for sailfish, wrasses and green turtles during drift snorkels at Villingili Kandu. Another spot, called Kodedhu Kandu, is a likely destination to spot schools of barracuda and stingrays. This area is noteworthy, too, for its hard coral formations and gorgonian sea fans.
In between four days of snorkeling outings and time aboard the yacht, we'll also venture onto land, including a visit to Thinadhoo, the atoll's capital. Walks along the beach may reveal juvenile reef sharks learning how to patrol in the sandy shallows at the water's edge. (B,L,D daily)
Sunday & Monday, April 21 & 22: Laamu Atoll
Wake in the morning at Laamu, the southernmost atoll in the central Maldives. Rimmed by barrier reefs, the atoll's shallow lagoon is spotted with uninhabited islands, hard coral gardens and outside reef pinnacles. Our precise snorkeling spots will be determined by sea and weather conditions. Planned is a visit to Vadinolhu Kandu, a channel frequented by whitetip reef sharks, Napoleon wrasse, tuna and snapper. Eagle rays, sweetlips and large schools of fusiliers are common, too. Hitadhoo reef is another ideal spot for a drift snorkel.
On Monday evening, the yacht will head north en route to Kolhumadulu Atoll. (B,L,D daily)
Tuesday, April 23: Kolhumadulu (Thaa)
Also known as Thaa, the Kolhumadulu Atoll is comprised of 13 inhabited islands. Today's plan is to snorkel the reefs at Thuvaroo Island and go in search of common dolphins. The uninhabited island of Olhugiri is well known for its mangroves and for providing the only perching site for the great frigatebird in the Maldives; green and hawksbill turtles are often seen here, too. And a night snorkel at Fahala Reef will take us in search of whale sharks and octopuses. (B,L,D)
Wednesday, April 24: Meemu Atoll
Cruise to Anbara & Picnic Island for snorkeling among mostly corals but also some soft species. Turtles, rays and a wide variety of reef fish congregate here. Meanwhile, at the ocean-facing reefs of Rakeedhoo, look for blue-fin jacks, hump head parrot fish and turtles. Later, continue on to Vattaru Atoll for channel snorkeling in search of manta rays, tuna, snappers and Napoleon wrasse. A nighttime outing at the Anbara House reef is planned; looked for lobsters and reef squid,and perhaps be treated with a show of neon green bioluminescence. (B,L,D)
Thursday, April 25: South Male Atoll & Felidhoo Atoll
Start the day with a drift snorkel at Felidho Atoll (also known locally as Vaavu) and forays into the water at Miyaru Kandu. The latter is an especially great spot for such pelagics as tuna, jacks, eagle rays and reef sharks. A great local secret is the variety of marine life – including nurse sharks, reef sharks and stingrays – that hang out and feed around the jetty at the Alimatha Resort; we'll hop in the water to see what we can find. Following a last afternoon snorkel, perhaps from a permanent sand bank, enjoy a farewell dinner on board. (B,L,D)
Friday, April 26: Disembark / Malé / Depart
After breakfast, disembark at Hulhule Island and check into the hotel, where a day room is at your disposal. You'll have the rest of the day free to relax or perhaps explore the nearby island where the capital city of Malé is centered; lunch and dinner are on your own. Transfer to the airport in the late evening for flights home. Day room at Hulhule Island Hotel (B)
Saturday, April 27: Home
Continue with flights home, arriving later in the day.
Call (888) 993 – 8687
to book your spot on this tour.
Questions? Email us at
travel@wwfus.org
.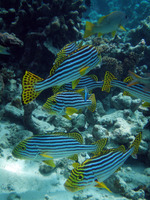 Maldives Snorkeling Adventure Brochure
More Upcoming Tours