Namibia Safaris
12 and 16 days

Multiple departures, June - October
Without a doubt, Namibia is Africa's great conservation success story.
Namibia and WWF worked together to develop innovative new transmitters to track rhino movements.

The springbok is the most abundant antelope found on Namibia's open, treeless plains.

Impossibly long eyelashes protect desert-adapted giraffes, like the ones you'll see on this tour, from sand and dust.

Many species gather around the watering holes of the Ongava Game Reserve.
Namibia is soul-stirring. Orange sand dunes rising 1,000 feet high against a cobalt sky. Ocean-washed coastal deserts. Sun-baked inland plains that look like cracked puzzles.
Available Tours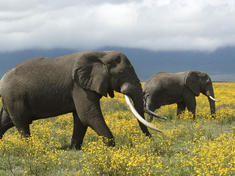 The Great Namibia Wildlife Safari
A fly-in safari to discover the gems of Namibia, including a visit to a cheetah and leopard reserve. Itinerary highlights include the Desert Rhino Camp, the Ongava Game Reserve and the Okonjima AfriCat Project.
12-day tours from $11,895
View Itinerary h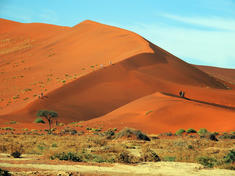 The Epic Botswana & Namibia Safari
Travel from Botswana's wildlife-rich Okavango Delta to Namibia's towering dunes. Itinerary highlights include the Sossusvlei Sand Dunes, Skeleton Coast, Etosha National Park and the Okavango Delta.
16-day tours from $16,995
View Itinerary h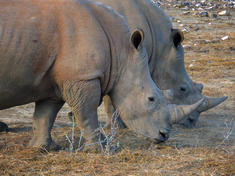 Available Extensions
Cape Town Extension 4 days, custom pricing
Articles
Reviews and Tips for Namibia
Video: Only in Namibia
The "Little Five"
When Conservation Helps Communities, Wildlife Prospers: Lessons from Namibia
11 WWF & Nat Hab Travel Destinations Top the New York Times 2014 Bucket List
Video of the Week: Pride of Namibia
Video: The Guardians of Namibia's Wildlife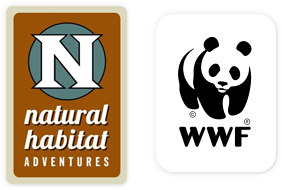 Discovering Our Planet Together
Call (888) 993 – 8687
to book your spot on this tour.
Questions? Email us at
travel@wwfus.org
.
WWF in Namibia
WWF's work in Namibia focuses on supporting the nation's communal conservancy program, which balances the needs of people and wildlife. Read more
More Upcoming Tours