Raja Ampat Snorkeling Adventure
14 days

October 18-31, 2014 | From $9,790 per person
Join WWF on a snorkeling tour of Indonesia's waters.
Observe the workings of an amazing marine ecosystem, including symbiotic relationship between clownfish and anemones.

The average water temperature on this tour is in the low 80s, making for comfortable swims.

In addition to snorkeling, the tour includes optional hikes to scenic overlooks.

A small group size allows all guests to have a personalized experience.

Sail around the Raja Ampat Archipelago and see the world's greatest concertration of marine life.

Travel on a traditional wooden liveaboard handcrafted using locally grown timber.

Discover the more than 1,300 species of fish surrounding the Raja Ampat Archipelago.
Tour Highlights
Scientists have determined that the waters surrounding the Raja Ampat Archipelago in Indonesia's West Papua province have the world's greatest concentration of marine life for a region of its size. Imagine: More than 1,300 species of fish. Six of the world's seven species of sea turtles. At least 450 species of reef-building coral. (The Caribbean, by comparison, has fewer than 70.)
Sea Safari 8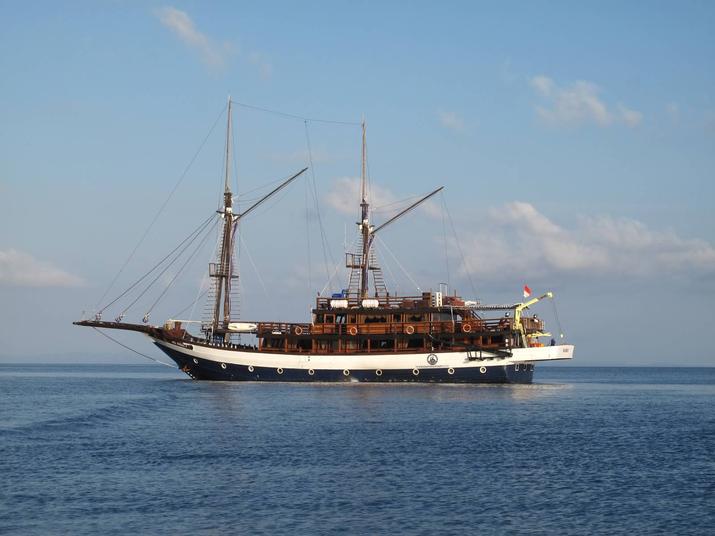 The Sea Safari 8 is a traditional wooden liveaboard handcrafted by Bugis master carpenters using locally grown timber.
View Ship Details & Deck Plan
Itinerary
Saturday, October 18, 2014: Depart U.S.
Depart the United States on the recommended group flight or independently. Cross the International Date Line and "lose" the day. (Meals aloft)
Sunday, October 19: Jakarta, Indonesia
Arrive in Jakarta and transfer to your hotel. Later, join your fellow travelers and your guide at a welcome dinner. Sheraton Bandara Hotel (D)
Monday, October 20: Jakarta / Sorong
Early this morning arrive in Sorong, the gateway to the Raja Ampat Archipelago. Raja Ampat – or "Four Kings" – is off the northwest tip of Bird's Head Peninsula and is comprised of four major islands surrounded by 1,500 small islands and cays. In Sorong, board the Sea Safari 8, our home for the next 10 nights, and head northwest en route to the limestone islands of Penemu. (B,L,D)
Tuesday, October 21: Penemu Island
Reefs throughout Raja Ampat are among the world's most pristine. Currents rush coral larvae across the Pacific Ocean to constantly replenish reef ecosystems. Some areas harbor large schools of fish. Others offer regular sightings of large species such as grouper and harmless sharks. Spend two days snorkeling the calm waters between Penemu's mushroom-shaped rock islands, which harbor miles of hard and soft corals. Explore a shallow lake filled with cassiopea jellyfish and juvenile sharks. (B,L,D)
Wednesday, October 22: Penemu Island
Continue snorkeling at Penemu Island. Enjoy an evening cruise to the Northwest part of Waigeo Island. (B,L,D)
Thursday, October 23: Waigeo
Spend two days exploring Waigeo Island, one of the largest in Raja Ampat. The island has the greatest number of land and fresh-water bird species in the archipelago. During walks through the lush interior, look for parrots, hornbills, lorikeets, marbled frogmouths, Wilson's birds of paradise and red-throated myzomelas. During snorkeling outings, look for napoleon wrasse, cardinalfish, angelfish and butterfly fish swimming among swaying sea anemones and colorful coral heads. (B,L,D)
Friday, October 24: Waigeo
Continue snorkeling at Waigeo. Evening cruise to Wayag Island, just north of the Equator line. (B,L,D)
Saturday, October 25: Wayang
Wayag Island, which lies just north of the equator, is remote and thinly populated— ideal conditions for reefs to flourish undisturbed. In the aquamarine-colored waters surrounding these rock islands, look for Moorish idols, triggerfish and juvenile wrasses. You may also see octopi and mantis shrimps here or elsewhere during the tour. (B,L,D)
Sunday, October 26: Uranie & Kawe
During snorkeling outings in the waters surrounding the vegetation-covered, limestone islands of uranie and Kawe, keep an eye out for schools of barracuda tagging along with blue tail surgeonfish in the current, silvery trevally glistening from the sun and iridescent parrotfish. at these islands, and throughout the voyage, we'll also see giant clams anchored on the sea floor. (B,L,D)
Monday, October 27: Gam
Spend two days snorkeling at and hiking on Gam Island, home to the magnificent bird of paradise. Take an early morning walk to look for them. We will visit Yenwapnour, a local fishing village, to meet locals and see traditional ways of life. While snorkeling Gam's clear waters, keep an eye out for oriental sweetlips, coral trout, glassfish and orange and purple anthias that inhabit the reefs and mangroves of this area. Peering into nooks around sunset may reveal the brilliantly colored mandarinfish. In this area we will take an exciting drift snorkel, floating with the currents through the Kabui Strait between Waigeo and Gam. The Java cownose ray feeds in this passage. (B,L,D)
Tuesday, October 28: Gam
Continue snorkeling at Gam. Explore Southern area of Gam Island. Evening cruise to Mansuar Island. (B,L,D)
Wednesday, October 29: Mansuar & Kri
Enjoy snorkeling at Mansuar and Kri islands. The waters off Kri's cape are frequented by a huge variety of fish; look for the Queensland grouper as you snorkel along undersea walls. Manta rays congregate at a nearby cleaning station, with gold-banded fusiliers and other fish escorting them. You may even spot green or hawksbill sea turtles or a pod of dolphins. In the late evening, set sail for Sorong. (B,L,D)
Thursday, October 30: Jakarta
Disembark and return to Jakarta. After checking in to your hotel, the remainder of the day is free, including lunch on your own. Later, enjoy a farewell dinner. Sheraton Bandara Hotel (B,D)
Friday, October 31: Depart
After breakfast, transfer to the airport for your flight home. (B)
Itinerary subject to change. In true expedition style, we remain flexible.
Call (888) 993 – 8687
to book your spot on this tour.
Questions? Email us at
travel@wwfus.org
.
More Upcoming Tours