The Republic of Georgia
13 Days

Multiple departures, July & August
Join an unusual hiking adventure in the Republic of Georgia.
Follow the headwaters of the Alazani River through the Kvakhidi Valley.

Mt. Kazbeghi presiding over the lesser peaks at 16,000 feet.

Trek at 11,200 feet on Atsunta Pass, drinking in the sharp, clear air.
Come discover a corner of Europe as glorious as the Alps yet far less known. The northern Caucasus Mountains are the centerpiece of this small country, rising above 16,000 feet in a 750-mile serrated line between the Black and Caspian seas. Fall in love with a remote, little-traveled trekking locale, whose traditional people are as memorable as the mountains.
Available Tours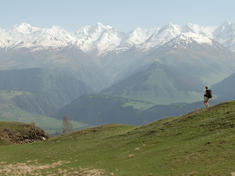 Sublime Trekking in the High Caucasus of Georgia
Traverse between two distinct Caucasus regions and cultures, camping and staying in guesthouses in small villages. Explore one of the world's premier biodiversity hotspots, with Europe's most varied flora and fauna.
13-day tours from $3,695


Articles
Top 5 Places for Nature in Europe
8 Places to Interact Authentically with Locals
Top 5 Reasons to Go on an Active Adventure
12 Travel Tips that are Good for Conservation
Five Tips to Prevent Jet Lag
Top 10 Ways to Capture Better Wildlife Images
Discovering Our Planet Together
Call (888) 993 – 8687
to book your spot on this tour.
Questions? Email us at
travel@wwfus.org
.
More Upcoming Tours