Wild Alaska and The Bering Sea
The voyage will present multiple opportunities to see ringed, harp and fur seals.

Orcas are often seen hunting at this time of year around Alaska's Kodiak Island.

Look for bears digging for clams along the beaches of famed Katmai National Park.
Witness the natural wonders of Alaska on an itinerary that showcases the islands and coasts of the Bering Sea and the Russian Far East. The North Pacific is rich with wildlife—seabirds, walrus, Arctic fox, fur seals and bears among them. WWF promotes permanent protection of Bristol Bay and the western Kamchatka Shelf, the "fish baskets" of America and Russia, respectively.
Look for iconic birds such as horned and tufted puffins, parakeet auklets, Laysan albatross and red-legged kittiwakes.
Visit remote Bering Sea and Pribilof Island communities, including a Chukchi village.
Search the waters for a variety of whale species, including humpback, orca and minke.
Can be combined with our Best of the Russian Far East expedition.
Caledonian Sky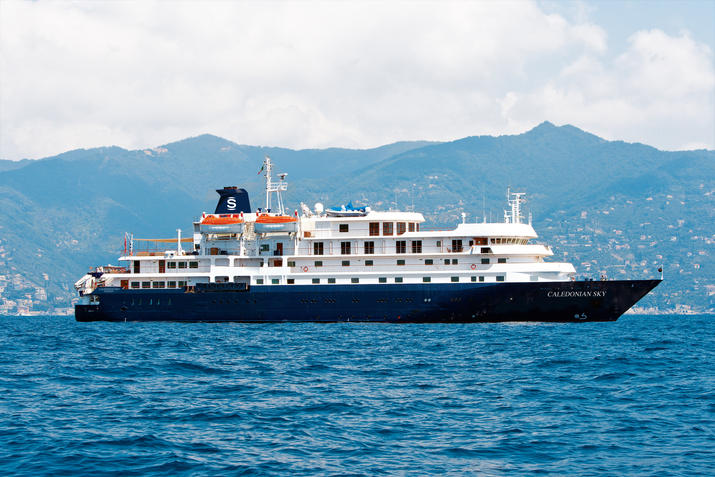 Itinerary
Thursday, July 11, 2013: Home / Anchorage, Alaska
Arrive in Anchorage and transfer to the hotel. Gather for a welcome dinner and briefing. Anchorage Marriott Downtown (D)
Friday, July 12: Anchorage / Seward / Embark Caledonian Sky
Board buses for the scenic drive to Seward. Visit the Alaska SeaLife Center and a park where trails bring you close to Exit Glacier. Embark the Caledonian Sky late this afternoon and set sail in the evening. (B,L,D)
Saturday, July 13: Kodiak, Kodiak Island
As the ship cruises past islands with steep cliffsides, watch for nesting puffins and cormorants. Board Zodiacs to explore, searching for the area's prolific wildlife, including humpback whales and pods of hunting orca, as well as fin and sei whales. After lunch, dock at the town of Kodiak, a bustling port settled by Russian fur traders in 1784. By 1792, Alexander Baranof established the town as the first capital of Russia's North American colonies. Visit the 1794 Holy Resurrection Russian Orthodox Church and Erskine House, a National Historic Landmark built in 1809 and now housing the Kodiak Baranof Museum. Exhibits in the Alutiiq Museum detail the history and culture of these native people who lived here millennia before the Europeans arrived. (B,L,D)
Sunday, July 14: Geographic Harbor, Katmai National Park
Nearly hidden at the far reaches of Amalik Bay, Geographic Harbor is surrounded by magnificent volcanic scenery. Cruise the area by Zodiac, watching for the brown bears frequently seen digging for clams along the beaches at low tide. (B,L,D)
Monday, July 15: Aghiyuk Island / Semidi Islands
Trace the length of the Alaska Peninsula today, a stunning and nearly uninhabited wilderness. The Semidi Islands are where we may find as many as 2.5 million birds. By Zodiac, explore the shores of Aghiyuk Island, home to huge colonies of northern fulmars, common murres, and black-legged kittiwakes. (B,L,D)
Tuesday, July 16: Unga Island
Unga's multiple bays offer excellent opportunities to spot sea otters and birds, including peregrine falcons. Ashore, enjoy botanizing amid fields of wildflowers and spongy tundra. Scattered pieces of multi-colored petrified wood are remnants of an ancient meta-sequoia forest, evidence that the region once enjoyed a warmer climate. In the evening search for seasonally migrating whales. (B,L,D)
Wednesday, July 17: Otter Cove, Unimak Island
Board Zodiacs and head for the largest Aleutian island, Unimak, which is ringed by sandy beaches, carpeted in flowering tundra, and crowned by the Shishaldin Volcano. This is the only island in the Aleutians with a population of brown bears. Explore the beach or go on a tundra hill walk with splendid views. Be on deck as the ship cruises west along the scenic Aleutian chain, revealing towering cliffs and craggy islets. In the Aleutians, WWF works with local partners to protect marine resources from shipwrecks and related oil spills. (B,L,D)
Thursday, July 18: Baby Islands / Dutch Harbor, Unalaska Island
Cruise among the five tiny, volcanic Baby Islands, which teem with puffins and whiskered auklets. Passing the Fox Islands group of the Aleutians, watch for minke whales, the smallest baleen whale in the northern Pacific. Dutch Harbor was originally used by the North American Commercial Company to process fur seal pelts. Today it is the busiest fishing and processing port in Alaska. Deckhands on purse seiners mend their nets, and factory trawlers offload tons of king crab and pollock. Stroll among World War II relics of the U.S. Army, visit the Museum of the Aleutians and the WWII Historic Center, and view the oldest onion-domed Russian church in Alaska. (B,L,D)
Friday, July 19: St. George Island, Pribilof Islands
Due north in the Bering Sea lies the tiny archipelago comprising the five Pribilof Islands, where WWF is developing conservation solutions that will benefit wildlife and people depending on resources here. These islands were discovered in 1786 by the Russian explorer Gerassim Pribilof who successfully located what he was hoping to find: fur seals by the thousands, which the Russians later harvested nearly to extinction. Today, the northern fur seal is protected and cannot be hunted commercially, and the Pribilof breeding population numbers more than 700,000. Bird colonies abound, with some 225 species recorded on the islands.
Step ashore in the small town of St. George whose residents include about 150 people of Aleut and Russian descent. A picturesque Russian Orthodox church commands a vista of the Bering Sea, and a cliff-top blind provides a remarkable view of a fur seal rookery. More parakeet auklets breed on St. George than anywhere else, and the nearly quarter million nesting red-legged kittiwakes make up 98 percent of the world's population. (B,L,D)
Saturday, July 20: St. Paul Island
St. Paul is home to 800 Aleuts, the largest such community in the world. Enjoy a stroll through town, then walk among a profusion of tundra wildflowers, watching for Arctic foxes often spotted here. Zodiac excursions and walks to the edge of the cliffs reveal birds by the thousands—horned and tufted puffins; red-legged kittiwakes; red-faced cormorants; and crested, least, and parakeet auklets. (B,L,D)
Sunday, July 21: St. Matthew & Hall Islands
Fascinating geological formations define the deserted island of St. Matthew, a result of cooling igneous volcanic rock. Countless numbers of thick-billed murres, black-legged kittiwakes, fulmars, and puffins call the cliffs and columns their seasonal home. Enjoy a walk through meadows of blooming pink and yellow louseworts and blue Jacob's ladder. Birders search for the rare and highly localized McKay's bunting, which only breeds here and on Hall Island. You may see Arctic foxes scurrying along the hillsides and endemic St. Matthew singing voles scampering among the rocks. Walrus have occasionally been spotted here, so keep a lookout during Zodiac excursions as you pass by arches, waterfalls, and sea stacks packed with birds. (B,L,D)
Monday, July 22: Cross the International Date Line
Enjoy lectures by the naturalists during a day at sea. (B,L,D)
Tuesday, July 23 : Provideniya, Russia
Spend time on deck watching for marine life and seabirds. Go ashore in Provideniya, located at the southern limit of the Arctic ice pack, and the commercial port of this sparsely populated region. Visit the regional museum and sail by Plover Bay. When we return to U.S. waters this evening, we gain a day by crossing the International Date Line. (B,L,D)
Tuesday, July 23: Gambell, St. Lawrence Island, Alaska
A Siberian Yupik community hosts your visit to St. Lawrence. The hardy locals living on this windswept pebbly spit subsist on the bounty of the sea. As you walk through the village, you may see walrus hides stretched on drying racks, later to be fashioned into skin boats, or umiaks. During a performance of traditional dances, note that the accompanying drums are made of stretched walrus stomach skin. Birders enjoy a brisk hike to seek red-necked phalaropes, long-tailed ducks, yellow and white wagtails, and, possibly, rare emperor geese. (B,L,D)
Wednesday, July 24: Little Diomede / Arctic Circle
Little Diomede, an American island, lies a scant three nautical miles from its Russian counterpart, Big Diomede. Permission pending, explore the tiny Aleut village of Ignaluk, which relies on subsistence hunting, fishing, and egg gathering. Dressed in traditional garb, your hosts perform Aleut songs and dances. Thousands of least and crested auklets flock around the slopes adjacent to the village. We also cross the Arctic Circle at 66°33'N right on the International Date Line—a feat few adventurers can claim. (B,L,D)
Thursday, July 25: Nome / Disembark Caledonian Sky / Anchorage / Home
With the discovery of gold in 1898, this boomtown's population swelled to nearly 20,000 miners, furiously panning along 15 miles of beach that fringe the Norton Sound. Today's town of 5,000 offers a peaceful contrast to the lively legacy reflected in the colorful local saloons and museum displays. Disembark and transfer to the airport for your independent flight to Anchorage and homeward flights. (B)
Call (888) 993 – 8687
to book your spot on this tour.
Questions? Email us at
travel@wwfus.org
.
More Upcoming Tours