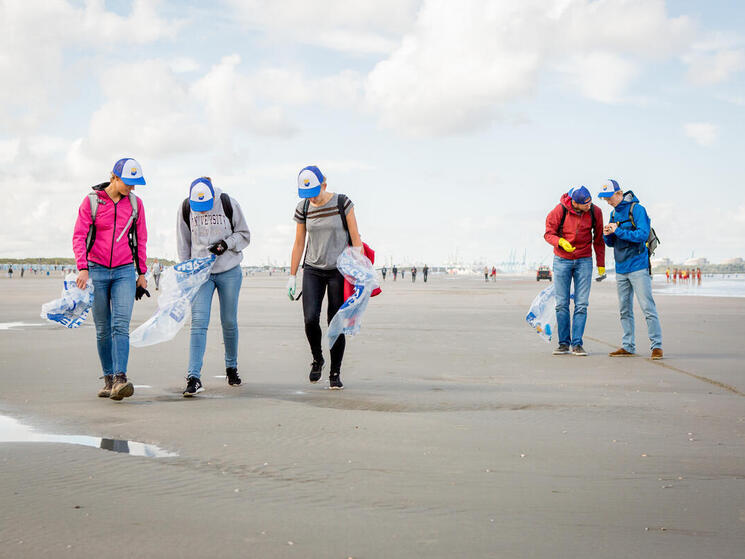 April 22 is Earth Day, a time to appreciate everything the natural world provides for us—from the water that replenishes us, to the food that nourishes us, and the trees that help provide the oxygen we breathe, we celebrate the planet we call home. It's also a day to encourage more climate-friendly choices and shed light on the pressing environmental challenges we're facing today.
The 2022 Living Planet Report showed us that climate change and biodiversity loss are the twin emergencies of our time, threatening the well-being of current and future generations. However, we also learned we have the capability to reverse these trends. It's more important now than ever that we make our planet a priority. In continuation of last year's Earth Day theme, we ask that everyone "Invest in Our Planet," once more.
More transformation action is needed, and we can't do it alone. We need everyone - business, governments, and individuals like you - to help create lasting change. Through collective individual actions, we can invest in our planet's future by making more sustainable lifestyle choices, urge greater climate action from both our government officials and business leaders, and support organizations that are making a difference.

We know this sounds daunting, so together with WWF's experts across key areas, we created a guide detailing 60 Actions for the Planet to help you reduce your footprint and embrace more Earth-friendly lifestyle choices. Though we've had many Earth Days since its inception in 1970, we only have one Earth. Join us in giving back to our planet this Earth Day and beyond.
Reconnect with nature

Nature has a restorative power. Tap into the world around you by rediscovering nature in your own backyard. Taking time to appreciate what our environment provides can remind us that we are all connected—many communities, cultures, and languages, but only one planet. Let's celebrate it!

Climate

Switch to LEDs. The light-emitting diode (LED) lightbulb is significantly more efficient, longer lasting and more durable than incandescent or compact fluorescent lightbulbs. LEDs use at least 75% less energy, and last up to 25 times longer than incandescent lighting.

Adjust your thermostat. The Department of Energy recommends that you keep your thermostat set at 68 degrees Fahrenheit during the winter months, and that you reduce the temperature even further during the hours that you might be away at the office or asleep. During the summer, keep the temperature at 78 degrees and adjust upwards to 82 degrees. This not only saves energy but saves money. With newer programmable systems, you can even pre-set the temperatures.

Forests

Look for the Forest Stewardship Council® (FSC®) logo. When purchasing wood and paper products, including paper towels, tissues, and toilet paper, look for the FSC logo to know that your product—or even the packaging it's wrapped in—comes from a responsibly managed forest. Switching to forest-friendly products will help protect wildlife too!

Give secondhand furniture a new life. An alternative to buying new wood furniture bearing the FSC logo is purchasing furniture from thrift shops and antique stores. There are also online sources for resale or free furniture, such as The Freecycle Network™. Reusing furniture can be cost-effective, and you don't have to worry about supply chain issues. And it's good for our forests!

Oceans

Skip the motor. Choose wind-powered sailboats or self-powered kayaks, stand up paddle boards, or canoes rather than motorboats when enjoying time on the water.

Recognize boundaries when interacting with marine life. Seeing whales, sea turtles, or coral reef fish in the wild can become an exciting and treasured memory. To ensure that ocean wildlife continue to thrive, take only photos and videos of your experiences and stay respectful of wild animals.

Plastics

Dispose responsibly and avoid 'wish-cycling.' Find out which plastics your town's recycling system accepts, and just as importantly, which they do not accept so you can be sure to avoid contamination.

Invest in high-quality reusable items to replace common single-use plastics like bags, cups, water bottles, straws, and utensils – and remember to bring them along whenever you leave the house.

Food

Most food is safe to eat longer than we think— especially fresh and canned goods. Most expiration dates have nothing to do with safety and many foods are still safe to eat days, weeks, or months after the "best by", "sell by", and "best before" labels. Trust your senses to know when food has gone bad, or you can search the FoodKeeper App to learn more about food freshness and storage options.

Ready, set, freeze! You can freeze almost anything—eggs, meats, produce, sauces—whether you just bought it, or already cooked it. Keep containers tight with a little room for liquids. Freeze in portions for easy access, and date and label so it's easier to manage. A little extra work up front will save you cooking, prep, and shopping time later. And you'll save money if you use everything you buy.

Wildlife

Don't buy illegal wildlife products and report any suspected illegal wildlife product to the Coalition to End Wildlife Trafficking Online. You can help protect endangered wildlife as a sleuthing "Cyber Spotter" by flagging and reporting in-platform suspicious and illegal wildlife products you come across online.

Don't litter. Litter can harm wildlife and pollute landscapes. Pick up litter when you can and keep our spaces green. Read these 7 principles for more tips on how to respect and protect nature when outdoors.

Biodiversity

Stop the spread of invasive species. Non-native species can cause a lot of economic and environmental harm to a given area. You can help stop the introduction and spread of such invasive species by making conscious decisions, like ensuring that your boat is cleaned thoroughly before entering it into a new body of water, cleaning your hiking boots before exploring a new area, planting and cultivating native species, not buying illegal wildlife products, and only buying firewood where you plan to burn it.

Respect local habitats. While visiting your local parks, nature reserves, or hiking areas, make sure to stick to the walking path or hiking trail. This helps to protect the growing plants, prevents any disturbances to nearby wildlife, and preserves the local ecosystem. Make sure your kids and pets do the same!

Leadership

Be an ambassador in you community. Champion our planet and speak out about the importance of sustainability in your own community. Consider becoming a Panda Ambassador, the ultimate next level of engagement for those committed to saving wildlife and the environment while supporting WWF.

Inspire and educate our future conservation leaders. Inspiring our next generation to care for the Earth will secure a better future for both people and wildlife. Check out our Wild Classroom for family fun and learning opportunities; Find Your Inner Animal and expand your wildlife knowledge with Animal Trivia Games; download the WWF Together app for interactive experiences with endangered species and natural habitats.