Behind the Scenes with Alexander Nicolas, Program Officer, Wildlife Conservation
In our Behind the Scenes series we speak to WWF staff to learn more about their work and what makes them tick. For today's post, we talked to Alexander Nicolas, a Program Officer on WWF's Wildlife Conservation team.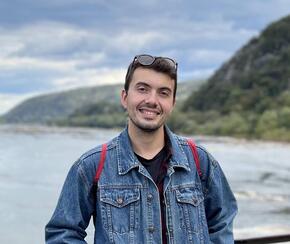 Describe your role at WWF and tell us about a project you worked on that left an impact.
I am a program officer with the wildlife conservation team at WWF-US, working on communications and conservation campaigns. I have the great fortune of working on various projects and thematic areas, collaborating with staff across WWF's global network to deliver strategic communications and impactful stories on priority wildlife (e.g., tigers, elephants, and rhinos) and initiatives (e.g., wildlife crime) that motivate, inspire, and advocate for positive action for people and nature. Most recently, I was a key member of WWF's campaign response to the current, global COVID-19 pandemic that calls for action on addressing the root causes of zoonotic disease outbreaks, to help prevent the emergence of future pandemics. Collaborating with colleagues across WWF offices and teams on this effort, during such a globally unprecedented moment in time that stemmed from how broken humanity's relationship with nature has become, was incredibly impactful and profound.
What previous experience have you had that led you to WWF, educational or professional?
I grew up in Lebanon, a country with tremendous natural beauty and where I saw firsthand the incredible connection people have to their land through their culture. As a dual national, I had the immense privilege to turn this local perspective into a global one through my studies and work in different countries, including Lebanon, England, and the U.S., all of which have cultivated my awareness and approach to conservation. I earned a master's degree in Ecology, Evolution, and Conservation from Imperial College London and a bachelor's degree in Environmental Sciences from the University of Balamand in Lebanon. I was then fortunate enough to explore opportunities at major environmental bodies such as the U.S. Fish and Wildlife Service, World Resources Institute, and currently with World Wildlife Fund.
Providing a voice for wildlife and nature is something that I am very passionate about. Sir David Attenborough put it beautifully when he said that, "saving our planet is a communications challenge." I strongly believe in the power that communications has in advancing conservation, elevating those unheard, and bringing people together.
Describe your favorite moment in nature.
Any moment in nature is a gift that cannot be taken for granted. Being in nature, for me, can be a time to commune with oneself and uncover truths. I love how nature has indirectly given me one of the greatest gifts: connection and a deeper awareness of my identity. Where I grew up in Lebanon, I was lucky enough to make a companion out of nature at a very young age, exploring the orchards and forests at my doorstep. Now, whenever I'm sitting in an olive grove, staring into the deep blue Mediterranean, or standing next to the mighty Cedar, nature is a reflection that reveals who I am, where I've come from, and my purpose. My favorite "moments" are where I can connect with nature while in these environments (and others) to make time for such self-grace and discovery.
Nature is quiet yet musical; peaceful yet bustling; changing yet eternal; a mystery yet truth.
What advice would you give a young professional who is interested in sustainability?
Embrace your unique voice and share your story. A diverse workforce and inclusive community matter deeply to me, and for sustainability and international conservation to succeed and evolve, we need to diversify and lift up the rainbow of voices in the room. It takes incredible courage to be one's authentic self, and your distinct point of view has immense value.
I would also encourage them to listen and be receptive to the voices and perspectives of others, understanding the need to uplift everyone in order to build an inclusive future that is indeed sustainable.
What brings you joy outside of work?
So many things spark joy for me, but in addition to conservation being a passion of mine, music has always been a huge part of my life and a lifelong friend. I grew up in a family of musicians and performers, and so I have always had a huge passion for music. I have been playing the piano for close to 20 years now and have been making music for as long as I can remember. Music will forever be my prime form of artistic expression and what soothes my spirit, fuels my joy, and allows me to say and express what I feel when words and all else fail.
As you are on the Wildlife Conservation team, if you had to choose a species of wildlife you would be, what would you be?
This is such a hard question to answer, though it's something I've definitely thought about! I have always had a deep love for marine life and have been instinctively drawn to whales. If I had to choose, I would probably say humpback whales. They are intelligent, compassionate, and majestic giants. They are also communicators and agents of sound through the "music" they create and "songs" they sing – qualities I very much relate to and that resonate with me as a similarly passionate musician. Humpback whales symbolize hope and love and are fellow travelers who always find their way home.