Behind the Scenes with Sheila Bonini, Senior Vice President, Private Sector Engagement
In our Behind the Scenes series we speak to WWF staff to learn more about their work and what makes them tick. For today's special Earth Day segment, we had the pleasure of chatting with Sheila Bonini, WWF's Senior Vice President of Private Sector Engagement.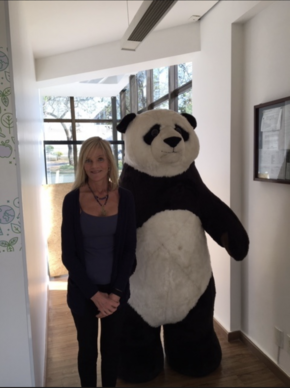 Describe a typical day of work and your role at WWF.
I lead our private sector engagement team at WWF. We work with over 100 companies to help meet the big conservation challenges we face- around climate, food production, biodiversity loss and more, with an equally big response. We also work with companies to reduce their environmental footprint and then look beyond their four walls to help drive sustainability up and down global supply chains, make conservation investments in communities, and drive consumers toward greener choices.
Like many of us in these days of Covid, my typical day involves non-stop virtual meetings and calls. For me, these are with our corporate partners, our conservation experts, folks on my team and others in the virtual building and across WWF's global network. I try to mix in a walking meeting when I can, which helps me keep my sanity. But, lest that sound too calm and nice, the reality of working with corporate partners often means tight timelines, urgent meetings, briefings, and exciting opportunities to chase. I often find myself going off-calendar, texting folks and picking up the phone to sort out the latest excitement- it's rarely a dull day in PSE!
Describe your favorite moment in nature.
During my first visit to Hawai'i, I was on the Big Island swimming at Punalu'u Beach and suddenly realized that there were sea turtles swimming right past me (at a safe distance of course). I fell in love with sea turtles and keep going back to Hawai'i to visit them!
My last trip to Hawai'i was this spring. I was excited to visit my turtle friends again, and even had another amazing underwater sighting. While snorkeling I came across what I can only describe as a fish highway—I was just floating and watching schools of colorful fish swim by when suddenly a turtle showed up. I was thrilled just to see him but was even more thrilled to realize that I was watching a turtle cleaning station in action! Turtles need to keep their shells clean of algae and many fish, such as the angelfish and tangs I saw, are algae-eaters. These fish have a mutualistic relationship with sea turtles and help eat the algae off their shells.
What educational or professional experience led you to WWF?
I started my career in business in a pretty traditional manner. I worked in investment banking, went to business school, and then worked for a leading consulting firm, McKinsey & Company. Shortly after my daughter was born, I realized that I wanted to follow my passion for the environment, and I left consulting to work at the Hewlett Foundation in their Environment Program where I got the chance to learn about and work on climate change and freshwater. After a couple years, one of my mentors from McKinsey told me that they were starting to do the work I was passionate about and that I should return, so I went back and helped start up and lead what became their Sustainability Practice. I then spent a couple years as the CEO of The Sustainability Consortium (TSC), a global organization focused on making consumer products more sustainable, before coming to WWF. I've recently just celebrated my 5-year anniversary (or Pandaversary, as we call it) here at WWF!
What brings you joy outside of work?
Outside of work, spending time with my family and close friends, and generally getting out in nature brings me joy. I love spending time with my daughter and felt lucky that during the past two years, we've been able to enjoy countless walks and hikes together. I feel fortunate to live in California where I can do so many outdoor things I love- hiking, swimming, running, walking in nature- year-round.
Traveling to places where I can be in nature is also something that brings me joy. One of my most memorable trips was to the Galapagos a few years ago. Not only did I get to swim with sea turtles, but I also saw tortoises, blue footed boobies, sharks, penguins, sea lions, and so much more amazing wildlife. I think half the pictures I've ever taken must have been on that trip!
What does the future of sustainable business look like to you?
There is a shift happening right now in the corporate sustainability sphere. More businesses are setting ambitious goals and are eager to play a larger, more active role in environmental policy. Environmental risks are touted as the biggest risks to businesses, so much so that the Security Exchange Commission (SEC) voted recently to propose a new disclosure rule that, for the first time, requires companies to disclose their greenhouse gas emissions and their exposure to business risks from climate change. Investing based on Environmental, Social, and Governance (ESG) factors is gaining traction within the finance community. The last COP was notable for the number of businesses that participated and the scale of business initiatives announced.
The future of sustainable business lies in continuing this momentum, making climate a priority in the business world, and going beyond traditional engagement. We need to continue to hold businesses accountable, use their voice and lobbying power to engage policy, and co-develop creative funding mechanisms to tackle the dual crisis of nature and climate at the scale that is urgently needed.