Celebrating Women in Sustainability: Una Hrnjak-Hadziahmetovic
Date

: 08 March 2021

Author

: Una Hrnjak-Hadziahmetovic, Senior Manager for Global Sustainability, Starbucks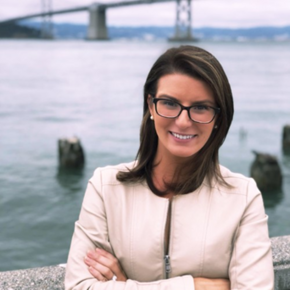 Often I am asked where my name "Una" comes from and if it might be short for anything else. Proudly I share that I am named after a river in the former Yugoslavia that flows from Croatia through my home country of Bosnia and Herzegovina. Growing up as a little kid, I got to enjoy all the natural beauty of the region from family vacations on the Adriatic Sea to learning how to ski on the mountains where the 1988 Winter Olympics were held in Sarajevo. All of this changed drastically when the war broke out in 1992 and my family had to flee the horrific conflict in Bosnia which ended up displacing over two million people, left over one hundred thousand people dead, and endless impacts on the lives of people from there.
I've brought my background as a refugee and as a woman to every role I've taken on to bring a unique lens to the work I do. Once my family permanently settled in the United States, I almost immediately began the start of my commitment trying to make the world a better place by starting the organization "Student Advocates for International Peace" in high school. My journey did not stop there. For my undergraduate and graduate studies, I chose paths of study that were conducive toward my desire to make a positive impact on the global stage including proudly receiving a MA from American University's School of International Service. Throughout this period, I was still figuring out how I could best apply my passions, experience and background to a full-time career.
I decided to start my career in consulting which awarded me the opportunity to tackle a wide range of issues and problems for my clients around the world. I was fortunate that I was able to join the International Development team at Booz Allen Hamilton in Washington DC where I was able to put my language skills to good use and return back to the Balkans to support projects the firm was managing for the US Agency for International Development (USAID) focused on supporting local businesses and farmers in accessing bigger markets for their products. My work in this space continued including getting the opportunity to support additional public-private-partnerships where companies were coming together with NGO partners and governments to work on issues of shared interest with local communities.
Shortly thereafter, I was excited to see the UN Sustainable Development Goals get launched emphasizing the need for working together to tackle the world's most pressing problems from climate change, the water crisis, hunger, global conflict and development. As a woman and a refugee, I believed this blueprint could put us on the right path in valuing people and the planet and I was ready to go in-house in an organization to help figure out how to bring this to actualization. This dream ultimately led me to joining the Gap Inc. team to support the development of the company's integrated 2020 sustainability strategy focused on three key material areas of focus - climate, water, and the advancement of people.
My life came full circle when Gap Inc. launched a public-private-partnership with USAID in India focused on communities touched by the apparel industry - particularly female cotton farmers with a commitment to help improve their access to safe and clean drinking water, while also supporting climate-smart agriculture practices. Working on this program was one of the highlights of my career seeing women come together to advocate for what they need to build resilient and thriving communities.
After almost five incredible years working on various sustainability initiatives at Gap Inc., I joined the Starbucks family and have been a proud partner for nearly five months. I am fortunate to lead the company's work on reducing our GHG emissions, promoting a water resilient future, and supporting an environmental justice agenda. I am motivated by all the action I am seeing around the world - from local village leaders, to youth activists, and CEOs to address humanity's biggest threat - our ability to protect our own home. The health of any river, including the one I'm named after, is dependent on everyone in the watershed committing to do their part to protect it. In the same way, I believe we can all play a role in this important journey and believe that people with unique backgrounds and experiences, such as refugees, should prioritize coming on board. Each of us has a one-of-a-kind perspective, informed by the challenges we've overcome, and each of us brings something different to the conversation about planetary resilience. And so I encourage everyone to make your voice heard. Join us because there is #noplanetB.
About Una
Una is the Senior Manager for Global Sustainability at Starbucks supporting the enterprise's planet-positive aspirations. She is leading the climate and water strategy developments, engagement and partnership with key global organizations including private sector peers, NGOs, collective action initiatives, and suppliers on scalable solutions, and is helping integrate the company's people + planet positive efforts. In this capacity, Una is also supporting water smart and climate resilient agriculture in key commodities including coffee, cocoa, tea, and dairy.
Outside of work, Una volunteers with the Global Fund for Women, Women for Women International, the Jericho Foundation, and Peace by Piece International.

…
The views expressed in this blog do not necessarily reflect those of WWF.