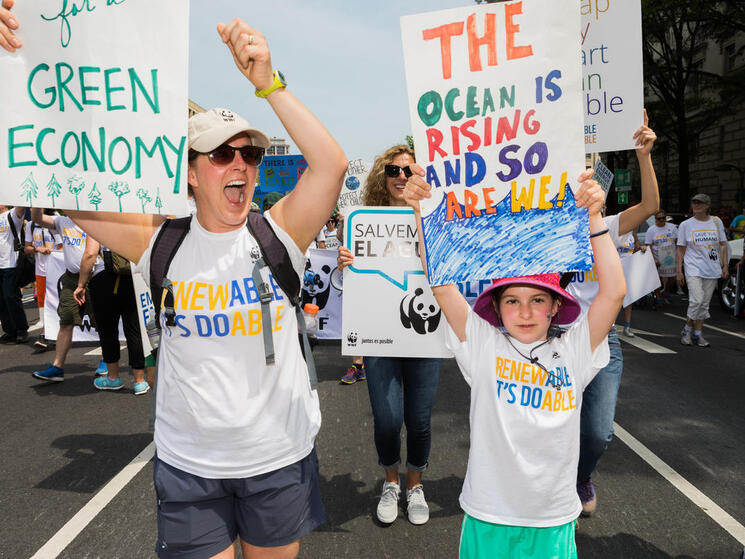 Date

: 20 October 2021

Author

: Marcene Mitchell, Senior Vice President, Climate Change, WWF
In just under two weeks, the center of gravity for the climate crisis will be in Glasgow, Scotland at COP 26. The Paris Agreement's over 190 signatories, along with NGOs, academics, corporations, and journalists will descend upon what was one of the most heavily industrialized cities in Europe, to talk about how to decarbonize the world economy.
One of the lingering questions the world will have is whether the United States is ready to be at the forefront of global leadership on climate. The Build Back Better Act, if Congress can pass it before the COP begins, could demonstrate its commitment, and be the herald that the U.S. is prepared to lead on climate.
The Build Back Better Act offers a future with cleaner air and fewer respiratory illnesses, greater resiliency to climate impacts, and energy choices that do not rely on fossil fuels that must be extracted from the ground. It currently includes the Clean Electricity Payment Program (CEPP), which would help electric power sector deploy renewables faster and more extensively in their generation portfolios.
The threat the BBB act won't pass is not idle. The CEPP is not unanimously supported, and if it is removed, it must be replaced with another significant mechanism to address power sector emissions, such as a price on carbon.
This vision of the future isn't just a nice idea; it's an imperative. So much so that 17 companies, including even some fossil fuel companies, sent a letter to Congressional leadership on Tuesday urging Congress to prioritize the climate provisions of the Build Back Better Act. The leadership of the America is All In coalition likewise sent an open letter to Congress demanding the passage of both the Build Back Better Act and the infrastructure bill. These businesses and non-federal actors that signed these letters are the very entities that will be at the center of making climate goals real, and they are clear as to which future they choose.
Americans got a glimpse this summer of what a future with unchecked climate impacts looks like: wildfires engulfing acre after acre of land; storms ripping through communities, destroying homes and livelihoods; and extreme heat taking lives. It is a future that would needlessly rack up billions of dollars in expense and loss of life. The choices we make now will design the future we live in.
But it's about more than just what will happen inside our borders. America's bona fides were badly damaged when the Trump Administration pulled out of the Paris Agreement. If we show up in Glasgow without real legislative progress, the world will remain skeptical the U.S. is in fact ready or able to lead. We cannot fight the climate crisis with promises of future action. We cannot claim to be world leaders and come to the Climate COP empty handed. We need the Build Back Better Act to pass with strong climate provisions before COP26 opens in November for the U.S. to reclaim its leadership role.