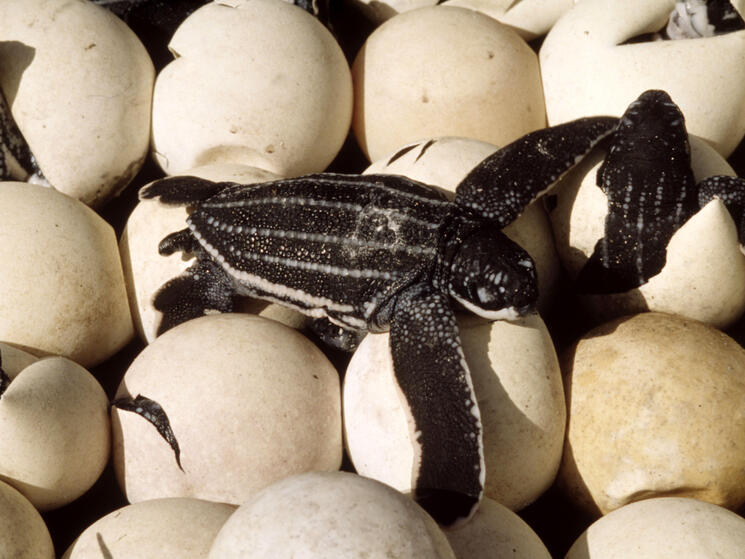 Date

: 15 April 2022

Author

: Ayse Koçak, TikTok
At TikTok, our mission is to inspire creativity and bring joy. We're proud that over 1 billion people come to our platform each month in search of entertainment and an outlet to share what matters to them. We know that this would not be possible without our community's trust in our ability to maintain a safe and welcoming environment. We believe that everyone should be able to express themselves creatively and be entertained, but not at the expense of other forms of life.
Last year, TikTok joined the Coalition to End Wildlife Trafficking Online, which was established in 2018 by World Wildlife Fund (WWF), TRAFFIC, and IFAW to bring together e-commerce, search, and social platforms across the world to reduce wildlife trafficking online. Since then, we've worked closely with WWF to enhance our policies, launch in-app safety features and tools, and encourage education around the life forms with which we share a planet. In doing so, we aim to continue our work to prevent harmful content and behavior, including wildlife trafficking, from proliferating on the platform.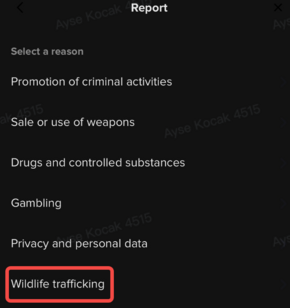 Protecting against harmful content
At the heart of how we work to promote safety on TikTok are our Community Guidelines, which serve as our code of conduct, illuminating our vision for the platform through detailing the types of behavior and content we do not permit. Our guidelines expressly prohibit content that depicts or promotes the poaching or illegal trade of wildlife, and we offer a dedicated reporting category within the app for our community to flag this type of content to us. Further, our Advertising Policies do not allow the advertising of products derived from endangered, vulnerable or threatened animals or the sale of animals themselves.
Using the policies as a guide, our global safety team then works to enforce them. I'm proud to be part of the team tasked with keeping TikTok free from this type of violative content. My team is made up of experts from diverse backgrounds—spanning product, policy, compliance, and NGOs—all of whom are dedicated to achieving the highest standard of safety. We're grateful to get the opportunity to work with the Coalition and WWF, which help us strengthen our policies and improve our methods for enforcement and content removals. Under our partners' guidance, we have blocked around 400 keywords and hashtags related to wildlife trafficking. Though illegal wildlife trade content is not popular on TikTok, we must nevertheless take a proactive stance in identifying and removing harmful content.
Supporting education and conversation
However, content removals are only one part of a holistic safety approach. Empathetic interventions and education are also necessary. To encourage learning and understanding, we redirect searches so that when people try to find content that violates our policies around wildlife trafficking, they will see a message reminding them of our policies. Additionally, we've worked with WWF to introduce public service announcements that appear when people search for or click on specific wildlife-related hashtags or content, with the goal of encouraging our community to learn more about this deeply important area and directing them towards authoritative information.
A vibrant and growing community has formed on TikTok to create and share content on important topics including environmentalism, and we witness this conservation-focused content reach new audiences every day. We're proud of these creators—whose ranks include television networks, parks, veterinarians, marine biologists, activists, and more—who use TikTok to tell their stories, teach people about the importance of wildlife, and express their passion for protecting the environment and all the life that depend on it. It's no surprise that hashtags like #conservation and #wildlife have garnered over 12 billion views within the app.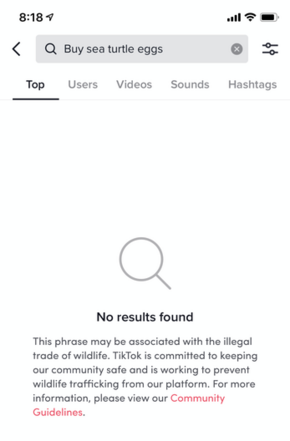 Partnering for stronger impact
Inspired by our community, last year we celebrated World Sea Turtle Day, a day that recognizes the importance of protecting sea turtles. Activities such as poaching and commercial fishing have led to 6 of the 7 sea turtle species being threatened with extinction. The plight of the sea turtles and other animals serve as a reminder of why we are dedicated to continuing to learn from partners, like the Coalition to End Wildlife Trafficking Online and WWF, and evolving our methods for identifying and removing content and activity that could harm wildlife. And while there is no finish line when it comes to safety, we know that preventing wildlife trafficking online is critically important work we must continue because we want TikTok to play a positive role in the lives of those both on and off the platform.


This post does not necessarily represent the views of WWF.