Incorporating Bioplastic with Care: Q&A with P&G
WWF's multi-stakeholder forum, Bioplastic Feedstock Alliance (BFA), works to help advance the responsible development of plant-based, or "biobased" plastics. In this interview series, we hear how members of the BFA are practically applying responsibly sourced biobased plastic as a strategy for circularity.
This week, we spoke with Yaprak Gokbulut, Pharm.D., P&G Baby Care Sustainability Citizenship Communications Director and Rooney Kim Lazcano, Ph.D., P&G Environmental Scientist, Global Product Stewardship, Baby, Feminine & Family Care, to learn how and why P&G is incorporating biobased plastic into their materials strategy.
Why is bioplastic a critical component of your circularity and sustainability strategy?
We support the shift from fossil-fuel derived plastics to renewable bioplastic feedstocks because it is an opportunity to reduce dependence on fossil resources (non-renewable) and contribute to the reduction of CO2 emissions to help combat climate change. Diapers, for example, are essential goods for babies and parents across the world. Yet, and like any product, they come with potential impacts on the environment.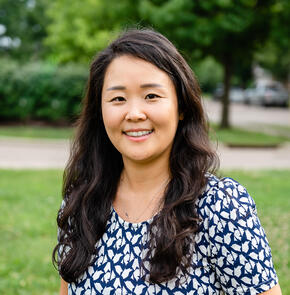 The environmental impact of disposal diapers come mostly from raw material supply chains.¹ ² For our products to perform and support parents and babies every day, synthetic fibers remain the best available solution today. While we are constantly looking at improving our products, and consider all available material options, including natural fibers, we cannot yet fully replace synthetic materials with natural ones without compromising on safety, quality, performance, and affordability.
Sustainably sourced biobased plastic feedstocks are a good alternative to fossil fuel resources, and their "plant based" origin is also preferred by consumers. We expect this trend to continue for years to come, contributing to the growth of naturally derived products as well.

How does your company utilize biobased plastic?
P&G remains committed to creating technologies to substitute petroleum-derived raw materials with renewable materials, as cost and scale permit. After years of development, P&G finally completed the development of a capability to substitute our top petroleum-derived materials (plastic resin, cleaning agents and acrylates) with renewable materials in 2018. By investing in biobased solutions, we can and will also help reduce the carbon footprint of various industries. This is consistent with P&G's stated Ambition 2030 sustainability goals to look to new, renewable sources of raw materials for conversion into everyday products.
We embarked on the journey to biobased plastic for our Pampers Pure Protection / Harmonie diapers in 2018. Today we are using Bio-Polyethylene as part of our nonwoven top sheet fiber blend, - a multi-layer fabric which allows urine to be absorbed fast while being dry against the skin - that comes from responsibly sourced sugarcane. Across P&G brands we have been using biobased plastic in several forms of packaging, like Pantene bottles in the past and as part of Pampers Pure packaging films in Western Europe currently. A primary goal for packaging is to ensure its recyclability where collection and infrastructure exist, so any biobased plastic packaging must also meet recycling standards.
Another recent example of our active shift to renewable feedstocks is for acrylates, a type of monomer used to formulate, absorbent materials, and to improve the texture and feel of skincare and cosmetics. P&G scientists won the American Chemical Society 2020 Award for Affordable Green Chemistry with groundbreaking proprietary technology to convert lactic acid into a biobased acrylic acid, the source material for superabsorbers. This novel method is a key step towards shifting many kinds of everyday goods to be made from renewable sources. Following on this development, P&G has granted Cargill an exclusive license to further develop and commercialize the technology, so that it can be incorporated in a range of applications from superabsorbent polymers in absorbent hygiene products and beyond. This new technology demonstrates that we can leverage the best materials science with new biobased plastic solutions to deliver more sustainable innovation in consumer goods production. Cargill, through investments, partnerships, and internal development, has been bringing sustainable materials to industrial and consumer markets for decades.
What are "lessons learned" or key knowledge gained that's applicable to the wider industry?
There is increasing demand for biobased plastics as companies look to expand their sustainability efforts and help diversify supply chains, reduce carbon footprint, and build a bioeconomy from renewable and recycled feedstocks.
Biobased plastic feedstocks do have their own set of challenges in terms of potential environmental and social impacts. As P&G, for example, environmental sustainability trade-offs, such as increased water use or altered land use, need to be evaluated and ensuring third-party verified sustainable sourcing is one way we can minimize any significant impacts. We are committed to the responsible sourcing of biobased plastic feedstock we are using across our products and transparently sharing the details of our sourcing policies.³ Also, to support collaborative development of renewable resources, P&G joined with several organizations to establish the Bioplastic Feedstock Alliance (BFA), a pre-competitive, science-based stewardship group.
Another insight is on consumer misconceptions with biobased plastic. Consumers are seeing new claims and innovations marketed in different product categories that may possibly lead to the risk of consumer confusion if not properly explained – this is where transparency is important. And we are making gradual but steady progress in our journey of biobased plastic and expect a lot more insights and progress in years to come. We are fully engaged to look to new, renewable sources of raw materials for conversion into everyday products and are looking for ways to further accelerate this transition.