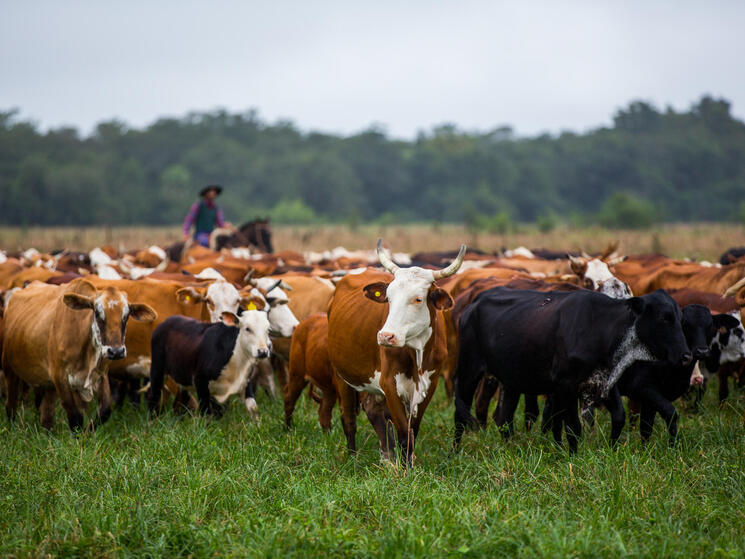 Date

: 11 April 2022

Author

: Julia Kurnik and Katherine Devine, World Wildlife Fund
Even before this announcement, methane was seeing increased attention. Human-led activities such as rice production, food rotting in landfills, raising cattle and other ruminants, and energy generation in the form of natural gas, have increased methane emissions likely more than 150% in the past three centuries, making methane the second-largest driver of global warming behind carbon dioxide. These methane emissions are responsible for around 30% of global warming since the pre-industrial era because they trap heat more efficiently than CO2. While carbon emissions still dwarf methane emissions, a pound of methane has 25 times the impact of a pound of carbon dioxide over a century.
While methane packs a much stronger punch than carbon dioxide, it doesn't stick around. It typically leaves the atmosphere within a decade, a blip compared to the hundreds of years that carbon dioxide will hang around. An all-hands-on-deck approach is needed to meet the world's climate goals, so methane reduction alone will not be enough, but we can make real headway by acting quickly on methane emissions. We must start by looking at the five industries contributing most of human-caused methane emissions: oil and gas (20-25% of world's methane emissions), coal mining (10-15%), solid waste management (7-10%), and wastewater management (7-10%)—and the biggest by far, agriculture (40-50%).

At the Markets Institute, we focus on food, agriculture, and soft commodities, and recently we've been observing innovations in methane reduction in this space. In this series we'll be breaking down some of these initiatives, especially in rice and cattle, two of the largest emitters. However, it will also be important to watch for innovations or changes in the other sectors because each of these industries will need to get creative if we're to make a dent on a global scale.
In recent years, biogas, also known as renewable natural gas (RNG), has gained attention as a potentially greener fuel. This is the methane emitted when anaerobic digestion breaks down organic matter, often either in landfills and 'digesters' often found on farms to convert livestock manure or food waste into energy that can replace conventional natural gas. While there are many benefits of this biogas, and we should consider it an important transition option toward decarbonizing our energy supply, the complexities and risks need to be considered as well.
One of the benefits of biogas is more circularity, helping tie together the food and energy sectors. One innovation we've seen in this space is SoMax BioEnergy's use of a variety of waste streams, including food waste, human waste, and animal waste (e.g., manure) to create energy. Normally each of these would degrade and create methane. Instead, SoMax uses a hydrothermal carbonization (HTC) process that converts those waste products into a stable carbon, which is then converted to energy. While anaerobic digestors have been around longer and can also make energy from these waste products, SoMax's studies show that HTC is much faster, has a significantly higher carbon efficiency, and is immediately fuel or transport ready without further upgrades. It could be an exciting avenue to explore and scale—though perhaps paired with a strong marketing campaign to explain to people why they are getting energy from their own waste!
Join us over the next few days as we dive into some interesting explorations and innovations around reducing the methane emitted from the agricultural production of rice and cattle.