Date

: 25 April 2022

Author

: Julia Kurnik, Director of Innovation Startups, WWF Markets Institute
Asian carp are decimating native fish populations throughout the Mississippi River Basin and the Great Lakes in the US – and my dog, Peaches, couldn't be happier about it.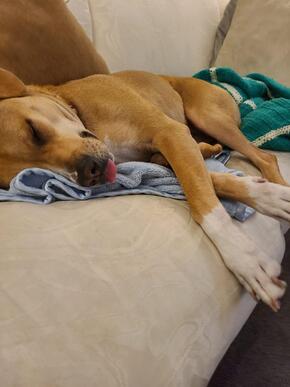 Three species of carp were inadvertently introduced to the Mississippi River in the 1970s. With no natural predator, they have proliferated, eating plankton and mussels as well as fish eggs while outcompeting other species for food and space. They even lower the water quality, further damaging the ecosystem.
Carp are also expensive: North America has spent more than $26B annually fighting a number of invasive species since 2010 with little success to show for it. The carp not only cost money, but they also reduce income in the region's economy. Sport fishing generates billions in annual revenue along the Mississippi River and Great Lakes – an economic generator now threatened by carp, especially since Silver Carp leap out of the river and endanger boaters.
But this is where Peaches gets excited. WWF's Markets Institute aims to identify innovative, market-based solutions to address major environmental issues across food and agriculture. While people in the US have little interest in eating Carp, a bony fish, there could be a robust pet food market for this invasive species. Demand from pet food companies would incentivize harvesting, reducing the population to manageable levels and avoiding the worst environmental damage while generating employment and reducing pressure on wild caught fish.
The US pet food market is large, at $42 billion in 2020 with 5% growth estimated for 2021, while the global pet food market is more than $90 billion and growing - and more pet owners are demanding "real" ingredients and higher animal protein content in pet food. This is also a chance to bring badly needed economic development to low-income regions. We envision a start-up company with up to 8-12 mini, first-stage processing plants at key sites in Arkansas, Mississippi, Missouri, Kentucky, Tennessee, and Illinois. These plants could be worker- or fishermen-owned, creating jobs and bringing income from the sale of processed carp to pet food companies. Even sports fishermen could potentially support their habit by selling carp into such plants and help improve the river for fishing.

There are some intrepid companies already dipping their toe in this water. Wilder Harrier, a Montreal-based pet food company focused on sustainable ingredients, debuted their 100% Silver Carp dog food in 2021 alongside their existing insect foods. It took some initial legwork, including juggling regulations around bringing an invasive species (even dead and dried) into Canada, setting up the supply chain, and testing each batch of food since there are no specifications or standards governing the contents of carp for pet food. However, the work seems to be paying off and the story sells the product. More important, if Peaches is any indicator, dogs love the food. Root Lab, a Purina-owned start-up out of St. Louis, is also testing Asian Carp for pet food.

Mango agrees—eating carp is a very good thing.

Peaches, testing out Wild Harrier's carp dog food, has never been happier to be a guinea pig. Pezzy Pets' devil fish dog treats didn't even make it into the house… she ate the entire package delivered to the front porch.

Athena testing out Wild Harrier's carp dog food. Turns out helping the environment is pretty tasty.

Mango is happy to pose for more photos if it means more carp treats.

A détente worthy cause: fighting invasive species.
And carp isn't the only invasive species that could be on your pets' menu. Pezzy Pets of Berkeley, CA is sourcing invasive "Devil Fish" (in reality, armored catfish… a name which hardly excites even this catfish-loving author) from Mexico to make pet treats—offering some key lessons for the carp market. They originally attempted to build a human-market for the edible fish, but the stigma was a tall hurdle to climb. Since switching to pet treats, they've seen far more success and are even exploring setting up co-op owned processing plants in Tabasco, Mexico, home of their current processing plant.
More work needs to be done to bring invasive carp to dogs and cats across the country and the world. These are all premium products since there is little infrastructure to process carp where it's caught. Instead, it is transported long distance in refrigerated trucks, adding cost and environmental impacts. Bringing infrastructure along key rivers could make a big difference. There also needs to be specifications for pet-food-grade carp and efforts to raise awareness of both the issue and solution, with pet owners. Right now, seafood makes up just a sliver of the dog food industry, but that's largely due to consumer choice. People associate land animals with food for dogs, but that could change – and more start-ups could enter the cat food market which uses far more seafood. Mango, my cat, is certainly happy to do his part by eating more fish. He has already been eagerly supporting (aka elbowing out) Peaches in our tests.
These hurdles are surmountable, and the gains could go well beyond carp. Invasive species are one of the leading global threats to wildlife, threatening nearly 42% of endangered species and costing the world an estimated $1.3 trillion over the past fifty years – and climate change is likely to exacerbate this issue. If we create a market-based solution to address invasive species in an equitable and socially beneficial way, it could scale around the world, protecting wildlife, and boosting economic development.
So, spongy moth jerky, anyone?