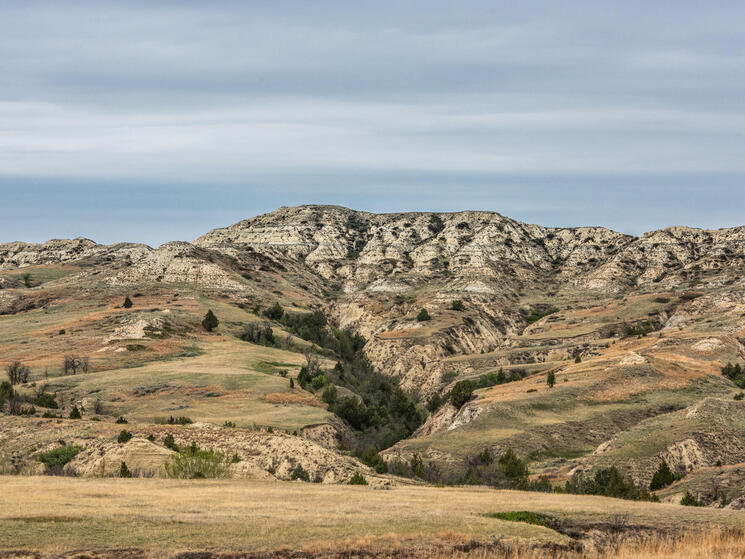 Date

: 13 October 2021

Author

: Alexis Bonogofsky, Program Manager, WWF's Sustainable Ranching Initiative
Bouncing around in Joe Russell's pickup truck alongside my colleague Aaron, I am struck by eastern Montana's vast sky and the varied topography. The state's wide-open, undisturbed landscapes are some of its most special attributes and they are evidenced here on Joe's 16,000-acre family ranch. The land here at Veebaray Cattle Company consists of badlands and deep woody draws, rising steeply into red, pink, and yellow hills. These add surprising color to an otherwise muted prairie palette.
The Veebaray Cattle Co, whose name comes from the phonetic sound of the ranch's cattle brand (V-Bar-A), has been in business for 110 years. Joe wants his family to be in business for 110 more. He plans to accomplish this through good grass management and forward-thinking practices.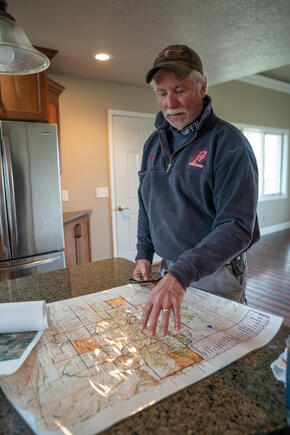 "If we want to stay in business, we need to continue to manage our grass for the future; we need to think regeneratively and holistically," he tells me. "The RSVP network helps us do that."
Joe was the first rancher in the Northern Great Plains (NGP) to sign up for WWF's Ranch Systems and Viability Planning (RSVP) network, which now has 27 ranches enrolled on over 283,000 acres across the NGP regions of Montana, South Dakota, and Nebraska.
RSVP, which is funded by Cargill, McDonalds, and the Walmart Foundation and other funders, offers support to ranchers like Joe who are developing conservation ranching projects and enhancing their ranch management skills. WWF also supports ranchers who are developing sustainable grazing management plans with assistance from on-the-ground technical specialists and access to continuing education. Participating ranchers also have access to cost-share funding for conservation projects, a peer-to-peer network, and can track progress over time through ecological monitoring and self-assessments.
Joe continues the ranch tour showing us the marginal cropland he is restoring back to native prairie species, his cattle grazing rotation, and his fencing and water infrastructure improvements. We spend some time discussing his plans to experiment with virtual cattle fencing too, which will help him move his cows more frequently and increase the impact of his rotational grazing plan. This innovative technology will create healthier soil and grass, not just for Joe's cattle, but for the wildlife species that utilize the ranch too.
"Looking at the big picture, this is a no brainer. We want to get our message out. If the consumer knew all the steps that we did with soil health and rotational grazing, and all the ways we work to make our land, wildlife, and cattle healthy, they would know that ranching and healthy ecosystems go hand in hand."
Joe sees his efforts as a part of the larger changes needed in the beef industry to create sustainable food systems on a large scale.
"We have to be sustainable as a producer to be able to provide a dependable, healthy product. The consumer wants a reliable, defendable (source of) beef. As producers we need the whole beef industry to move in the direction we are going."
By improving management of one million acres over five years and avoiding conversion, RSVP will result in increased carbon storage and sequestration, improved water infiltration and better outcomes for biodiversity. Creating space for these types of integrated solutions at global venues like the recent UN Food Systems Summit and moving forward to other global convening events like COP, is how we can leverage our food system as a solution to global challenges while protecting the livelihoods of communities and producers like Joe.