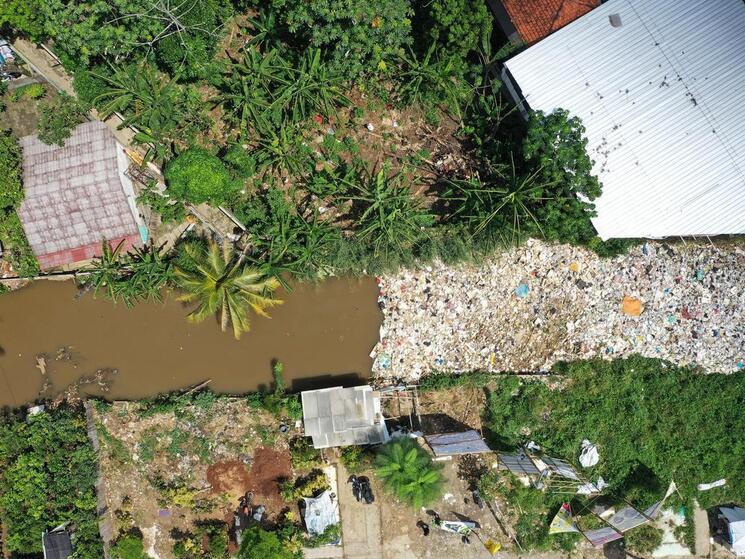 WWF always leads with science when tackling the world's most pressing environmental issues to protect both people and the planet. Often this is grounded in existing methods and tried-and-true best practices. But sometimes we come across a unique problem that requires an equally novel solution, and we rely on innovative and original research to fill that gap. The ReSource Footprint Tracker is one of the ways we're paving the way to measure plastic pollution—and with a new report, we're showing exactly how it works.
The global plastic waste crisis is massive and complex, and we know that pollution is choking our planet—polluting the air, water, and soil both people and wildlife need to survive. But there's a lot we don't know about the scope and scale of the crisis, including the best way to go about solving it. What we do know is that we need everyone to shut off the tap of plastic leaking into nature—and business has a critical role to play. In fact, as few as 100 companies have the potential to prevent roughly 50 million metric tons of the world's plastic waste by 2030.
We launched our corporate activation hub ReSource: Plastic in 2019 to tap into this incredible potential through science and collaboration. The ReSource Footprint Tracker is at the core overcoming the significant limitations and seizing this opportunity. The Tracker is an innovative tool to measure ReSource member companies' progress on plastic waste mitigation and take these data-driven insights to inform how companies can maximize and multiply their impact.
Importantly, the ReSource Footprint Tracker fills a critical measurement and reporting gap—providing both a common language and common set of metrics—so that companies across various sectors can more clearly identify shared challenges and new, collaborative opportunities. This can help take individual corporate commitments to a global scale through meaningful, measurable actions that transform the broken plastic systems.
The Tracker debuted last year as part of Transparent 2020 report, following a year of piloting the methodology, producing baseline assessments of the plastic footprints of five ReSource Principal Member companies. We anticipate that in the years to come—as we aim to prevent 50M tons of plastic waste by 2030—the Tracker will evolve and refine as more science about the plastic waste crisis emerges. More companies joining ReSource will also add to the quality and quantity of our data. In fact, we've already made updates to original methodology we published in October 2020.
The latest version, released August 2021, reflects new and strengthened data sets to refine our understanding on global plastic use and waste management. Specifically, through our new partnership with global research consultancy Wood MacKenzie, our methodology now includes insights on PET bottle recycling trends in an additional 89 countries. The latest methodology also introduces the ReSource Footprint Tracker's new webtool, which now serves as the reporting mechanism for both ReSource: Plastic and the U.S. Plastics Pact and provides companies with an interactive way to understand their plastic footprint and track progress against their plastic waste commitments.
Beyond the formality of showing our work behind ReSource: Plastic's signature measurement tool, we're excited about the release of the latest ReSource Footprint Tracker methodology because we want it to be accessible to any company seeking to harness the latest science to improve the way they take on plastic waste. Additionally, by outlining the continued data gaps in plastic use and waste around the world, we hope this methodology strengthens our call to action for better and more data.
Read the ReSource Footprint Tracker methodology here.