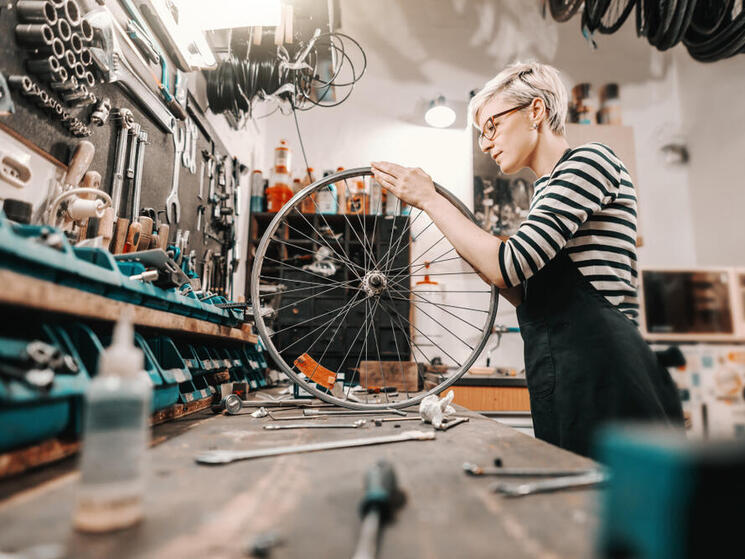 The passage of the Inflation Reduction Act is a bold step towards rapidly reducing U.S. emissions and limiting global warming, at a time when we really need to make swift strides towards our climate goals. Although the legislation doesn't go quite far enough, it remains the biggest investment that the United States has ever made in clean energy and decarbonizing our economy.
To rapidly decarbonize and halve U.S. emissions by 2030, which is the goal that allows us to limit global warming to 1.5 degrees Celsius, we need leadership at every level of the economy. Small and medium-sized businesses (SMEs), which represent a significant amount of job creation and economic activity in the U.S. are already taking steps to address climate change and build resilient business futures by reducing their emissions.
Alone, the impact of one small business appears minimal compared to the global climate challenge, especially next to the activity of the largest corporations and heaviest polluters. But together, SMEs make up 90% of businesses worldwide, affect the livelihoods of over two billion people, and drive innovation that reaches the biggest business leaders. That's a force to be reckoned with.
SMEs do not operate in a vacuum. They supply larger companies with products and resources, which brings them into the realm of Scope 3 emissions -- the emissions associated with the supply chain. Scope 3 emissions as a whole are 11.4 times higher than operational emissions, and are often the hardest to reduce. In fact, a mere eight supply chains, including construction and food, account for more than half of all global greenhouse gas emissions. As larger corporations come under pressure to not only reduce their emissions but those of their supply chains, the pressure on SMEs to decarbonize only grows.
Decarbonizing and cutting emissions at the SME level has benefits. It creates a more resilient supply chain overall, especially as the impacts of climate change become more uncertain and severe. The Covid-19 pandemic, for example, led to significant challenges across 57% of the supply chain, showing that "when small business suppliers struggle, larger operations falter too," according to the Harvard Business Network.
In a perfect economy, these reasons alone would lead small businesses to set ambitious climate goals and forge the path to net zero. But small businesses already work overtime for us. They support our communities, boost our economy, create gathering spaces, and provide local jobs. Reducing their carbon emissions and prioritizing sustainability and the climate across their supply chain can feel like an overwhelming request.
That's not to say small businesses across the country aren't already recognizing the benefits that setting and achieving climate goals can have for their long-term business model. However, many small business owners are worried they don't have the right skills, time, or knowledge to tackle the climate crisis.
The SME Climate Hub fills this gap, providing the resources, tools, and incentives necessary for small and medium-sized businesses to take robust climate action and lead the way to net zero for others to follow. Current SME Climate Hub members have cited the benefits of making the commitment to halve emissions by 2030 and achieve net zero by 2050, from managing their business risk, gaining a competitive advantage by adopting climate goals, and being part of something larger than themselves, like the United Nations Race to Zero campaign.
Since its launch, the SME Climate Hub has quickly grown into a coalition of over five thousand businesses globally. This year at New York Climate Week, through the work of the America Is All In Coalition (which WWF supports) and We Mean Business Coalition, we are thrilled to launch the SME Climate Hub to U.S. businesses. Our hope is that by providing tools and sharing stories of how other small and medium businesses have stepped up to the challenge, we can give small business owners and entrepreneurs the opportunity to forge the path to net zero, save money, and build a more resilient business model in the face of a changing climate.
We need all hands on deck to solve the climate crisis, and no one's contribution is too small.