Transparent on Plastic: Q&A with Lisa Morden, Kimberly-Clark
Following the release of WWF's ReSource: Plastic Transparent 2021 report, we sat down with Lisa Morden, Vice President of Safety, Sustainability & Occupational Health at Kimberly-Clark, to discuss the company's involvement in the ReSource program, the importance of transparency, plus the greatest challenges and most promising solutions to the plastic waste crisis.
…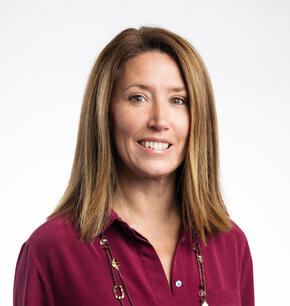 Why is Kimberly-Clark a member of ReSource Plastic?
Each day, Kimberly-Clark and our employees around the world are driven to provide the best for our consumers, our customers and the communities where we live and work, all while minimizing the impact on the planet.
While plastics have offered society a multitude of benefits, the world is unable to cope with the rising level of plastic waste. This is why we aspire to develop innovative materials and alternatives to traditional plastics while supporting the development of the circular economy. This ambition is a complex and challenging undertaking that requires systems thinking, partnerships, and collaboration from sourcing through to end-of-life.
We've been on a journey to reduce our plastic use for many years, and in 2020, we made a commitment to halve our plastics footprint globally by 2030. We are working to reduce our use of new, fossil-fuel based plastic in our products and packaging, and we are making significant investments in sustainable materials and circular systems.
We also have a strong focus and long history of success in eliminating waste from our day-to-day operations and currently divert 96% of our operational waste from landfills to higher value alternatives. By the end of 2022, we are striving to achieve zero waste to landfill across all of our operations globally.
While we don't have all of the answers, we recognize that in order to thrive as a business today and for generations to come, it is imperative that we address these challenges. We are proud to be a part of ReSource: Plastic, because partnerships like this are critical to delivering our commitment and accelerating circular solutions that will better protect the planet.
Why is it important to be transparent about your plastic footprint?
We know the next decade will be decisive on so many fronts. We know our shareholders, employees, consumers and customers are concerned about the impact our products can have on the environment – if not properly managed – and we are concerned, too.
It's important to be transparent about our plastic footprint to both hold ourselves accountable to our commitments, and to show all of our stakeholders the tangible progress we're making from year-to-year.
To help better protect the environment — as part of our 2030 sustainability strategy — we are making significant investments that enable our essential products to become more circular. This includes innovating future materials that are renewable, recyclable and biodegradable, and partnering with global thought leaders, including ReSource Plastic, and local stakeholders to build systems and infrastructure that meet our consumers' needs.
We've committed to ensuring that 100% of our packaging is reusable, recyclable or compostable by 2025. We're also working toward our goal to use an average of 20% recycled content across our plastic packaging by 2025. We stand at 82% and 2.5% respectively today, so while we're making progress, we still have more to do.
We continue to drive meaningful change through our efforts to reduce plastic in our products and packaging. As one example, our Huggies® brand in the U.K. removed 359 tons of plastic from its total wipes portfolio in 2020 as part of its Tiniest Footprint initiative. In 2021, the Huggies® team in the U.K. introduced a new plastic-free baby wipe, Huggies® Natural Biodegradable, that is free of fossil-fuel based materials.
Also in the U.K., we removed Kleenex® baffles and Andrex® handles on wrapped packs, used 30% post-consumer recycled (PCR) plastic in our packaging on the majority of our Andrex® and Kleenex® multipack ranges, and launched paper packaging on Andrex® Gentle Clean 4 Roll.
What do you see as the biggest challenges to the plastic waste crisis?
The challenges associated with preventing plastic pollution are highly complex and very different from country to country – ranging from the cost-competitiveness of alternative materials, to variability in regulatory schemes, to lacking or ineffective recycling infrastructure. While we don't have all the answers, we recognize that in order to thrive as a business today and for generations to come, it is imperative that we address these challenges.
That's why we are collaborating across our research, engineering and marketing teams and with our commercial partners to find ways to reduce our use of traditional plastics, to accelerate development of renewable and recycled substitutes, and to contemplate plastic-free product solutions. We believe that consumers shouldn't have to compromise between the essential products they rely on to make their lives better every day and caring for the environment.
We're also working with key external partners to promote and inform the transition to a more circular economy. This requires a deep understanding of how products are not only designed, but how they are used and disposed of in the diverse markets and cultures around the world.
The complexity of the interconnected environmental challenges requires that our approach be informed by science, so we are continuing to use life-cycle assessment to help us understand potential tradeoffs and co-benefits associated with our plastics reduction efforts. These assessments deepen our understanding of environmental impacts across the value chain, from raw materials to production and distribution to use and beyond.
In response to the complex challenges surrounding the prevention of plastic pollution, Kimberly-Clark announced a partnership in 2021 with biotech innovator RWDC to advance sustainable technology for consumer products that provides much-needed solutions to the world's single-use plastics problem. The collaboration brings together Kimberly-Clark's deep experience in nonwoven technologies and resin development with RWDC's innovative and cost-effective biopolymer solutions.
The partnership will provide Kimberly-Clark with RWDC's polyhydroxyalkanoates (PHA) source material, Solon™, to develop additional products that are biodegradable, helping prevent persistent microplastics from accumulating in the environment.
As part of our plastic reduction efforts, we're also proud to share that Kimberly-Clark Professional recently celebrated the 10-year anniversary of The RightCycle™ Program, the first large-scale recycling effort for non-hazardous lab, cleanroom and industrial waste. Since 2011, the program has empowered more than 800 customers to divert over 1,400 metric tons of waste.
The RightCycle Program collects previously hard-to-recycle personal protective equipment (PPE) such as garments, masks, gloves and goggles. These items are then recycled by regionally based recycling partners that create new pellets, which are used to produce consumer products and durable goods. These include flowerpots and lawn furniture, benches and bicycle racks.
Originating in the U.S. with a few scientific manufacturing customers, The RightCycle Program is now available in nine countries across Europe and North America with a wide range of customers that include universities, zoos, laboratories, manufacturing facilities and breweries.
What solutions do you think are most promising?
We believe that a societal shift from a linear economy to a circular economy is the most promising solution to addressing the plastic waste issue. But, not only do we need the right circular manufacturing systems and processes in place, we also need to ensure communities have access to crucial infrastructure that makes this all possible.
That's why Kimberly-Clark supports the development and maturation of waste management infrastructure in both emerging and mature markets, as well as supporting consumer education and labeling so our consumers can responsibly manage our packaging materials after use. Kimberly-Clark partners with local and global organizations on recycling initiatives, including How2Recycle in the U.S. and Canada and REDcycle in Australia, that educate consumers about recycling.
Some of our partners provide collection points where consumers can drop off plastic packaging for consumer products such as Kleenex®, Cottonelle®, and Huggies®. In addition, our Kimberly-Clark Professional business labels its products to ensure end users know what's eligible for recycling, and how to recycle it.
To identify suitable solutions that can be deployed and scaled for local contexts, we're focused on establishing collaborative external partnerships with waste management experts, NGOs and community leaders. We are currently partnering with The Circulate Initiative and the Ocean Conservancy's Trash Free Seas Alliance, which brings together businesses, academia and civil society organizations to identify solutions to keep plastics out of the ocean.
We are also exploring numerous recycling and recovery business models for our diaper products and have partnered with local organizations in Brazil, Indonesia, South Africa, Australia, and the U.S. to develop diaper recycling programs that leverage, when possible, existing waste and sanitation infrastructures.
In 2021, our Kimberly-Clark Softex team inaugurated its fourth used baby diaper recycling facility in the East Java Province of Indonesia. This facility is able to process more than 200 used diapers daily (1.1 tons of diapers per month) that are then recycled into fertilizer, handicrafts and other goods.
Kimberly-Clark Softex has partnered with four recycling facilities, two online circular economy platforms, and 22 collection points across Java Island in Indonesia. In total, together they collected and recycled nearly 70 tons of used diapers from August 2019 – October 2021. Equally important, the initiative is working to keep diaper waste out of Indonesia's waterways by educating the public on proper disposal as well as to support job opportunities driven by this program.
All of these initiatives are part of our ongoing commitment to play an active role in the transition to a circular economy by reducing waste, promoting waste-handling system improvements and innovating new ways of providing consumers with the products that they need to live their best lives.
…
The views expressed in this blog do not necessarily reflect those of WWF.