Overview
Fish play a crucial role in the well-being of people and nature. They bring balance to ocean ecosystems, help feed billions of people, and support industries that fuel global markets. But the world is rapidly maxing out its draw on this essential natural resource, and it will take every tool in the box to reverse declines and sustain fish populations well into the future.
That's why WWF is helping fisheries transition toward more responsible, sustainable practices through fishery improvement projects, or FIPs. These projects are multi-stakeholder efforts to improve fishing practices and management so that species, habitats, and people can all thrive. FIPs pair the private sector with fisheries' stakeholders around the world to incentivize positive, enduring change. They are also encouraged to achieve certification from the Marine Stewardship Council (MSC), the leading global standard for the environmental performance of wild-caught seafood.
WWF co-developed a mobile application called TrazApp with fishers, government, and other supply chain actors, and has been training fishers across three fishing co-ops in northern Peru to use it.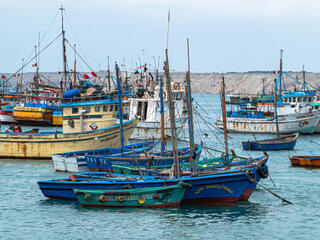 Why It Matters
Healthier Oceans and Communities

FIPs not only support healthier oceans but also support communities that depend on the ocean for their livelihoods. These projects empower local people to adopt sustainable fishing practices to ensure they can continue to fish for generations to come while having minimal impact on the environment.
What WWF Is Doing
Achieving sustainability does not happen overnight. The transition can take time, but such challenges should not stop us from advocating for effective and equitable solutions. To address negative fishing impacts, WWF works globally with the seafood industry, governments, fishing communities, academia, and non-governmental organizations to transition fisheries toward sustainability through FIPs. Learn more about the step-by-step process for creating a FIP.
WWF works to improve the following types of fisheries around the world:
Lobster Fisheries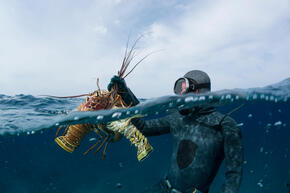 WWF works to improve lobster fisheries in Honduras and Nicaragua. These fisheries face—or previously faced—issues such as lack of complete data on the health of the lobster stock; illegal, unregulated, and unreported fishing; and lack of resources to enforce fishing regulations. Step-by-step processes are moving these fisheries toward sustainability. WWF also worked for several years with key partners in the Bahamas spiny lobster fishery, which was certified on August 7, 2018, for achieving the Marine Stewardship Council (MSC) Fisheries Standard—the Caribbean's first fishery to do so.
Tuna Fisheries
Tuna is a major export for countries in many parts of the world, from West Africa to East Asia to South America. WWF focuses on improving Atlantic Ocean tuna, Eastern Pacific Ocean tuna, and Vietnam yellowfin tuna fisheries. Bycatch—the unintentional capture of a species while fishing for a specific type of fish—remains a problem in some of these fisheries. WWF is using tactics such as conducting trainings, introducing new fishing equipment, and laying the groundwork for management plans to improve these fisheries.
Mahi Fisheries
The Peruvian mahi mahi fishery includes over 10,000 fishermen and is one of the country's most important artisanal fisheries. Peru is the leading mahi mahi producer worldwide, with over 70% of its exports going to the United States. WWF is helping to establish and strengthen fishing cooperatives and working with them to obtain fishing licenses and improve their collection of catch data. We're also developing and piloting a mobile electronic catch data system with fishers that will allow them to record their catch, among other tactics. Stakeholders in Ecuador have been working with WWF to improve fishing practices in their own mahi mahi fishery and will officially be launching a FIP soon.
Jumbo Flying Squid Fishery
The jumbo squid fishery is the largest artisanal fishery in Peru and has the highest socioeconomic importance with over 11,000 fishers involved. More than 30% of the catches are exported to the United States and European Union markets. WWF is working to improve data collection to inform the assessment of squid stocks and working with the government and various organizations to improve the management and governance of the fishery.
Blue Swimming Crab Fishery
The Surat Thani blue swimming crab fishery is an important export product for Thailand with an export value of $60-80 million. Overfishing and the capture of undersized crabs remain major concerns. WWF is helping to map the distribution of crabs and implement a minimum landing size regulation for blue swimming crab, among other efforts.
WWF helps improve fisheries around the globe. Here's a look at the latest updates from ongoing projects.