Chris Dodd on making conservation accessible and why a river always runs through him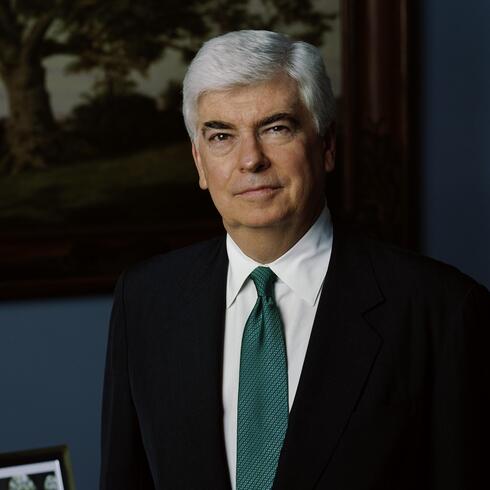 Some of Chris Dodd's most enduring memories revolve around rivers.
Growing up, he and his five siblings, along with his parents, spent weekends and summers in rural Connecticut on a property that included a house built in 1710, a good amount of land, and, most important, a stretch of the Green Falls River—"a wonderful trout stream."
"My father was constantly saying about the property that we needed to 'fix it up,'" says Dodd. "And my mother would respond that she thought nature had fixed it up pretty well. She always won that argument.
"I spent so many hours on the Green Falls River trout fishing and making rafts," Dodd continues. "It's also where I learned the sounds of whippoorwills and cardinals, and where I went to pick wild grapes and blueberries with my mother." Years later, when Dodd served in the Peace Corps, his parents decided to sell the place. He wrote a five-page letter to his mother and father in defense of keeping it.
"They sold the farm anyway," he says, "but my time there was really my introduction to nature and how important it is. I still know the guy who bought the farm from my family, and I take my kids every couple of years to see it. They love it just as much as I do."
The Green Falls River was the first of many rivers that would hold meaning for Dodd over the years. While serving in the Peace Corps in the Dominican Republic, he was assigned to the small mountain village of Monción, on the border with Haiti. There was a river in Monción, the Mao River, that played a central role in the life of the community. Dodd and his fellow volunteers would visit the river on the weekends, to fish and go swimming.
"When I left Monción there was talk of damming the Mao," Dodd says. "I've been back a number of times to show my children the village where I served, and now there's just a huge lake where the river used to be. The water is terrible, and it's been devastating for the community. I've never forgotten the impact of damming that river."
Dodd's experience in the Peace Corps led him to run for political office. He served six years in the House of Representatives before being elected a US senator from Connecticut in 1980. In the 30 years he held that seat, the lifelong Democrat notes, "I never introduced a single piece of major legislation—with perhaps the exception of a handful of proposals—where I did not have a Republican partner. Otherwise it was just a discussion—an intellectual exercise without having much opportunity for a pragmatic result."
"Don't just tell them the longterm impacts for their children and grandchildren [from climate change]; connect it in a real way to their daily lives."

Chris Dodd WWF Board of Directors
Dodd points out that all of the landmark environmental legislation passed by Congress in the 1960s and 1970s—the Clean Air Act, the Clean Water Act—was possible only because of bipartisan cooperation. But today, with the lack of comity in Congress, that type of collegiality seems like wishful thinking.
Which makes it all the more consequential, says Dodd, that we remember to have conversations with constituencies that have typically been ignored in this discussion. "We've allowed conservation—and all the issues that fall under that umbrella—to take on an elitist patina," says Dodd. "People feel like they can't afford to care about it because no one's ever taken the time to make a compelling case to them—using reasons that matter to them—why they should."
He feels strongly that when you talk to people about the practical reasons to care about an issue— say, climate change—they are much more likely to be interested. "Don't just tell them the longterm impacts for their children and grandchildren; connect it in a real way to their daily lives."
Today, the Connecticut River runs through Dodd's daily life. His home for more than 35 years has been a two-room schoolhouse, built in 1853, which is situated on the lower part of the river.
"It's the largest tidal river in the world, and the only major river from Maine to Florida that's never been commercially developed at its mouth," says Dodd. "It's home to eagles, osprey, fox, deer, and even the occasional seal. And that's my backyard. My kids love it there. If I ever talked about getting rid of the place, I'd have a major family dispute on my hands. I'd probably get a 20-page letter."
Explore More
About

World Wildlife magazine provides an inspiring, in-depth look at the connections between animals, people and our planet. Published quarterly by WWF, the magazine helps make you a part of our efforts to solve some of the most pressing issues facing the natural world.