WWF's Lindsay Bass on working with companies to protect fresh water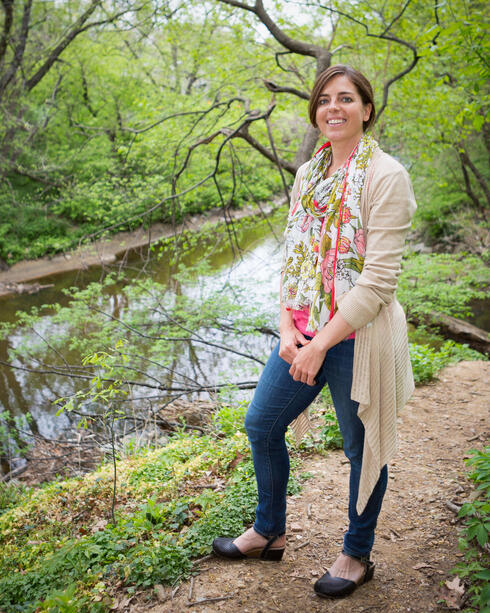 I'll never forget something a professor once told me: "Remember, you live on a planet. This world is finite, and it's our home."

I was getting my master's in environmental science and management in California at the time, immersing myself in courses on freshwater ecology, environmental law and politics, and environmental management. Amidst all of this fascinating new information, my professor's simple advice kept me grounded.

Many of my classmates had come to grad school with the notion that big business is the enemy, a negative force threatening the natural world and blocking efforts to protect it. I got where they were coming from—my first job had been canvassing for an environmental group—but I thought the real story was more complicated. I wanted to frame environmental issues in ways that could speak to businesses about our shared risk on this Earth we inhabit.

My first big opportunity to do that came through a capstone project for outdoor clothing and gear company Patagonia. Using a methodology we created, several classmates and I estimated the water "footprint" of different products throughout the company's supply chains—and then presented the results to the senior management team. At the time, that included Yvon Chouinard, Patagonia's CEO and founder, and Rick Ridgeway, who leads Patagonia's environmental initiatives, both legends in the corporate sustainability sphere.

After we'd presented, my classmates and I watched as these leaders began to problem-solve the issues we had laid out. I remember feeling empowered—and wanting to do more work like this.

So I did—first for Patagonia, which kept me on as an intern after I graduated. The company was beginning a big environmental campaign about water: I worked with them to do background research, figure out what the core themes should be, and think through how to talk about them with consumers. It was amazing to be exposed to the creativity and commitment of the campaign team, and to learn how to leverage a brand to raise awareness and impact an issue.

Eventually I wanted to work with even bigger businesses. When I saw an opening for a senior program officer for corporate water stewardship at WWF, I realized I had found my dream position. I'd have the chance to take science and good ideas to companies that could have deep, long-lasting environmental impacts. WWF hired me, and my first day on the job was at a partnership meeting in Atlanta with The Coca-Cola Company. It was so cool to be plunked down right where I'd imagined myself.

That was in 2010. Since then, I've seen corporate support dramatically advance our freshwater work. One great example is Vietnam's Tram Chim National Park, in the Mekong Delta. Ten years ago, Tram Chim was in poor shape: It was being managed as a forest rather than the wetland that it is, and there were tensions with surrounding villages. Then WWF invited Coca-Cola to participate in the work and relationships we were cultivating there—and we began attracting more attention and government funding. Fast-forward to today: The park is being appropriately managed as a wetland, and there is a new emphasis on community-based natural resource management. Our ability to find common ground with Coca-Cola sent a strong message about the park's value.

Our portfolio of corporate partners has also expanded dramatically. In addition to WWF's key partnership with Coca-Cola, we now work with Hilton, Levi's, DanoneWave, McDonald's, and a host of other large corporations. To me, that growth indicates that water has emerged as a key issue for businesses. Seeing more and more companies come to WWF, asking us to help them become better water stewards, is really exciting.

Now our team is targeting groups of companies as well. Last summer, for example, seven food and beverage companies committed to new and stronger water stewardship goals in their agriculture supply chains via our Ceres-WWF AgWater Challenge. And we're developing tools such as our river basin "report cards" to help companies and other stakeholders better understand the environmental and social contexts of the landscapes they're interested in protecting.

Our corporate water stewardship work is as complicated as it is worthwhile. But it helps me to remember that the reason for doing it is simple: We live on a planet. This world is finite, and it's our shared home.
Explore More
About

World Wildlife magazine provides an inspiring, in-depth look at the connections between animals, people and our planet. Published quarterly by WWF, the magazine helps make you a part of our efforts to solve some of the most pressing issues facing the natural world.