Running a tight ship
Ghana's fishery gets a high-tech overhaul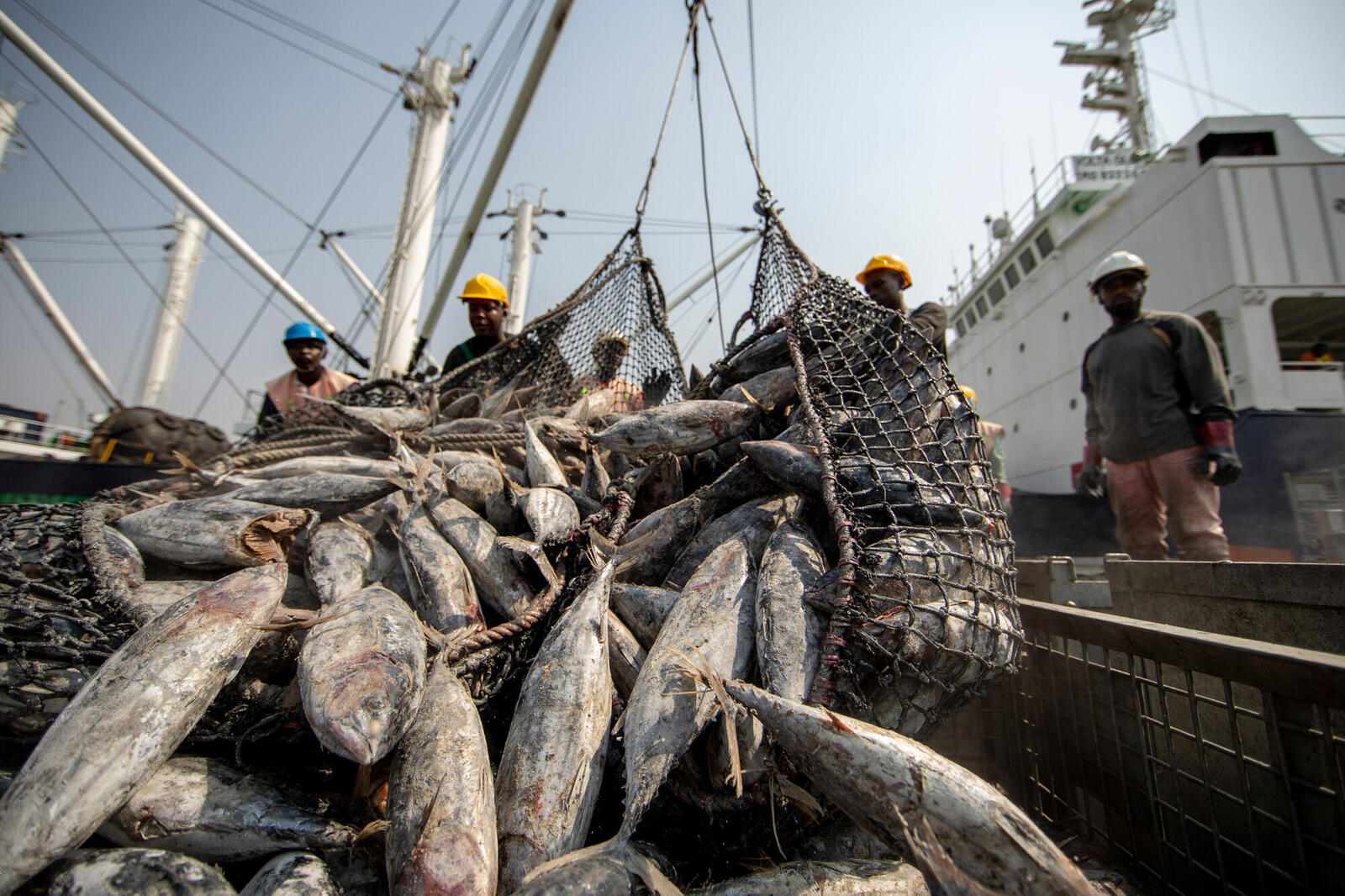 Issue: Fall 2019
Author: Michael Crispino
Photographer: Kyle LaFerriere
Frozen fish spill from an open net and slap onto the concrete pier a few yards from the Cap Saint Paul, the fishing vessel that hauled this catch in from the Atlantic. The day is hazy and hot, and men wearing hard hats drip with sweat as they converge on the pile of fish, grab each slippery cylinder just above the tail fin, and horseshoe toss it into one of the dozens of large metal bins that box the workers in.
A man standing on deck shouts, "Slow! Slow! Slow!" as another net full of fish flies up and out of the vessel's hold, leaving a trail of foggy condensation behind it.
Today's catch is largely skipjack, the type of tuna most commonly caught, processed, and canned around the world—including here in the port city of Tema, on Ghana's Atlantic Coast. The West African nation's economy is built on natural resources, and while gold and cacao are market leaders, a tenth of the population works in the fishing industry. The number one fisheries export is tuna.
The port is humming, methodical and efficient. But in 2013, Ghana's tuna fishery was in trouble. That year the European Union—Ghana's biggest export market for tuna and the largest importer of fisheries products worldwide—publicly questioned the legality and verifiability of tuna products from Ghana.
At the time there were reports of tuna being transferred from ship to ship as a way to skirt international rules and provide cover for fleet operators who wanted to profit off of illegal and unreported catches. The label of IUU—illegal, unreported, and unregulated fishing—is one no government, industry, or fisher wants to be tagged with. Yet such activities take up to 26 million tons of fish out of the ocean every year. The warning Ghana received, called a yellow card, signaled that access to the EU market was at risk.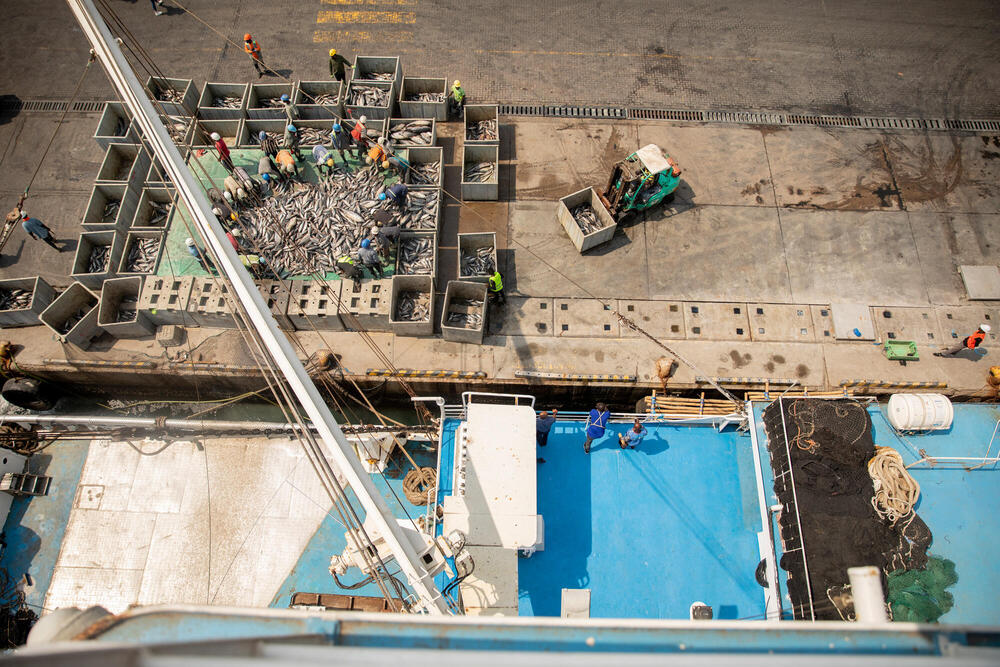 Today, as large, rust-colored gears grind loudly, lifting tons of tuna from the hold of the Cap Saint Paul, and as the crew works through piles of fish, every movement is reflected on the surface of a black dome bolted to the mast about four floors above water. Inside the tinted case is one of six small cameras positioned strategically throughout the vessel.
The cameras are part of a national pilot project to implement electronic monitoring of the country's tuna fisheries. The work began in 2015 as part of the Common Oceans Areas Beyond National Jurisdiction (ABNJ) Tuna Project, which is funded by the Global Environment Facility (GEF) and coordinated by the Food and Agriculture Organization of the United Nations (FAO). The government of Ghana, the International Seafood Sustainability Foundation (ISSF), and WWF carried out the work during a three-year partnership.
Tropical tuna are migratory fish that swim great distances through national and international waters. It's a largely plentiful resource—if managed well—and it fuels an industry that contributes an estimated $42.2 billion to the global economy every year. Tuna represent other kinds of wealth, too: Where there are tuna, there are often other marine animals, such as whales, turtles, and sharks.
And since wildlife isn't constrained by political boundaries, governments work together on management and conservation, and part of their responsibility is to provide accurate data on fishing.
"In order to ensure the sustainability of a tuna stock, we need to know what is being taken out of our oceans, when it's being taken out, and where it's being taken out," says Lauren Spurrier, vice president for ocean conservation at WWF. Those details are used to divvy up catch allowances, track wildlife population trends, and provide proof at market that a vessel's catch is legal and reported.
There are verifiable systems in place looking out for various commercial and trade interests, but historically there hasn't been a way to provide the same level of verification when a vessel is out on the water; this murkiness at the very beginning of the seafood supply chain creates uncertainty for the entire industry. And a lack of confidence in data can also impact the ability of scientists to advise managers on how best to control fishing in a way that allows ocean life to replenish and recover.
Before the yellow card, Ghana's government and industry said they had been taking steps to improve monitoring and enforcement of fishing rules, including placing onboard observers on large purse-seine vessels. (A purse seine is a large wall of netting deployed around an entire group of fish. The net has floats along its top line, and a lead line threaded through rings along the bottom. Once the fish are encircled, the lead line is pulled in, "pursing" the net closed on the bottom.) But while such observation is needed—and in fact mandated in certain cases by international agreement—officials with the ministry, as well as industry leaders, still felt the sector was exposed if someone questioned the data collected by an onboard observer. That left Ghana's tuna market vulnerable to censure.
"The yellow card was a wakeup call for Ghana to take real steps to address the EU's concerns about illegal fishing," says Spurrier. So the electronic monitoring pilot project set out to document exactly what was happening on the high seas.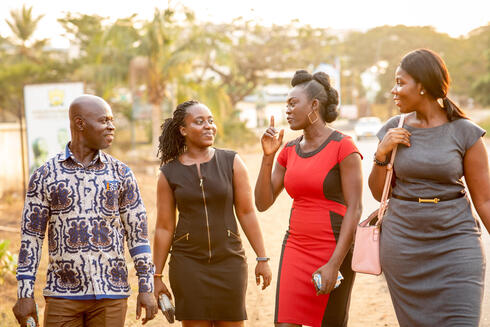 It's late afternoon, and the curtains are drawn together in a cramped office at the Ministry of Fisheries and Aquaculture Development, a 10-minute drive from the port. Three large desks line the perimeter, each topped by a pair of monitors. White noise emanates from a wall unit forcing cold air into the room to protect the technology from the corrosive trifecta of heat, humidity, and dust.
Agyeman Narkie Akua, a 28-year-old biologist who lives just outside Tema, spends her entire day watching people fish on those monitors. The pilot project equipped all 14 of Ghana's active purse-seine tuna vessels with monitoring technology and trained analysts like Akua to operate the systems that analyze the collected data.
"I'm looking at the entire trip, from when the vessel left the port to when it got back to port to offload its carriage," she says. She is precise in recounting the details of her daily routine.
An electronic monitoring system installed on a fishing vessel is a mostly tamper-resistant network of cameras in protective cases—like the one bolted to the mast on the Cap Saint Paul— along with position-tracking technology and hard drives that store all of the encrypted data. The system gets a clearer picture than a lone pair of eyes are able to catch in the moment, and when the crew gets back to port, an analyst can review a month of fishing in about a week. And it's all saved digitally.
"Every activity is accounted for," Akua says confidently.
Not incidentally, Akua's unit is largely made up of women, actively recruited and hired to balance the scales in a national industry where fishing crew and onboard observers are, by law and ostensibly for safety reasons, exclusively men. In the final year of the pilot project, women analyzed three out of four trips.
By the end of the pilot, the unit had reviewed more than 150 fishing trips, using the electronic monitoring system to provide the government and scientists with the clearest picture yet of Ghana's tuna fleet.
"It's a marvelous tool for ensuring transparency," says Spurrier.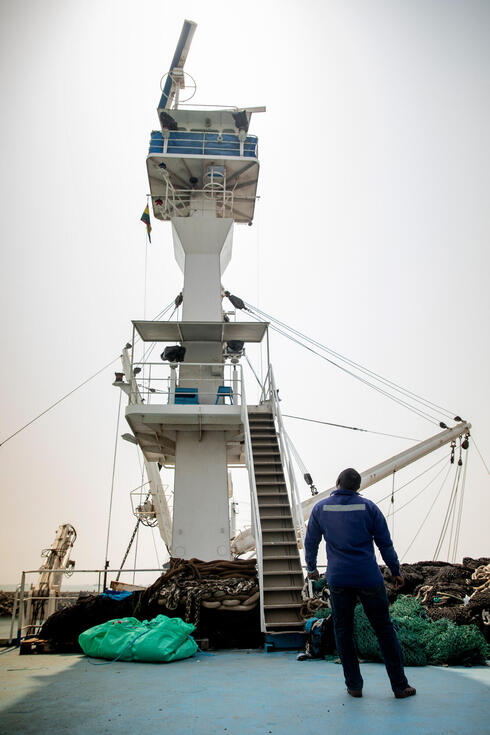 Shortly after the pilot project began, the European Commission dropped Ghana's yellow card warning. The electronic monitoring work continued, with both government and industry eager to demonstrate a higher level of oversight of the purse-seine tuna fleet and avoid future threats to trade.
Electronic monitoring has had other benefits as well. In January 2018, the Liberian Coast Guard stopped one of Ghana's vessels, claiming the crew had been fishing illegally in Liberia's waters. The footage recorded by the onboard cameras reportedly showed that to be untrue, helping to avoid a drawn-out diplomatic incident.
The pilot project officially wrapped up at the close of 2018, but electronic monitoring has continued. And while training staff and buying equipment requires significant upfront investment—not easy to fund in a middle-income country like Ghana—an analysis commissioned by WWF found keeping the program running to be a cost-effective approach to tracking fishery activities.
"We should not discard it," agrees John Farmer, head of the Ghana Tuna Association. "As far as we are concerned, we should continue using it."
Both industry leaders like Farmer and government representatives say they're motivated to keep the program funded. Farmer adds that his organization is trying to ensure that electronic monitoring is also adopted for other kinds of vessels and targeted species. "Even the pole and line vessels," he says.
For Akua and her colleagues, and for the Cap Saint Paul crew, turning back now would be unthinkable. Electronic monitoring has changed how fishing can be done in Ghana—not only sustaining industries and wildlife, but also bringing about social change.
"As a woman, being a part of this project is an eye-opener for me," Akua says with a smile.
"I stand at a place where I can also educate other women. If they have the desire to be a part of something like this, we show them, hey, it is possible. Because we've done this."
Explore More
About

World Wildlife magazine provides an inspiring, in-depth look at the connections between animals, people and our planet. Published quarterly by WWF, the magazine helps make you a part of our efforts to solve some of the most pressing issues facing the natural world.