In-Depth
Solar power in Myanmar
Women use technology to brighten rural villages
Issue: For people, for nature, forever
Author: Kassia Wordley
Photographer: Hkun Lat
As the sun sets over the Western Hemisphere, the Earth's surface begins to glow. At night, huge, shimmering clusters of man-made light transform the electrified world.
On the other side of the planet, something very different is happening.
Myanmar and its vast, forested wilderness slip into darkness, and the landscape comes alive with a symphony of sounds. Insects, birds, the low steady rumble of a bull Asian elephant in the distance.
In a small clearing, a woman steps up onto a rattan stool. With a concentrated expression and screwdriver in hand, she tightens the final bolt securing a plastic box to the bamboo wall of her home. Stepping down, she reaches for a small switch and presses it.
"It works," she says in Burmese with a humble smile.
She is Naw Yoe Lay, a mother of two from Hin Ka Pi, a rural village nestled deep in the mountainous region that straddles the border between Myanmar and Thailand. Naw Yoe Lay has just installed her village's first solar-powered light, and subsequently marked the beginning of a new era of opportunity for her family and community.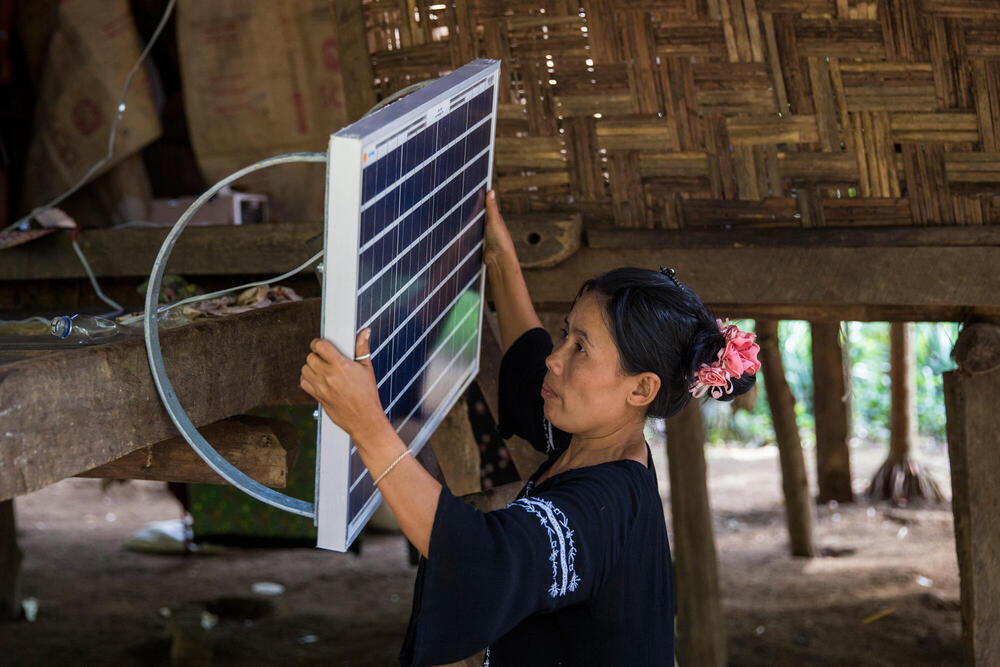 Across the globe, more than 1 billion people are living without access to electricity. In Myanmar that's 62% of the population, most of whom live rurally. Extending power grids to these areas is an expensive and complicated business, but energy is an essential tool. Without it Myanmar's rural communities will be left behind as the rest of the country leaps forward into an unprecedented phase of rapid development.
"Education, small businesses, medicine. Electricity makes it all happen," says Shoon So Oo, energy manager for WWF-Myanmar. Shoon joined WWF-Myanmar in 2015. His job is to develop a plan for renewable power across the country, as well as to establish community models for rural areas. The idea is this: Give Myanmar's entire population access to renewable energy and in doing so avoid the continued degradation of Myanmar's natural resources.
To deliver on this ambition, WWF is taking action at both a national level and on the ground.
They were heading to Barefoot College in India, where they would meet other women from all over the world and together train to become solar engineers.They learned to set up, install, maintain, and repair solar home systems.
At the beginning of 2017, five women from three villages in rural Myanmar boarded a plane for the very first time. They were heading to Barefoot College in India, where they would meet other women from all over the world and together train to become solar engineers. They learned to set up, install, maintain, and repair solar home systems using the universal languages of color coding, illustrated instructions, and repetition.
"We learned about all kinds of circuits and machines, but also about health and how to build useful things like stoves. I have never been away from my husband for more than one day in the past so I missed him dearly, but it is worth it to bring electricity to my home," says Ma San Maw, another of the women who studied at Barefoot College.
"We have always had to worry about things like snakes when the light goes out. Now we can cook and sew without being scared."
Finally in October 2017, after six long months thousands of miles from home ("and strange food," says Ma San Maw, giggling), the women return. The reunification is warm— embraces, smiles, and tears in equal measure.
"We missed Mum a lot, but Dad cried more. Every day he hiked to the top of the mountain, where there is phone reception, to call her. I think he's very happy she has come back," says the eldest daughter of Naw Yoe Lay.
"My wife has finally returned, and she brings electricity for the whole community. I am very proud of her," adds Naw Yoe Lay's husband.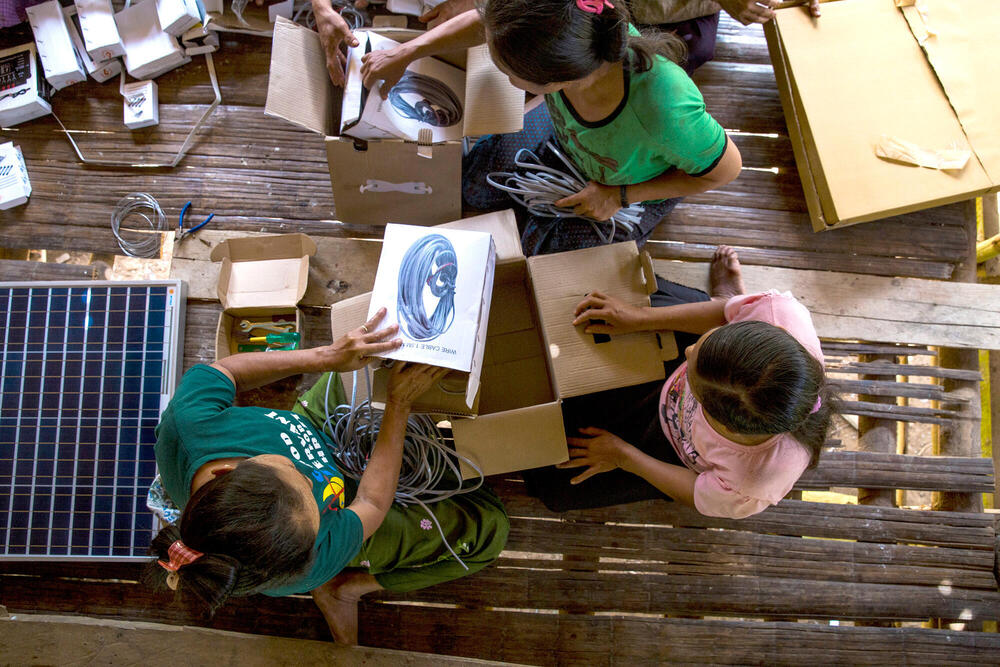 Early the next morning Naw Yoe Lay is sitting cross-legged on the floor with two of the other women. WWF's energy team has just delivered stacks of boxes filled with home solar systems and solar lanterns. They line the walls of the women's newly constructed workshop, paid for with money pooled by the community. This money also covers a salary for each of the women, but would once have been spent on expensive, inefficient diesel for the shared generator. Morning sun streaks through the wooden slats and nimble fingers strip plastic coating from cables as the women talk.
"We have had a lot of difficulties living here. The kids can't study at night because the candles are always blowing out. Cooking, sewing, everything is just difficult," says Ma San Maw.
"And if you have an emergency," adds one of the other affectionately named "solar mamas," Naw Pho Doe, "it's really bad news. We have to use a lighter to go to the health officer's house, but there are dangerous animals out there like venomous snakes."
"The kids' safety and education are what we are most concerned about. We want them to have the opportunities we did not," says Naw Yoe Lay.
THE HOME SOLAR SYSTEM
While any solar-powered energy system requires multiple carefully assembled elements, the equipment provided by Barefoot College and managed by its graduates is designed to be as simple and inexpensive as possible.
1
SOLAR PANEL
2
CONTROLLER
with cell phone charger port
3
FUSE
4
LIGHTS
X 3
5
BATTERY
Complex problem, simple answer
Myanmar is a land of astonishing natural beauty. Its lush forests are home to rare and endangered species. Its rivers flow freely and feed the nation. Its mountains are steeped in cultural and historical significance. But all of this faces imminent threats, and in the rush for development poor choices could impact the landscape for generations to come. Myanmar has a chance to avoid the energy mistakes of its neighbors by using a clean, green technology that will safeguard the country's natural wonders and biodiversity. The women from villages such as Hin Ka Pi are illuminating a sustainable, inclusive path for the rest of the country to follow, proving that we can be set free from dependence on destructive fossil fuels.
This year 235 houses have been electrified by WWF and Barefoot College.
"And we have 1,000 more planned for 2018," says WWF's Shoon, "and I wish tens of thousands to follow in 2019. Knowing this effort to provide electricity is sustainable is the best satisfaction we can have. I see a bright future, pun intended," he adds with a broad smile.
As the night falls over Hin Ka Pi, the final solar panel has just been installed at the village leader's house. One by one, each household flicks a switch, and the dusty streets are illuminated. A group of children take position for a game; others venture inside to watch their first film on a portable DVD player. A few young men and women prepare nets, heading out to fish for dinner in a nearby stream. Naw Yoe Lay and her friends stand back for a brief moment, watching.
"Things will get easier now," she says.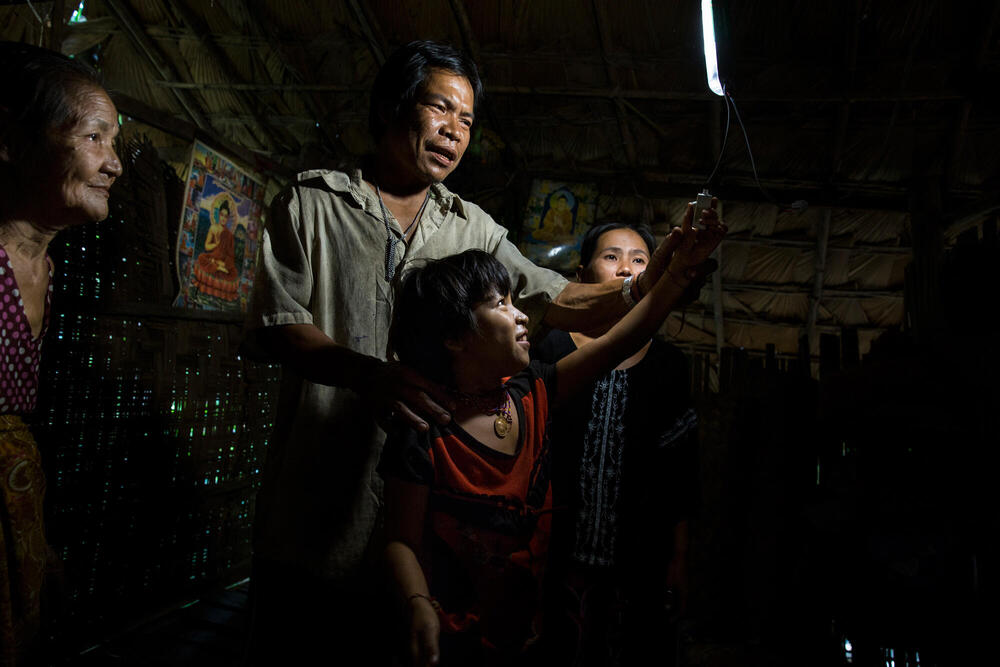 STEP BY STEP
The Barefoot College program trains women to work as solar power technicians, bringing a renewable and much needed power source to communities sometimes far off the conventional energy grid. How? Read on.
1 HANDS-ON TRAINING
Focusing on practice instead of theory, the program teaches women how to build various solar electrification systems including LED lamps, charge controllers, home lighting systems, and solar lanterns. This hands-on practical approach opens the opportunity to trainees without prior educational qualifications; in addition, Barefoot solar engineers learn by seeing and doing, without need for translation, other than the English names of essential parts.
2 HOME INSTALLATIONS
The equipment the women build is then shipped to their villages. Once it is in hand, the newly trained engineers work with community volunteers to install the equipment and provide electricity to the homes in their community. Villages pay the engineer for her labor and expertise, and call on her to troubleshoot when something goes wrong.
3 ONGOING MAINTENANCE
While at Barefoot College, the women also learn how to set up a Rural Electronic Workshop in their villages—a place to safely store the components and equipment needed for the repair and maintenance of the solar units.
About

World Wildlife magazine provides an inspiring, in-depth look at the connections between animals, people and our planet. Published quarterly by WWF, the magazine helps make you a part of our efforts to solve some of the most pressing issues facing the natural world.