Five countries work toward a common goal in southern Africa
An undertaking like the Kavango Zambezi Transfrontier Conservation Area (KAZA) is ambitious and complex, and each country—whether working independently or in tandem with others—is developing its own activities to meet the initiative's goals.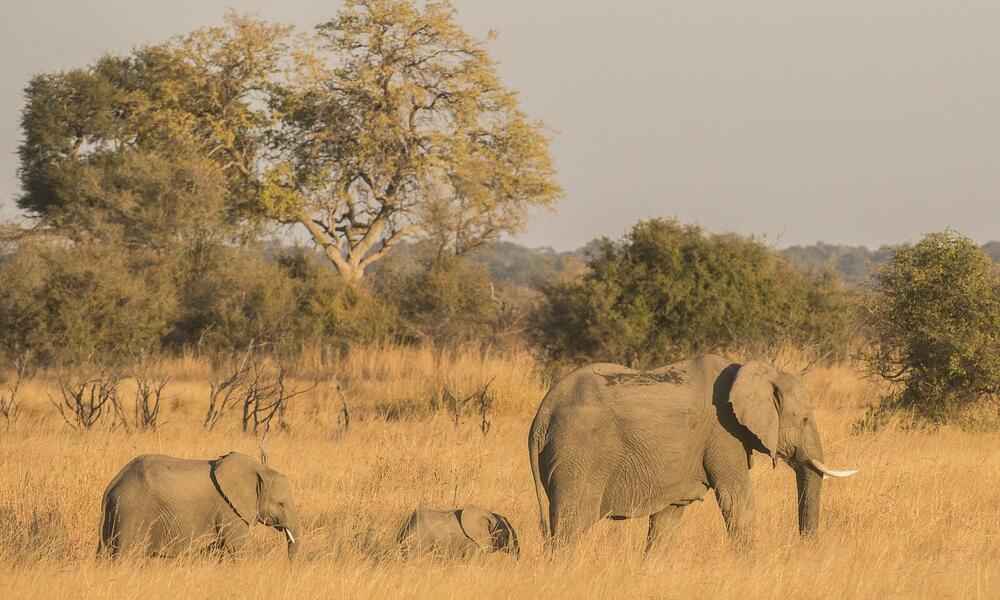 KAZA Initiatives Click on the countries on the map—Angola, Botswana, Namibia, Zambia, and Zimbabwe—to see in what KAZA initiatives they are participating.
Initiatives In Multiple KAZA Countries
Community-Based Conservation
Local people must be actively engaged in decision-making about their land and resources, and have strong incentives to value and protect wildlife. This is the most powerful deterrent against poaching.
Joint Venture (JV) Partnerships
JVs create partnerships between communities and private investors to establish and operate tourism lodges or hunting camps. They provide jobs and income to communities as well as defined rules for managing land, wildlife, and other assets.
Conservation Agriculture
Conservation agriculture offers multiple benefits: increased food security and income, reduced clearing of woodlands, empowered women, and reduced human-wildlife conflict.
Initiatives In All KAZA Countries
Elephant Survey
Aerial elephant surveys have been, or are being, conducted in all KAZA countries.
Antipoaching Efforts
Actions to fight commercial poaching at multiple points in the law enforcement chain include increased community awareness, strengthened informant networks, enhanced vigilance, improved law enforcement capacity, improved coordination among law enforcement agencies, and more reliable prosecution of poachers.
Human-Wildlife Conflict (HWC)
A growing human population and expanding development are leading to increased conflict between people and wildlife. Each KAZA country has its own approach to HWC mitigation; KAZA provides a platform for sharing and learning from those approaches to reduce the costs to communities living among wildlife.
Transboundary Participation Collaboration between two or more countries, particularly where a natural resource is shared
Click on the buttons below to see which countries participate in transboundary KAZA initiatives.
Fisheries Management
The Zambezi River system has experienced declining catch rates, loss of valuable fish species, and increased use of damaging fishing gear. Joint patrolling, bans on destructive nets, and efforts to standardize fishing seasons and fishing tackle are increasingly in use.
Advancing Tourism
While still in its early testing stages, the KAZA UNIVISA allows tourists to move between Zimbabwe and Zambia, and into certain parts of Botswana, as frequently as they like within a 30-day period.
Fire Management
Transboundary fire management is critical to reducing uncontrolled fires in the dry season. Fire breaks, planned early burning, and controlled floodplain burning reduce negative impacts to the woodlands and savannas of the region.
Carnivore Conservation
KAZA shelters globally significant populations of wild dog, cheetah, lion, hyena, and leopard, some of which regularly cross national borders. All five countries are piloting shared management approaches and standards to ensure the long-term survival of these threatened apex predators.
Wildlife Dispersal Areas
To facilitate wildlife movement across the region, the five KAZA countries have defined six "wildlife dispersal areas" based on existing and historical animal migration routes. These "WDAs" are key corridors for allowing wildlife such as elephants to move more freely across the landscape, spurring healthy species population growth and distributing wildlife-dependent economic benefits to more people.
Fighting Cross-Border Wildlife Crime
While the open, porous nature of the countries' shared borders benefits transboundary wildlife movements, it also facilitates the movement of poachers, who can rapidly poach in one country and escape across the border. All KAZA countries plan to strengthen transboundary collaboration on investigating and prosecuting wildlife crime via increasing joint patrols and information-sharing mechanisms.
Wildlife Dispersal Areas Six key corridors based on existing and historical animal migration routes.
1.Khaudum-Ngamiland
Wildlife moves throughout northeastern Namibia with extensions into Angola and Botswana.
2. Kwando River
Movements follow the Kwando River through portions of four countries.
3. Zambezi-Chobe
Seasonal and migratory crossings between Botswana, Namibia, Zambia and sometimes Zimbabwe.
4. Zambezi/Mosi-Oa-Tunya
Defined by world-famous Victoria Falls. Provides a small but important corridor between Zambia and Zimbabwe.
5. Hwange-Kazuma-Chobe
Follows wildlife corridors from northwest to southeast, hugging the Botswana and Zimbabwe borders.
6.Hwange-Makgadikgadi-Nxai Pan
Links major wildlife and tourism areas in Botswana with upriver habitat in Zimbabwe.
Explore more of this issue's coverage of KAZA:
Explore More
About

World Wildlife magazine provides an inspiring, in-depth look at the connections between animals, people and our planet. Published quarterly by WWF, the magazine helps make you a part of our efforts to solve some of the most pressing issues facing the natural world.