WWF's America May Pintabutr on finding her home in conservation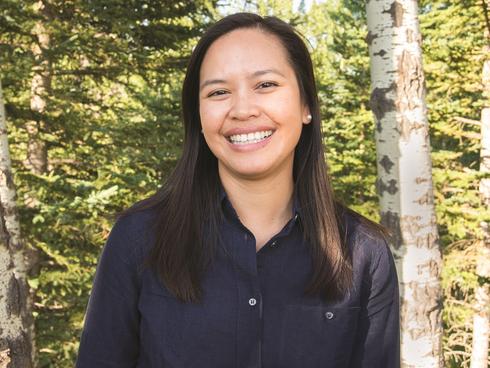 One of the most provocative questions anyone ever asked me is: "Why do you want to work on conservation in other countries when there's still so much to do here at home?" For me, a first-generation American whose parents came here from Thailand (and so named me America!), "home" has always had many meanings.
Home is the United States, and working closely with WWF's Northern Great Plains program has given me the utmost appreciation for the American prairie—one of the last intact temperate grassland ecosystems in the world. The Northern Great Plains is also home to an American icon, the plains bison, and one of the most endangered mammals in North America, the black-footed ferret. Eighty percent of the Northern Great Plains is owned by private landowners, many of whom are ranchers whose livelihoods depend on healthy grasslands. I've had the pleasure of visiting their homes on the prairie and advocating alongside them on Capitol Hill for Farm Bill reforms that protect grasslands.
Home is also Thailand, where my family comes from, where I lived for much of my first seven years, and where I spent summers until college. Through my work on US foreign policies that foster cooperation regarding water resources shared across country borders, I'm seeing challenges and opportunities play out around the Mekong River in Southeast Asia. The river flows 3,000 miles—through China, Myanmar, Laos, Thailand, Vietnam, and Cambodia—and is vital to the productivity of Asia's massive agricultural "rice bowl." It is also home to the world's largest inland fishery, which accounts for up to 25% of global freshwater catch. The Mekong provides livelihoods for at least 60 million people. When it comes to the future of regional development and prosperity, it is critical that Mekong countries cooperate on issues that affect the river they share.
"It's my job to stay up to date on the action in our nation's capital and to share with WWF's members the ways in which the US government is impacting our conservation goals."

America May Pintabutr Policy Specialist, US Government Relations
These days, I feel at home on WWF's US Government Relations (USGR) team. I came to WWF after completing a master's degree in international relations at Syracuse University's Maxwell School of Citizenship and Public Affairs. As a WWF intern in the summer of 2009, I supported a team of five inspiring individuals who had their fingers on DC's political pulse and how it affects our conservation goals in the US and abroad. My summer internship turned into a fall internship, which led to the chance to join the USGR team officially, as a policy associate in January 2010. Since then, the team has worked closely on issues ranging from analyzing funding trends for international species conservation to fighting for domestic and international fisheries management policies and laws.
I currently manage our relationships with the US government and lead policy advocacy for the lower 48 states on issues such as agriculture, energy, public lands, and private lands. I work on international freshwater policy, focusing specifically on transboundary freshwater management. In this role, I work closely with teams in DC, Montana, and Bangkok to find policy solutions that allow us to achieve our conservation goals.
As a conservationist, I work every day toward putting myself out of a job—because that would mean that I've done something right. Conservation requires collaboration; I strongly believe that if all of us band together it is possible to balance the needs of people and nature for generations to come.
But a goal this big requires partnerships at all levels and across all parts of society: government, corporations, individuals. So it's my job to stay up to date on the action in our nation's capital and to share with WWF's members the ways in which the US government is impacting our conservation goals. It is important to let members know how they can directly create change by contacting their representatives or signing a petition.
That's my part of the puzzle: to work with US citizens and the US government, and to be a drumbeat for the places, water, and wildlife at stake.
Explore More
About

World Wildlife magazine provides an inspiring, in-depth look at the connections between animals, people and our planet. Published quarterly by WWF, the magazine helps make you a part of our efforts to solve some of the most pressing issues facing the natural world.