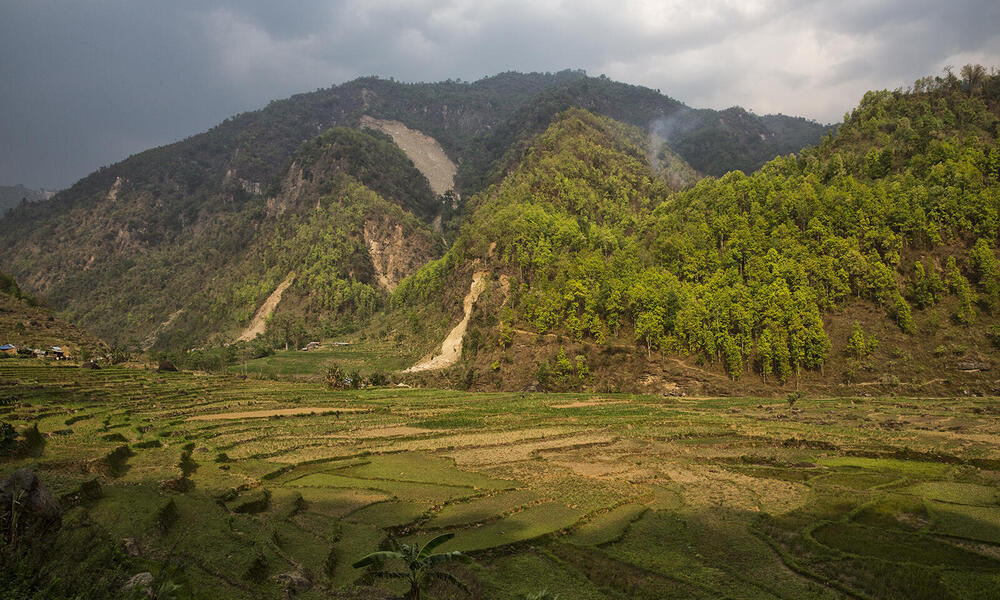 More than 4 million people call Nepal's Gandaki River Basin home. In the face of climate change, communities—high in the mountains and in the tropical lowlands downstream—are assessing their needs and taking action to make life better for themselves, their families, and the forests they depend on.
Landscape to Local
Nepal's Gandaki River Basin sets the boundaries of the Chitwan-Annapurna Landscape, where Hariyo Ban partners support many priority areas and thousands of partner communities spread across the region's mountains, steep hills, and flat plains.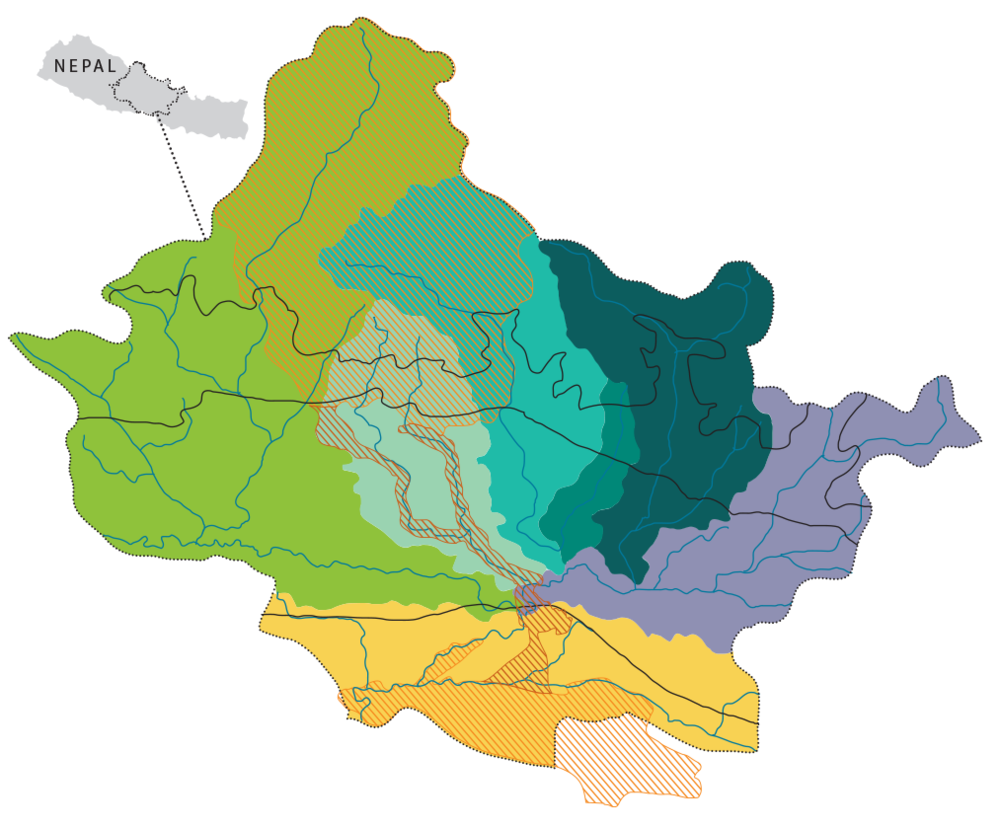 LANDSCAPES, REGIONS AND RIVERS
Chitwan-Annapurna Landscape Boundary
PROTECTED AREAS AND BIODIVERSITY CORRIDORS
Annapurna Conservation Area
Chitwan-Annapurna Biodiversity Corridor
Change in action
Learn more about how communities in Nepal's Gandaki river basin are adapting to climate change by clicking on the magnifying glass.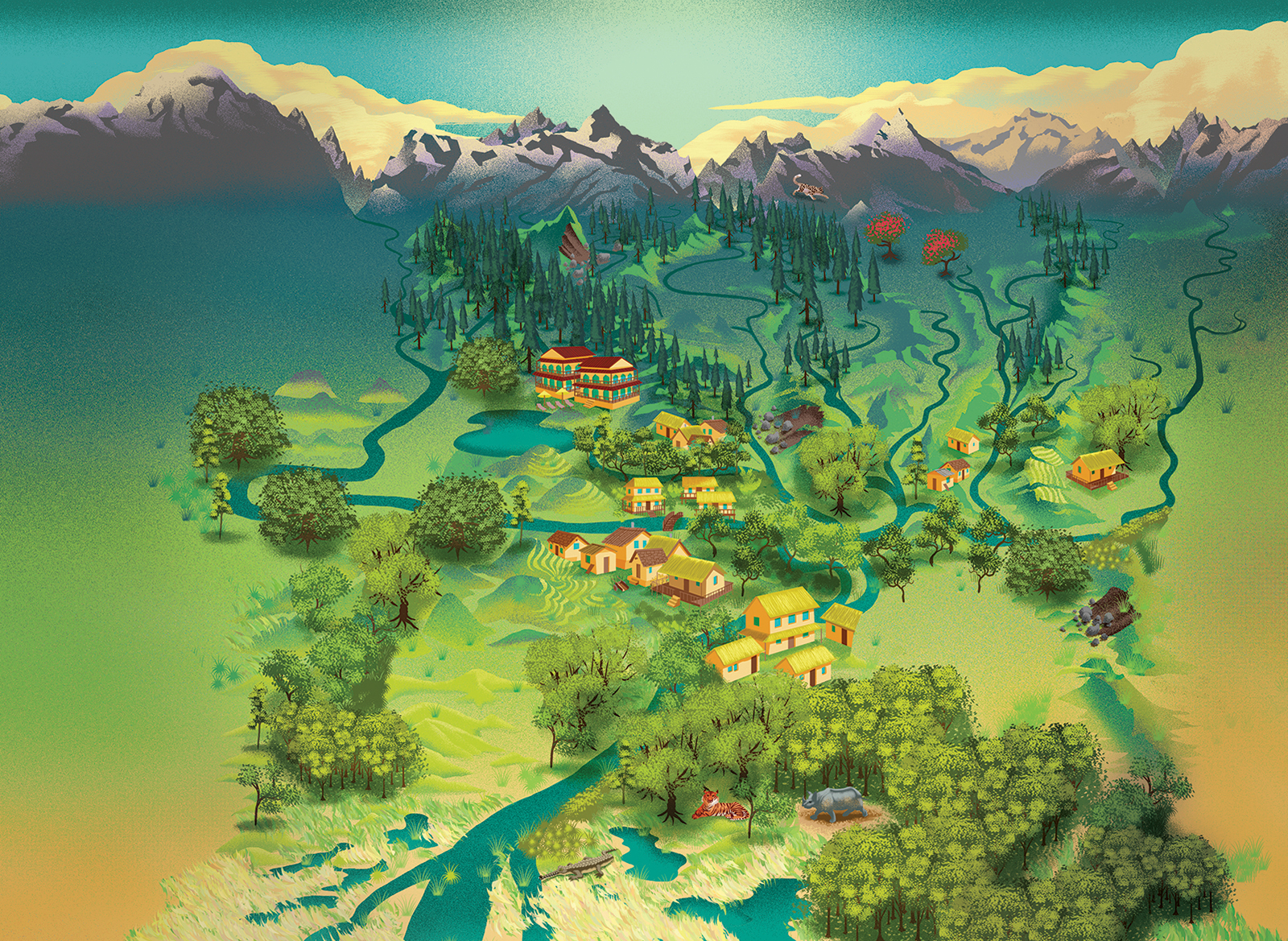 © Muti
MID-HILLS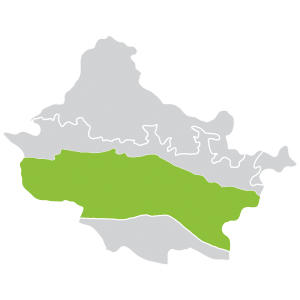 Stall-fed goats
Feeding goats in stalls keeps them off hillsides and out of forests, where their browsing can strip vegetation and cause erosion.
Cardomom
By planting soil-anchoring, economically valuable cardamom plants, villagers help reforestation efforts while creating a new income opportunity.
Plastic Tunnels
These lightweight, low-cost greenhouses help extend the growing season, enabling households to increase incomes and improve nutrition.
Good governance
Work with local groups helps ensure that women, the poor, and other marginalized people are involved in decisions on managing their forests, and that forest resources are equitably shared.
HIGH MOUNTAINS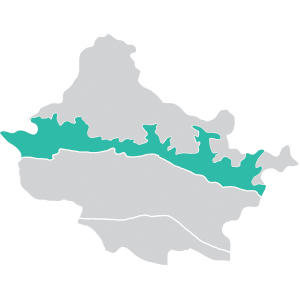 Solar-powered fencing
To mitigate human-wildlife conflict, communities use solar-powered electric fencing around villages, fields, and livestock to reduce conflict and increase food security.
Efficient cooktops
Finding fuel for cooking and warmth is challenging in the mountains. Improved metallic cookstoves burn fuel more efficiently than regular fires, reducing pressure on forests.
Rebuilding foot trails
Foot trails often offer the only access routes to remote communities, which rely on trekking tourists for important income. Post-earthquake, cash-for-work payments for trail reconstruction generated much-needed funds to help people restart their livelihoods.
Prayer flag poles
Buddhist prayer flags are strung in high places; their mantras are believed to spread compassion and goodwill. By promoting metal poles instead of wooden ones (which must be replaced every few years) Hariyo Ban helps take pressure off forests.
CHURIA HILLS AND TERAI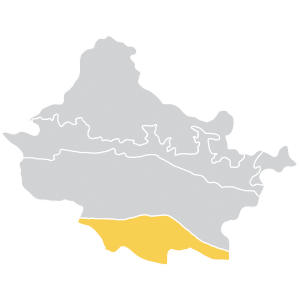 Homestays
Nepalese homestays allow tourists to enjoy wildlife viewing and local food, and to learn about traditional ways of life while providing host families a vital source of income—particularly near protected areas.
Community Forests
User groups plant trees and other native plants, and protect areas from grazing livestock, so natural forest regeneration can occur. Antipoaching units patrol forests to detect illegal activity.
Fishponds
In many communities, WWF supports the construction of fishponds that provide a critical source of sustenance and income, and also help reduce pressure on freshwater biodiversity along Nepal's rivers and near Chitwan National Park.
MID-HILLS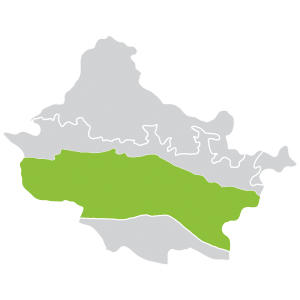 Broom Grass
Clearing steep river-valley slopes for agriculture by felling and burning has caused soil erosion and landslides, but planting broom grass helps stabilize hillsides. The flower heads are used to make brooms, which are sold for income.
Biodiversity Corridors
Many fish and bird species migrate along north-south corridors, following river valleys that cut through hill and mountain ranges. These corridors may become increasingly important as the climate changes, and restoring them will allow native species to seek cooler, damper habitat.
Landslides
Earthquakes, extreme climate change-driven storms, and resulting runoff can destabilize slopes, triggering landslides that impact communities, infrastructure, and forest cover. Hariyo Ban helps at-risk villages stabilize slopes and prepare for natural disasters.
Explore more of this issue's coverage of Nepal:
Explore More
About

World Wildlife magazine provides an inspiring, in-depth look at the connections between animals, people and our planet. Published quarterly by WWF, the magazine helps make you a part of our efforts to solve some of the most pressing issues facing the natural world.