One way to tackle food waste? Eat more of what we grow.
While most loss or waste of food takes place in restaurants, hotels, grocery stores, or our own kitchens, crops that go unharvested on farms are a piece of the puzzle too: It's estimated that 10–19 million tons of produce never make it past the farm gate each year.
On the upside, nearly all of that is composted, fed to farm animals, or tilled back into the ground. But it still means a lot of water, land, and other resources were used to grow food that won't be eaten by people.
Some loss of crops is nearly impossible to avoid. It can happen because of unpredictable weather events, pests, market price changes, labor shortages or costs, rigid cosmetic standards, or simply because we choose to eat only part of certain plants.
A recent WWF report, No Food Left Behind, dug into why some of these losses occur and examined solutions that might increase the availability of fruits and vegetables in the US without expanding farmland. The report also looked at how to more fully utilize the surplus left in-field. These potential solutions can only come to fruition if we make it profitable for growers to harvest more surplus crops, if standards are revised, and if markets demand them.
In-field measured crop loss
According to WWF's No Food Left Behind report, produced with support from Walmart Foundation and the Foundation for Food and Agriculture Research, growers generally estimate that a high percentage of food lost on the farm is edible but not marketable.
| | | | |
| --- | --- | --- | --- |
| ROMAINE LETTUCE | TOMATOES | PEACHES | POTATOES |
| 56% | 41% | 40% | 2.5% |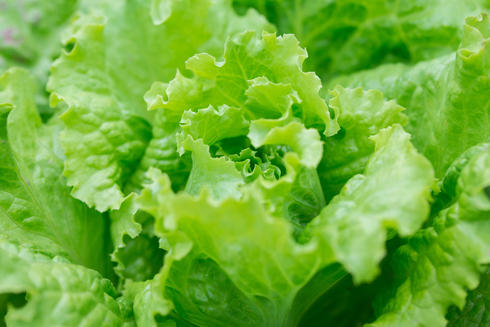 Current market trends drive romaine lettuce farmers to sell only the inner heart of the plant, while the edible outer leaves remain in fields. This may get you a crunchier salad, but it costs more and makes the lettuce wilt up to three days faster.
Data on post-harvest losses was collected from 10 peach farms and 10 peach packinghouses, nine potato farms, six tomato farms and six tomato packinghouses, and 10 romaine lettuce farms. The results should not be considered representative of the annual national average of loss for featured crops. We advocate for ongoing measurement as losses can fluctuate significantly based on weather patterns and market demands.
Explore More
About

World Wildlife magazine provides an inspiring, in-depth look at the connections between animals, people and our planet. Published quarterly by WWF, the magazine helps make you a part of our efforts to solve some of the most pressing issues facing the natural world.