WWF's Linda Walker on how forests have shaped her life
Beyond helping US companies source forest products from responsibly managed forests and invest more in forest conservation, Linda Walker recently started a program that uses the latest forensic timber identification science and big data to combat threats from illegal logging in WWF priority places.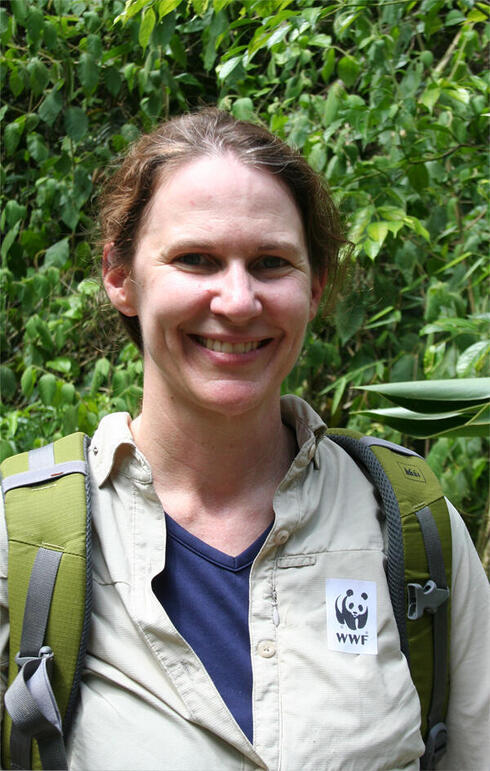 Forests have shaped and inspired every chapter of my life.
I grew up in New Jersey, not far from the vast pitch pine forests and wetlands known as the Pine Barrens. There was a woodlot behind my family's house, and I was constantly playing there. That forest wasn't wild, but it inspired me.
In college, my geography and environmental studies degree led me into various forests—in Pennsylvania, where my school was; in Australia's Daintree Rainforest, where I studied arboreal possums; and in Shenandoah and Yellowstone national parks, where I helped research gypsy moths, black bears, and forest fire recovery. I graduated with a deep appreciation for the diversity of the world's forests.
At my first job as an assistant land steward for The Nature Conservancy (TNC), I crisscrossed Maryland, visiting TNC's nature preserves to monitor rare plants, create trails, remove invasive species, and coordinate volunteer efforts.
Then I moved to Washington State to help TNC secure land for permanent protection. I visited forests owned by families who wanted to manage them for both income and conservation. A few years into that job, I visited the rain forests of Borneo, an Indonesian island, with a TNC team protecting orangutan habitat. They also collaborated with local villagers whose livelihoods depended on the forests, as well as forest concession holders open to wildlife-friendly land management.
I came home inspired to do more for tropical forests—and wound up doing a master's degree in forestry at Yale. That program led me back to Indonesia, this time as an intern for a paper company in Sumatra. Flying over that island and seeing how much deforestation of tiger and elephant habitats had occurred for pulp plantations was jarring. I went to learn about how the company was implementing its sustainability claims, and found that it was doing more harm than good.
The journey to Sumatra made it clear that businesses can be part of the problem or part of the solution for forests. I wanted to help them become the latter. Fortunately, I had the chance to do so by joining WWF to work on the Global Forest & Trade Network (GFTN), WWF's program that engages with companies to reduce the impact of their forest products.
"That forest wasn't wild, but it inspired me."

Linda Walker WWF Global Forest and Trade Network
When I joined GFTN 10 years ago, we were working with a handful of US manufacturers and retailers. We focused on helping them understand the environmental impacts of their wood and paper supply chains, develop strong purchasing policies, and source more materials from responsibly managed forests that met Forest Stewardship Council standards.
While those practices have helped many companies greatly reduce their forest footprints, the world's forests are still severely threatened by deforestation and forest degradation. So we've been rethinking our program and the broader set of "forest positive" actions that companies, governments, and others can take that will have long-term business as well as conservation value.
One example is International Paper, which, beyond its responsible fiber sourcing actions, recently committed to supporting WWF's restoration efforts in the Atlantic Forest in Brazil.
In every one of these forests, I see lessons that have shaped my passion for forest conservation. The overarching lesson, though, is that everyone—whether a weekend volunteer or a business leader—has a role to play in helping the world's forests.
Based on what I've seen, I know we face enormous challenges—and I know we'll come up with creative solutions to meet them.
Explore More
About

World Wildlife magazine provides an inspiring, in-depth look at the connections between animals, people and our planet. Published quarterly by WWF, the magazine helps make you a part of our efforts to solve some of the most pressing issues facing the natural world.